The Heatwave Is so Harsh, Reindeer Are Hiding in Tunnels to Keep Cool
The heatwave hitting Europe has made it so hot in the Arctic Circle that an animal known for its winter exploits has escaped to tunnels to keep cool.
Motorists in Norway have been warned to keep an eye for reindeer in the region of Finnmark as the country fights record temperatures of over 87 degrees Fahrenheit.
Tore Lysberg from the Norwegian Public Roads Association told Agence France Presse: "It has been very hot for weeks in northern Norway.
"The animals retreat to colder places, both reindeer and sheep find refuge in tunnels and shaded areas to cool down," he said.
While there have been no accidents as yet with the animals, the government agency says that the temperatures pose a "challenge" and has issued a number of warnings to drivers not to hit the animals.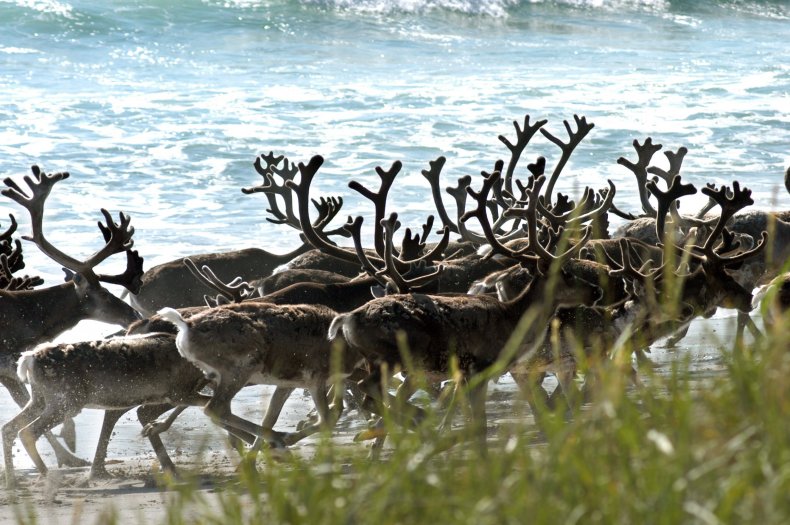 The Norwegian Meteorological Institute has said that there have been 12 so-called "tropical" nights this summer, in which evening temperatures have topped 68 degrees Fahrenheit.
Banak, in the far north of Norway, recorded temperatures of 90 degrees Fahrenheit, far above its average maximum summer temperature of 62 degrees Fahrenheit.
Other animals struggling in the heat include dogs, whose owners in the Swiss town of Zurich have been urged to equip them with shoes to protect their paws.
The so-called "Hot Dog" campaign is aimed at protecting the dogs from scorching pavements, SRF reported.
Forecasters have predicted record temperatures in other parts of Europe this weekend and said that the continental record of 118 degrees Fahrenheit, set in Athens in 1977, could be beaten.
Hot air coming in from Africa has set the mercury soaring in Spain and Portugal, with parts of the Iberian peninsula set to hit around 116 degrees Fahrenheit, the BBC reported.
European weather group Meteoalarm has issued red warnings for much of southern Portugal and the Badajoz province in Spain. In Germany, the heat wave has evaporated parts of the River Elbe revealing World War Two explosives, with 22 grenades and mines found.