Henry Kissinger Predicts Point at Which Putin Will Have To End Ukraine War
Henry Kissinger believes President Vladimir Putin miscalculated the international situation and Russia's own capabilities when he launched the invasion of Ukraine. He will have to end the war when it effectively kills off any chance of Russia remaining a great power in the future, the former secretary of state predicts.
Kissinger, who served under the administrations of Richard Nixon and Gerald Ford in the 1970s, told a Financial Times event over the weekend that he fears the conflict could veer into the nuclear realm.
Kissinger played a key role in shaping American foreign policy during the Cold War, his guidance leading to a relaxing of tensions between the U.S. and Soviet Russia, and especially between the U.S. and China, which led to President Nixon's historic visit to Beijing in 1972.
At the FTWeekend Festival in Washington on Saturday, Kissinger told the paper's U.S. national editor, Edward Luce, about how he managed to split Moscow from Beijing by treating the two enemies differently. Amid hostilities in Europe, Washington should now seek to do the same once again, Kissinger said.
The former secretary warned against taking "an adversarial position" on both China and Russia that could drive them closer together. "After the Ukraine war, Russia will have to reassess its relationship to Europe at a minimum and its general attitude towards NATO," he said.
The war in Ukraine is now in its 11th week, and Russia has so far failed to achieve any major objectives in the country. In early April, Russian troops that were deployed in the areas surrounding Kyiv were redirected by the Kremlin to southeast Ukraine, with the new goal of "completely liberating" the Donbas region. The Ukrainian armed forces were able to regain control of larges part of the north as a result.
Western intelligence and international observers were expecting Putin to make a big announcement on Monday as Russia marked its annual Victory Day parade on May 9, celebrating the Soviet Union's defeat of Nazi Germany. But, surprisingly, the Russian president refrained from declaring all-out war on Ukraine or announcing general mobilization, a move analysts say may be a sign that Putin is wary of the Russian people are willing to endure.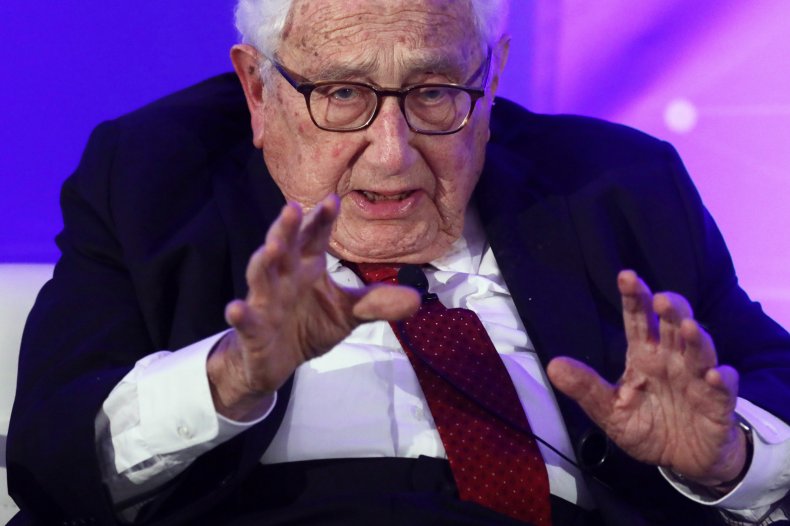 At the current stage, it's hard to predict how the war will end. Asked about its possible conclusion, Kissinger told Luce that Russia would continue fighting in Ukraine until the conflict eats up so much of its military capability and resources that the country risks losing its status as a great power.
"The obvious question is how long will this escalation continue and how much scope is there for further escalation?" Kissinger said. "Or has he reached the limit of his capability, and he has to decide at what point escalating the war will strain his society to a point that will limit its fitness to conduct international policy as a great power in the future?"
At that point, Kissinger said, whether Russia would then turn to its nuclear arsenal in order to end the war was something he couldn't predict. "We are now living in a totally new era" from the Cold War, he said.
As for avoiding a nuclear disaster—Kissinger's goal during the Cold War—circumstances have changed so much in recent decades that there needs to be a whole new discussion about the potential implications of nuclear weapons use, he said.
"As technology spreads around the world, as it does inherently, diplomacy and war will need a different content and that will be a challenge," Kissinger said.
"One thing we could not do in my opinion is just accept it," he concluded.