Here Are The Minimum Wage Proposals in Congress After $15 Hike Ruled Out of COVID Relief
With the $15 federal minimum wage proposal not likely to make it into President Joe Biden's coronavirus relief package, lawmakers from both sides of the aisle are offering up alternative solutions.
The progressive policy hit a major roadblock on Thursday when the Senate parliamentarian ruled that Democrats could not include a minimum wage hike in the budget reconciliation bill — a tool being used to pass Biden's $1.9 trillion plan without Republican support.
Some progressive members of Congress have advised Democratic leaders to ignore the parliamentarian's ruling, or even replace her, but the Biden administration has said it will follow the upper chamber's rules and procedures.
Now, a handful of "plan B" measures to increase the minimum wage are being proposed by members of Congress.
Senator Bernie Sanders (I-Vt.), a leading minimum wage advocate, said Thursday evening he would continue to push for a $15 minimum wage by looking at ways to raise taxes on companies paying workers less than that.
"In the coming days, I will be working with my colleagues in the Senate to move forward with an amendment to take tax deductions away from large, profitable corporations that don't pay workers at least $15 an hour and to provide small businesses with incentives they need to raise wages," Sanders wrote in his statement. "That amendment must be included in this reconciliation bill."
Senate Finance Committee Chairman Ron Wyden (D-Ore.), who is working closely with Sanders on the issue, has proposed imposing a 5 percent tax penalty on large corporations if any of their workers earn less than a certain amount. That penalty would increase over time, Wyden said in a statement on Friday.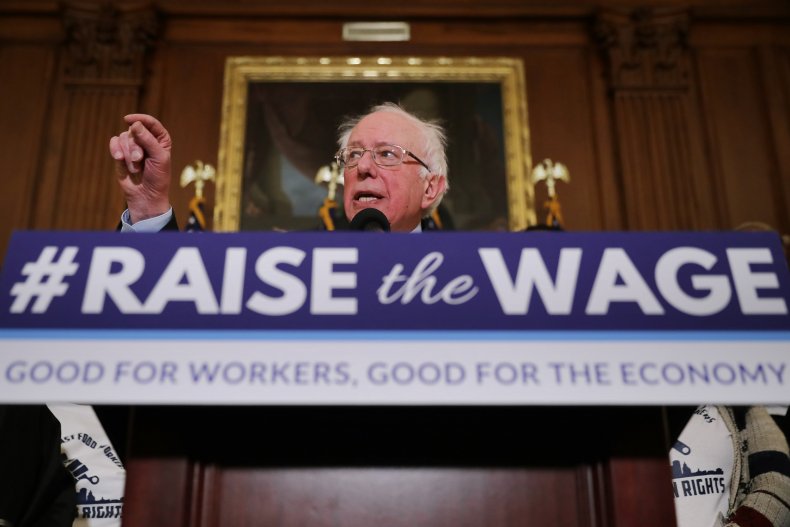 Republicans are also joining the debate, supporting a small minimum wage hike but also tying the policy to immigration status.
Senators Mitt Romney (R-Utah) and Tom Cotton (R-Ark.) unveiled their "Higher Wages for American Workers Act" Tuesday that would raise the minimum wage to $10 per hour by 2025. But the program would require all employers to screen out undocumented workers.
The Romney-Cotton bill is unlikely to go far with Democrats. Representative Alexandria Ocasio-Cortez (D-N.Y.) wrote on Twitter that a $10 minimum wage was "legislated poverty" on the day the proposal was released.
Senator Josh Hawley (R-Mo.) has released two minimum wage bills this week. The first is the Blue-Collar Bonus, which would send quarterly refundable tax credits to workers earning less than $16.50 per hour. Only American workers with a valid Social Security number would be eligible for the tax credit. This means that non-U.S. citizens and undocumented immigrants would not be included.
The second proposal would force billion-dollar corporations to pay their employees $15 per hour. In a statement Friday, Hawley said that "mega-corporations can afford to pay their workers $15 an hour, and it's long past time they do so, but this should not come at the expense of small businesses already struggling to make it."