Here's How New U.S. Sanctions Will Impact Iran
President Donald Trump signed an executive order on Monday re-imposing sanctions on Iran, as the White House has promised to do since the president withdrew the U.S. from the 2015 Joint Comprehensive Plan of Action (JCPOA) in May.
"The United States is fully committed to enforcing all of our sanctions, and we will work closely with nations conducting business with Iran to ensure complete compliance," the White House said in an official statement.
Moving forward, sanctions will block the Iranian government from purchasing or acquiring U.S. currency. They will also target the country's trade in gold or precious metals, as well as the direct and indirect sale, supply or transfer to or from Iran of graphite, aluminum, steel and coal, CNN reported. Significant transactions of the Iranian currency will also be targeted, as well as the Iranian auto industry. The sanctions will also block U.S. and European airplanes from being sold to Tehran.
On November 5, the U.S. will fully implement all "nuclear-related sanctions" against "Iran's energy sector, including petroleum-related transactions, as well as transactions by foreign financial institutions with the Central Bank of Iran," the White House said.
Calling the JCPOA "a horrible, one-sided deal," Trump claimed that it "failed to achieve the fundamental objective of blocking all paths to an Iranian nuclear bomb, and it threw a lifeline of cash to a murderous dictatorship that has continued to spread bloodshed, violence, and chaos."
Responding to the executive order, Iranian Foreign Minister Javad Zarif said via Twitter: "Trump Administration wants the world to believe it's concerned about the Iranian people. Yet the very first sanctions it reimposed have canceled licenses for sales of 200+ passenger jets under absurd pretexts, endangering ordinary Iranians. US hypocrisy knows no bounds."
Meanwhile, Israeli Prime Minister Benjamin Netanyahu, who was also a staunch critic of the JCPOA, welcomed Trump's order.
"This is an important moment for Israel, the US, the region and the entire world. It represents the determination to curb Iran's aggression," he said in an official statement. The prime minister also called on European leaders to join the U.S. and Israel in opposing Iran.
Prior to Trump's executive order, the foreign ministers of France, the United Kingdom, Germany and the European Union issued a joint statement, voicing their regret over Washington's decision. They also vowed to protect European economic ties with Tehran.
Beatrice Maneshi, an Iranian-American global security and development consultant based in the Netherlands, told Newsweek that Iran is the 12th biggest car producing country in the world, meaning Trump is "hitting the biggest sectors" as well as "sectors with lots of foreign investment," pointing out that European manufacturers Renault, Peugeot and Volkswagen have factories in Iran. She said that Washington aims to ensure that "the deal is dead" despite what other signatories "try to do."
"It's not the fact that U.S. companies cannot do work with Iranian companies or Iran anymore, as the Iranian economy is not dependent or really tied to the U.S.," Maneshi pointed out. "The impact is more from what European companies and countries do in response to their strongest trading partner [the U.S.]"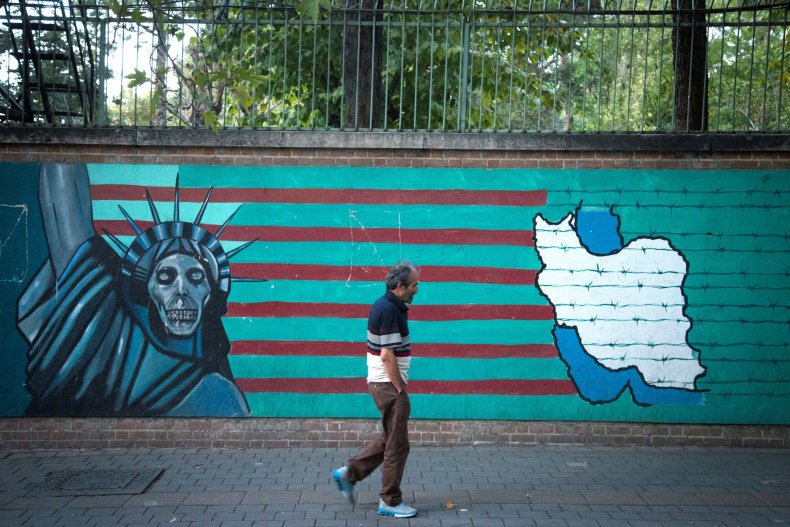 Jamal Abdi, president of the National Iranian American Council, said in an official statement that Trump's decision does "grievous harm to American leadership abroad and our ability to resolve challenges diplomatically rather than militarily." Calling the move a "collective punishment of 80 million people," Abdi said the move would continue to plunge Iran into "economic misery," denying Iranians "basic necessities such as life-saving medicine and safe civilian aircraft."
Iran has already been reeling from economic problems that have seen the rial decline drastically. Things have worsened with the impending threat of U.S. sanctions, with protests rocking Tehran and other major Iranian cities. President Hassan Rouhani has also faced increasing political backlash, with lawmakers calling on the leader to testify before parliament to explain why the nuclear deal has done little to improve the country's economic woes.