Herschel Walker Sparks Fury Over Warnock Camp Abuse Claims
U.S. Republican Senate candidate Herschel Walker has been met with an angry response online after he accused Democratic Senator Raphael Warnock of being responsible for abuse at a youth camp.
The video of Walker's remarks shared to Twitter has now been viewed more than 400,000 times, with some social media users strongly criticizing the Republican and suggesting his comments were defamatory.
The footage was shared on Monday by Twitter account PatriotTakes, which describes itself as "researchers monitoring and exposing right-wing extremism". It also said Walker's comments as "a potential defamation lawsuit."
Walker was discussing Warnock and told his audience: "You all know what he did at that camp as well. You all may not have heard this."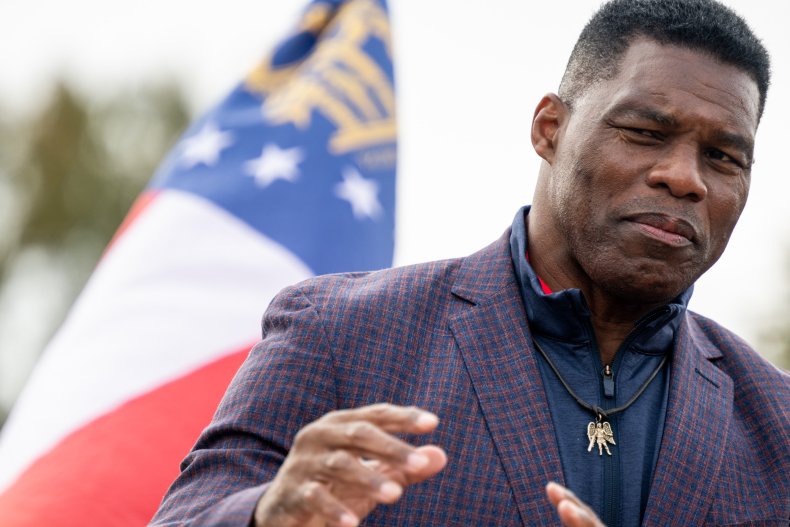 "This young man said that was sexual abuse and that was physical abuse and I'm like, who did that? It had to be Senator Raphael Warnock because he was responsible for it. You all didn't hear about that, did you?" Walker said.
"He doesn't want to talk about those things because he doesn't want you to know that," Walker went on.
The Republican appears to have been referring to allegations made by a former camper at a summer camp run by Warnock, reported by The Washington Free Beacon in December 2020.

Anthony Washington alleged in an interview that when he attended the camp aged 12 in 2002, counselors tossed urine on him and locked him outside a cabin overnight.
Warnock was taken away in handcuffs after reportedly interrupting a police interview with a camp counselor in 2002 and though Warnock was charged at the time, the charges against him were dropped and law enforcement later called what happened a "miscommunication."
At that time, and as reported by the New York Post, Warnock defended himself by arguing he and the other religious leaders had acted "within the framework of the law", with Warnock claiming he "cooperated fully" with the police investigation.
Social media users reacted with anger to the Republican's remarks.
"Desperate and disgusting. There is no bottom to the Walker campaign," wrote the official Twitter account of MeidasTouch PAC, sharing PatriotTakes' video.
"Defamation," tweeted social media user Rex Chapman, while other Twitter users also described Walker's comment in similar language.
"Enough. Sue him for defamation Senator," wrote user Andrea R MD, whose bio identifies her as a retired E.R. doctor.
Democratic political organization Occupy Democrats tweeted: "Herschel Walker sinks to a disgusting new low and falsely accuses Sen. Raphael Warnock of being 'responsible' for 'sexual abuse' and 'physical abuse' at a youth camp—in truth, Walker is the one with a history of violence."
Walker's ex-wife, Cindy Grossman, has accused him of holding a gun to her head. He has the denied her allegations but said some of his actions were a result of his struggles with mental health.
"The Republican lie machine has no bottom," tweeted user Bryan Dawson on Monday. "A desperate Herschel Walker falsely accuses Raphael Warnock of sexual and physical abuse at a youth camp."
"Walker: 'It has to be Senator Raphael Warnock because he was responsible for it.' Or was it vampires?" Dawson added, referring to Walker's recent comments about a vampire movie.
Walker is facing Warnock in a runoff election for Georgia's U.S. Senate seat on December 6 after no candidate won 50 percent of the vote on November 8.
Though the outcome will not affect which party controls the Senate, Democrats are hoping to retain the seat that Warnock won in a special election in January 2021.
Newsweek has asked the Walker and Warnock campaigns for comment.