Herschel Walker's 'Erection' Remark Sparks Torrent of Memes, Jokes
Republican Senate hopeful Herschel Walker has been mocked online after claiming "this erection is about the people," during an interview on Fox News.
Walker, a former NFL running back turned political candidate, is hoping to secure a seat in the Senate representing Georgia.
A runoff election against Democratic incumbent Senator Raphael Warnock will take place on December 6, after neither candidate secured 50 percent of the overall vote in the first round.
Walker appeared on Sean Hannity's Fox News show on Tuesday, flanked by Republican Senators Ted Cruz and Lindsey Graham.
He said: "Well first of all this election is more than Herschel Walker, this erection is about the people."
A clip of Herschel's apparent mistake went viral on Twitter, receiving more than 1.9 million views and attracting widespread ridicule.
Comedian John Fugelsang tweeted: "Be sure to find the erection center near you."
Tuscaloosa Patch reporter Ryan Phillips joked: "Call your doctor if your erection for the people lasts longer than four hours."
Democratic political campaigner Jon Cooper posted: "Who else thinks it's hilarious that both Ted Cruz and Lindsey Graham nod their heads in agreement when Herschel Walker says 'this erection is about the people.'"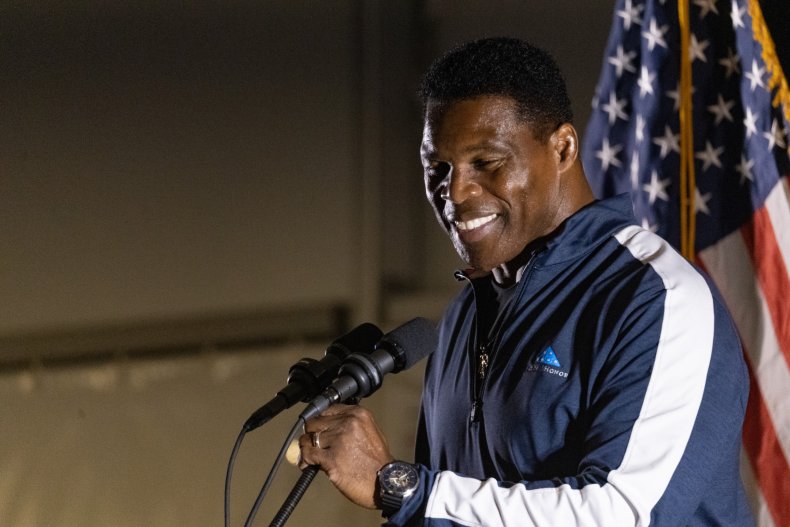 A number of Twitter users referenced Herschel's repeated promotion of 2020 presidential election conspiracy theories, falsely suggesting the race had been rigged against Donald Trump.
Commentator Keith Edwards tweeted: "Well at least we know he's not an erection denier."
A similar point was made by political YouTuber Brian Taylor Cohen, who posted a clip of Herschel's comment adding: "The erection denier himself."
On November 8 Warnock, first elected as a Senator in 2020, polled ahead of Walker by 49.44 percent of the vote to 48.49 percent.
An AARP poll released on Tuesday suggested Warnock is favored to retain his Senate seat, putting the Democrat on 51 percent versus 47 percent for Walker.
Across Georgia, 500 likely voters were surveyed between November 11 and 17 for the poll, which has a margin of error of plus or minus three percent.
If the Democrats hold Georgia it will mean 51 Senators caucus with the party, versus 49 for the Republicans, after John Fetterman flipped a seat in Pennsylvania.
Also this week a historic video of Walker describing racism as "the hardest thing...I had to overcome in life" resurfaced on social media.
In the clip, posted to Twitter by Patriot Takes to its 448,000 followers, Walker said: "The hardest thing I think I had to overcome in life—I think racism.
"I think that's so difficult because I don't think anyone can ever understand it. It's not the point that people don't want to understand it, but they don't want to touch it. So, like, that's a subject we can't touch, let's get away from it. But you know it's there, and as long as it's there you've got to cope with it."
Geoff Duncan, the Republican Georgia Lieutenant Governor, has said Trump should "stay home" if he wants to maximize Walker's chances of being elected.
Herschel Walker has been contacted for comment.