Raphael Warnock's Odds of Winning Georgia Senate Race 2 Weeks Before Runoff
Democratic Senator Raphael Warnock has a narrow lead against his Republican challenger Herschel Walker two weeks before Georgia's runoff Senate election, according to a new poll.
No candidate reached 50 percent during Georgia's hotly contested Senate election this month, triggering a runoff between the two hopefuls who received the most votes, per Georgia state law. Warnock, elected in 2020, finished just shy of majority at 49.4 percent, while Walker received 48.5 percent of votes during the election.
Stakes are high for both men heading into the December 6 runoff as Democrats hope to grow their Senate majority, and Republicans seek to win a key race following underwhelming midterm results for the party.
An AARP poll released Tuesday showed Warnock poised to win election to his first full term in office. Warnock received support from 51 percent of the poll's respondents, while 47 percent said they planned to vote for Walker. The poll is the first to be released since the November 8 election.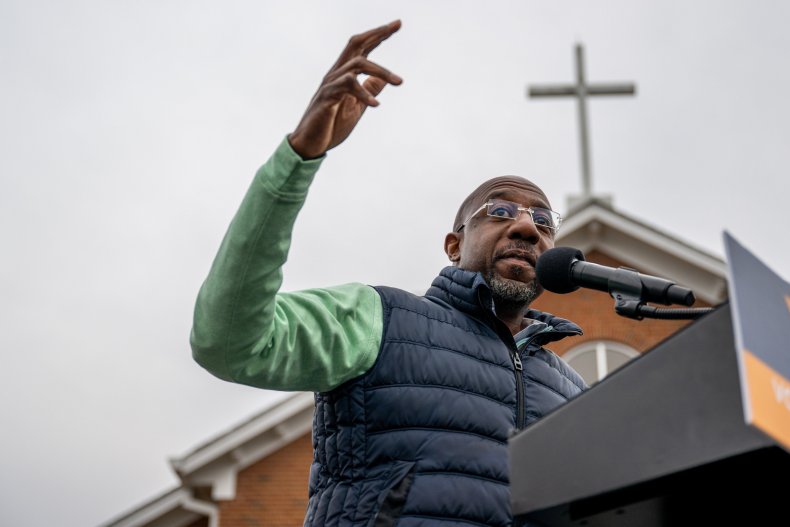 The poll was conducted on behalf of AARP by Fabrizio Ward & Impact Research. It surveyed 500 likely voters statewide from November 11 to 17. It has a margin of error of plus or minus 3.3 percentage points.
It found Warnock leading substantially with Black voters and voters ages 18 to 49. Warnock also polled well with older voters and men, according to the survey. Voters said the most important issues determining how they will vote include threats to democracy and the economy, specifically inflation.
Walker has sought to tie Warnock to President Joe Biden, whose approval rating took a hit following economic concerns surrounding inflation and high gas prices. Walker received the endorsement of former President Donald Trump, who last week announced he is running for president in 2024.
Warnock, meanwhile, has highlighted Walker's stance on abortion as being extremist and out of touch with most Georgians. Walker's campaign faced controversy amid allegations that, despite an anti-abortion platform, he has paid for abortions in the past. Former President Barack Obama is set to campaign alongside Warnock on December 1.
Alan Abramowitz, professor emeritus of political science at Emory University, told Newsweek that the runoff's results will be determined by turnout—and that he believes Republicans could see worse turnout than Democrats.
Abramowitz said Walker may have benefited from Governor Brian Kemp—a popular governor who received support from independents for opposing Trump's unfounded election fraud claims—at the top of the ballot. But Kemp won his race with more than 50 percent of the vote, so he will not be on the ballot in December.
This could benefit Warnock, as some moderate Kemp voters may stay home from the polls if they have unfavorable views toward Walker.
"In a close race that could make a difference," Abramowitz said.
Senate Control Not Being at Play Could Benefit Warnock
Both parties are seeking to shore up their numbers in the Senate by winning the Georgia runoff, but a Walker victory would still leave Republicans in the Senate minority.
Democrats held onto every Senate seat they held before the election—including competitive seats in Arizona, Nevada and New Hampshire. They also flipped a seat in Pennsylvania, meaning they currently hold 50 seats compared to Republicans' 49. If Walker wins, Vice President Kamala Harris would continue serving as the tie-breaking vote.
Control of the Senate not being a factor could help Warnock by removing a key incentive in the runoff, Abramowitz said.
"Given that control of the Senate is already decided—which I think for Republicans was probably an important reason for sticking with Walker, even if they had reservations about him—without that incentive or without that motivation to support Walker, I think you might see some of them not turn out," he said.
Newsweek has reached out to Warnock and Walker's campaigns for comment.