High Inflation Rates Push Some California Residents to Mexico for Groceries
Some California residents have crossed the border to Mexico to buy cheaper groceries as many continue to struggle with the current status of the U.S. economy, even though the inflation rate has slightly decreased to 8.5 percent in July after a record high 9.1 percent in the month prior.
Despite the dip in the inflation rate, prices are still increasing in the food and shelter categories. "Food at home" was up 13.1 percent year-over-year, following July's reading of 12.2 percent.
Consequently, some southern Californians are driving 20 minutes every day from San Diego to the San Ysidro border, leading to Tijuana in an effort to opt for cheaper grocery items, News Nation reported on Thursday.
"If you are on a budget, you gotta take care of yourself," said David McCarty, who lives in Chula Vista, California, according to the news outlet. He also had a routine pet checkup during his recent trip to Mexico.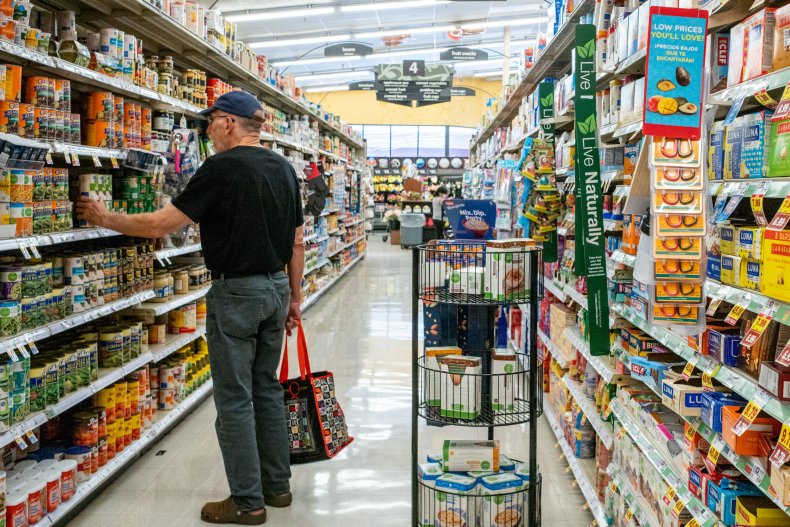 Meanwhile, another resident, Gibran Jimenez, drove around two hours with his wife and two children to reach Tijuana in an effort to save up as much money as possible. "I gotta save as much as I can; every penny counts," he said.
David Fiorenza, an economics professor at Villanova University, told Newsweek on Thursday that there are some reasons that could push people to go on such journeys.
"People will cross borders to purchase items such as groceries if the transportation costs of gas, tolls, and time do not make the final costs of the products more expensive," he said. "It is all about the opportunity costs of buying locally to save time in exchange for buying elsewhere that may be less money."
Shoppers are finding better bargains in Mexico such as a gallon of milk which is 50 percent cheaper compared to the U.S. Additionally, a four-pack of toilet paper is around $4 less and a 24-pack of Tylenol is $1 less, according to News Nation.
Grocery items in the U.S. have seen year-over-year increases as follows:
Milk: 15.6 percent
Bread: 13.7 percent
Breakfast cereal: 16.4 percent
Bacon: 9.2 percent
Eggs: 38.0 percent
Coffee: 20.3 percent
Additionally, prices of potatoes increased 13.3 percent and chicken prices rose 17.6 percent compared to 2021.
Meanwhile, shop owners at Mercado Hidalgo in Tijuana have reported a 20 percent to 30 percent increase in American tourism during the weekdays as more people come for grocery shopping, according to News Nation.
The news sparked a discussion on Reddit with some implying that the U.S. is falling short of meeting residents' demands if shoppers have to cross the border to buy cheaper groceries.
"It's hard to listen to the US being called the best when citizens have to resort to traveling to other countries for food and health care because it's not affordable here," said one Redditor.
"Doesn't seem like all the tax money you pay in California is really helping your way of life. Less can be more," another Redditor said.
However, U.S. shoppers might wait in long lines at customs and can't return home with certain items from Mexico. Some items such as most fruits, such as apples and oranges, are banned through customs, and those who fail to disclose agricultural items could receive a $1,000 fine, according to News Nation.
Fiorenza highlighted some of the reasons behind the country's current inflation, including the demand exceeding the supply over the past year and a half.
"We had a year or more of pent-up demand due to the pandemic. Also, the Federal Reserve waited a little longer than they should have with raising interest rates to cool down demand. Inflation is also caused by fear and panic, which has happened with various products such as baby formula," he explained.
Newsweek reached out to a number of U.S. economy experts including Lisa Cook, Assistant Professor of Economics and International Relations at Michigan State University and Robert Blecker, an economics professor at the American University in D.C.
Update 8/11/22, 4:51 p.m. ET: This story has been updated with comments from economics professor David Fiorenza.