Hilaria Baldwin Posts Alec Singing With Kids As Actor Surrenders Phone in 'Rust' Probe
Hilaria Baldwin has posted videos of her husband Alec Baldwin singing and playing with their young children as the actor prepares to hand over his cell phone for the Rust investigation.
The couple are parents to Carmen, Rafael, Leonardo, Romeo, Eduardo and newborn baby Lucia.
"I love them so much," Hilaria Baldwin captioned the post.
In the video, the 63-year-old actor is lying on the floor with his sons as they sing along to the song "You're Going To Lose That Girl" by The Beatles.
In an earlier post this week, Hilaria shared some more sweet snaps of her kids.
"Six kids is wild, and I often realize have little idea of what I'm doing. It's moments like these where I feel like whatever is happening, it's working," she said.
On Wednesday, the mother of six shared a number of bizarre photos to her Instagram stories of her husband holding up art he apparently drew.
In the first drawing, a frowning man says, "Hello!" and a woman in a bikini replies: "May I help you?" In the second, a man is lying down, saying, "Oh, God. Please help me. I'm dying," as the woman replies: "Do I know you?"
Hilaria Baldwin posted these two photos with the captions: "ALEC AND HIS DRAWINGS OF HIM AND ME" on the first and "NOT DRAMATIC AT ALL..." on the second.
The cryptic posts left many people confused and wondering what the drawings represented.
"Is Alec Baldwin taunting the sheriff investigating him? Look what he's holding..." asked journalist Emily Miller.
The investigation into the fatal shooting on the set of the movie Rust is still ongoing.
In October, cinematographer Halyna Hutchins died when a gun held by Baldwin discharged a live round during rehearsals.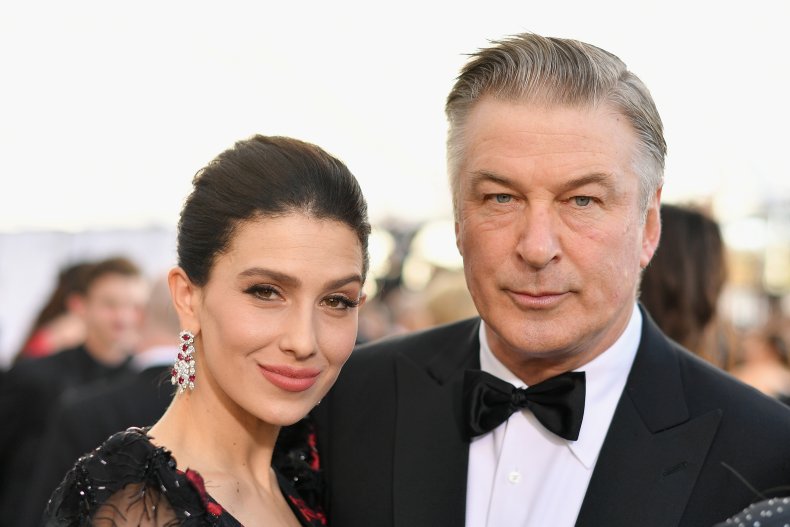 In an interview with ABC, Baldwin said he never pulled the trigger and said he was not responsible for the tragedy.
New Mexico authorities issued a warrant to access the actor's cell phone over a month ago to aid their investigation.
Now Baldwin's lawyer, Aaron Dyer, said he had reached a deal with investigators and will turn in the phone after steps were taken to protect his privacy.
"Mr. Baldwin's phone is being turned over this week for review," Dyer said in a statement. "Mr. Baldwin has continued to cooperate with the authorities, and any suggestion to the contrary is simply untrue."
Authorities had previously said that Baldwin had not complied with a search warrant requesting he hand over the phone.
Earlier this week, the ammunition supplier for the movie Rust filed a lawsuit against the production's armorer over the fatal on-set shooting.