Hillary Clinton Dismisses Her Criticism of Bernie Sanders: 'It Was Like 15 Seconds In a Four-Hour Documentary'
Hillary Clinton downplayed her criticism of Senator Bernie Sanders, her former rival for the Democratic presidential nomination in 2016, in a new interview, saying it was just a few seconds within hours of documentary footage.
In a new Hulu docuseries titled Hillary, which tells the story of Clinton's life and her 2016 campaign, she says that "nobody likes him," referring to Sanders. The former secretary of state defeated Sanders in the party's primary race before losing to Donald Trump.
"He was in Congress for years. He had one senator support him. Nobody likes him. Nobody wants to work with him, he got nothing done," Clinton claimed in the docuseries, The Hollywood Reporter reported last week. "He was a career politician. It's all just baloney, and I feel so bad that people got sucked into it."
The comments quickly drew condemnation from Sanders' supporters and Clinton's critics. Online, the hashtag #ILikeBernie began trending as the senator's surrogates and fans pushed back against Clinton's claims.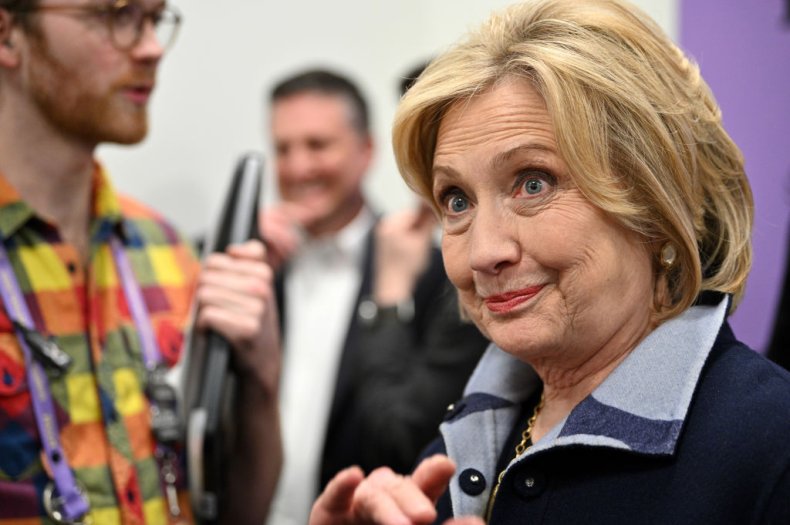 Speaking to Vulture for an interview published on Monday, Clinton suggested her remarks targeting her former political rival were given too much attention. Asked if she'd spoken to Sanders since the news of her comments broke, she said no.
"But it was like 15 seconds in a four-hour documentary," she added.
Before that, Clinton told the interviewer that she had no involvement in the comments becoming public when they did. Some Sanders supporters had suggested they were released just ahead of the 2020 primary voting to intentionally damage their candidate.
"First of all, I had no control over when it would be done and when it would be released. That was the decisions of the filmmaker and Hulu," she said. Clinton also said she plans to support whoever the Democratic Party nominates.
"It's going to be a real challenge to defeat Trump, and we've got to all be united to get that done," she said.
Previously, in her interview with The Hollywood Reporter, Clinton declined to specifically say she would endorse Sanders if he receives the nomination. "I'm not going to go there yet," she said.
Asked about Clinton's criticism last week, Sanders quipped: "On a good day, my wife likes me, so let's clear the air on that one."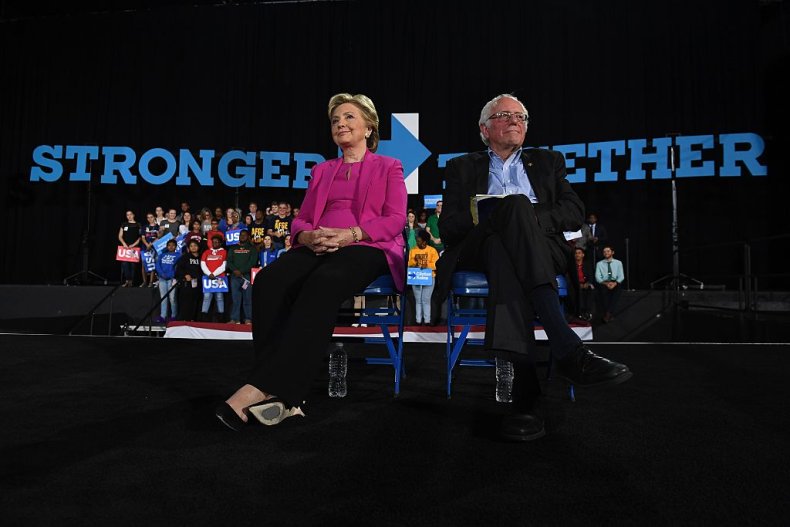 Later he responded more critically.
"I am sorry for what Secretary Clinton had to say. I know she said that nobody likes me, right?" the Vermont senator told CBS Evening News on January 24. "I mean, this is not the kind of rhetoric that we need right now when we are trying to bring the Democratic Party together to defeat the most dangerous president in American history."
Sanders has been surging in the Democratic primary polls over the past couple of months, with some showing him neck in neck with former Vice President Joe Biden, or even in the lead. The senator is also polling well in early-voting states Iowa and New Hampshire, suggesting that he could start off strong as Democrats begin formally casting votes in support of candidates.