Hillary Clinton Will Campaign With Gabby Giffords's Gun-Safety Bus Tour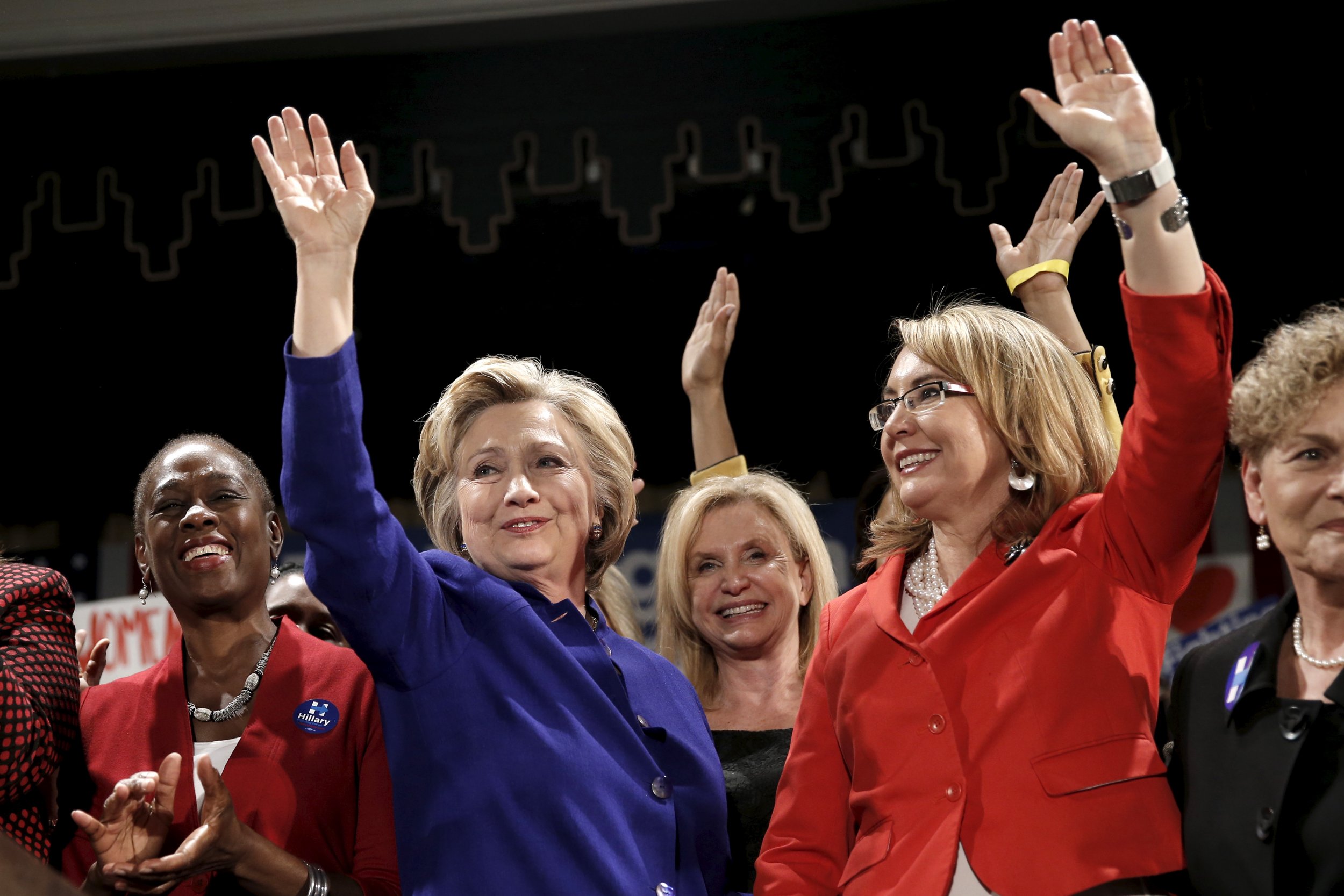 With just eight days remaining until the presidential election, Hillary Clinton will be in Cincinnati on Monday night to push for Ohio residents to vote early. She will be joined by two leading gun-safety advocates—former U.S. Representative Gabrielle Giffords and her husband, Navy combat veteran and retired astronaut Mark Kelly.
The appearance at the city's Smale Riverfront Park is both a part of Clinton's push to encourage Americans to vote early and a stop on Giffords's "Vocal Majority" gun-safety tour. Her political action committee, Americans for Responsible Solutions (ARS), is nearing the conclusion of its six week, 14-state bus tour to demand an end to gun violence. The group, which endorsed Clinton in June, began the nationwide tour in Orlando, Florida, the site of the deadliest mass shooting in modern U.S. history, on June 12. Giffords and Kelly, who publicly acknowledge they are gun owners, became supporters of stronger gun legislation after she was shot in the head five years ago during an event at a supermarket in Tucson, Arizona.
The tour, which lasts through Election Day, is part of ARS's initiative to mobilize millions of voters to make the 2016 election a referendum on gun safety, and to support leaders down the ballot who are committed to taking steps to reduce gun violence.
While making clear she stands behind Americans' Second Amendment rights, Clinton has expressed her support for universal background checks and for preventing terrorists, criminals and others who pose risks to public safety from obtaining guns. Campaigning on the issue, Clinton repeatedly has promised voters that she will take these promises past the general election and into the White House. She is expected to take the stage Monday at 6:15 p.m. Eastern time.
The race in Ohio is neck and neck: A RealClear Politics average covering the state shows Trump ahead of Clinton by 1.5 percentage points. Over the weekend, former President Bill Clinton campaigned for his wife there, and President Barack Obama will kick off a four-day campaign schedule for the Democratic nominee by appearing Tuesday in Columbus.
The Democratic vice presidential nominee, Tim Kaine, carried the campaign's message favoring stronger gun laws when he appeared with the Vocal Majority tour at Florida State University in Tallahassee on Friday. The U.S. senator and former governor of Virginia—the NRA's home state—Kaine called gun violence a "sickness" in the United States. He became an advocate for mental health reform in the wake of the 2007 Virginia Tech massacre.