Hillary Clinton Trolls Trump as Impeachment Talk Ramps Up: 'But My Emails'
Former Democratic presidential candidate Hillary Clinton has taken to trolling her former political rival Donald Trump over the fast-moving impeachment inquiry against his presidency.
"The president is a corrupt human tornado," Clinton tweeted on Monday morning.
She also responded to praise from Democratic presidential candidate Senator Kamala Harris of California. Harris's original post said: "Hillary Clinton served our country with distinction and always put our country first—something Trump knows nothing about."
With clear sarcasm, Clinton responded: "But my emails. (Thank you.)"
Harris' original tweet shared an article from The Washington Post, which reported that the State Department had intensified a probe into the former Secretary of State's email scandal. The initial investigation into that scandal was resolved during the 2016 election, with former FBI director James Comey criticizing Clinton's handling of her emails but asserting that no criminal charges would be brought. Clinton and her staff improperly sent classified emails to an insecure private server outside of the State Department. Trump has long attacked Clinton over the scandal, even leading his supporters to chant "lock her up" during his presidential campaign.
The criticism from Clinton and Harris came as the president faces increasing backlash due to his actions toward Ukraine. Speaker of the House Nancy Pelosi, the top Democrat in Congress, launched an official impeachment inquiry into the president last Tuesday following revelations that he pressured Ukrainian officials to launch a probe to dig up dirt on his political rival, Democratic presidential candidate and former Vice President Joe Biden.
A whistleblower filed an official complaint over Trump's actions toward Ukraine in August. Part of that complaint centered around a phone call between Trump and Ukraine President Volodymyr Zelensky, during which he pressured his counterpart in Kiev to investigate Biden and his son Hunter Biden's business interests in the Eastern European nation. Prior to that conversation, Trump had decided to withhold $391 million in military aid to Ukraine, despite it being supported by Democrats, Republicans, the Pentagon and intelligence agencies.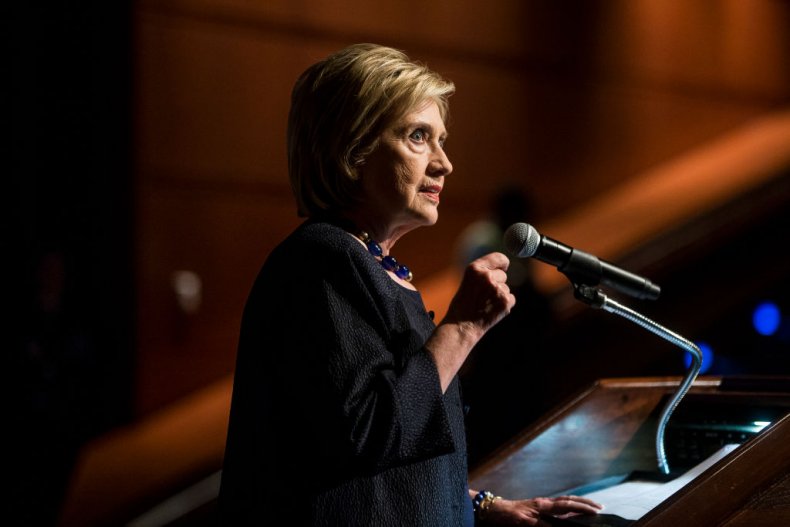 Critics have argued that Trump was withholding the aid as leverage to pressure the Ukrainians to open the probe into his political rival. While that has not been established, Ukrainian officials have said they were given the impression that Trump's backing of their government could be impacted by their willingness to cooperate. The aid was eventually released after pressure from Republicans and Democrats.
Although Trump and his supporters have dismissed the impeachment inquiry as overtly "partisan" and a "witch hunt," several prominent Republicans have been critical of the president's action. While most have been cautious about saying they support the "impeachment inquiry," they have said they support investigations into the president's actions toward Ukraine.