Former Secretary of State Hillary Clinton has said re-electing former President Donald Trump could help Russian President Vladimir Putin win the ongoing war in Ukraine.
Clinton made the remarks in an interview with the Financial Times published on Friday where she also argued that the U.S. was "on the precipice" of no longer being a democracy.
The Russian invasion of Ukraine has now lasted more than 100 days and President Joe Biden's administration has provided billions of dollars in military and humanitarian aid to the Ukrainian government and imposed harsh sanctions on Russia.
Clinton, who was the Democratic presidential nominee in 2016 and lost to Trump, highlighted the former president's attitude to the NATO military alliance as she discussed his potential return to the White House. She reportedly told the newspaper that she viewed a second Trump term as Putin's only realistic path to victory.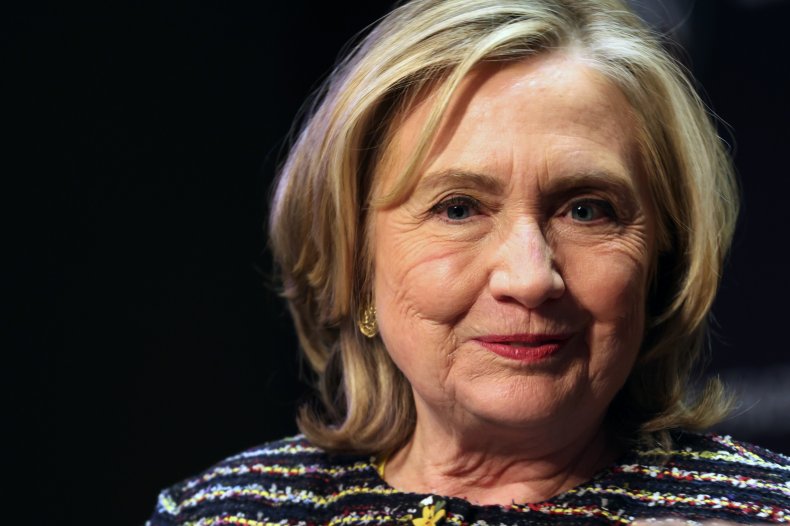 "If Trump had won in 2020 he would have pulled out of NATO—I have no doubt about that," Clinton said.
Trump was frequently critical of NATO countries during his presidency, often claiming that NATO members were delinquent in payments to the U.S.
However, the former president appeared to misunderstand NATO defense spending commitments. Member countries do not pay the U.S. but are meant to spend at least two percent of their GDP on defense, a target many do not reach.
She also said that she expects Trump to run again in 2024.
Trump has repeatedly hinted at another White House run and assured supporters that they will be "very happy" when a final announcement is made, although he has so far made no formal declaration about whether he will launch another campaign.
Clinton also addressed Trump's continued false claims that the 2020 presidential election was stolen from him through mass voter fraud and other irregularities—claims repeatedly rejected by the courts.
"Even in his reptilian brain, Trump has to know that he lost this time. He refuses to accept it because it wasn't supposed to happen," she said.
The former first lady also had a more general warning about the future of democracy in the U.S. at a time when the House of Representatives' Select Committee is examining efforts to overturn the 2020 election.
"We are standing on the precipice of losing our democracy, and everything that everybody else cares about then goes out the window," she said.
"Look, the most important thing is to win the next election. The alternative is so frightening that whatever does not help you win should not be a priority."
Clinton also ruled out running for president again and said she expects Biden to seek another term.
Biden has said it is his intention to run for a second term, while Clinton has been asked several times if she's considering another presidential bid. She has repeatedly said she will not re-enter frontline politics.