Who Are Hillsong's New Leaders, Pastors Phil and Lucinda Dooley?
Hillsong Church will be led by husband and wife pastors Phil and Lucinda Dooley, while its founder steps aside to focus on fighting a charge of illegally concealing child sexual abuse by his late father.
Brian Houston, the church's leader, said he had asked the Dooleys to take on the role of interim global senior pastors until the end of the year while he prepares to "vigorously defend" himself against the charge.
The couple "are well-loved by many in our church, having successfully served as our youth pastors in Australia for many years," Houston said in a statement posted on Hillsong's website on Sunday.
"Over the last 13 years they, with their family, have resided in South Africa and have raised up a phenomenal multi-campus Hillsong Church."
Houston said he and wife Bobbie "wholeheartedly support" the Dooleys.
"We want to thank them and their family for stepping into this role and committing to spend a considerable amount of time in Australia for this season," he added.
The Dooleys are lead pastors of Hillsong Church South Africa and have three children, according to the Hillsong website.
"They moved to South Africa in 2008 and their heart is to build a church that builds this nation," the website adds. "A dynamic duo, they are gifted communicators and empowering leaders who are all about seeing people find Jesus and fulfil their God-given destinies."
The couple have been contacted for comment.
Houston founded Hillsong with his wife Bobbie in Sydney in 1983. It has since become a global megachurch that has locations in 30 countries on six continents, and 150,000 people attend its services every week, the church says.
It has become popular with young people in recent years and attracted several celebrities—including Justin Bieber, Chris Pratt and Bono—but has also been rocked by scandals.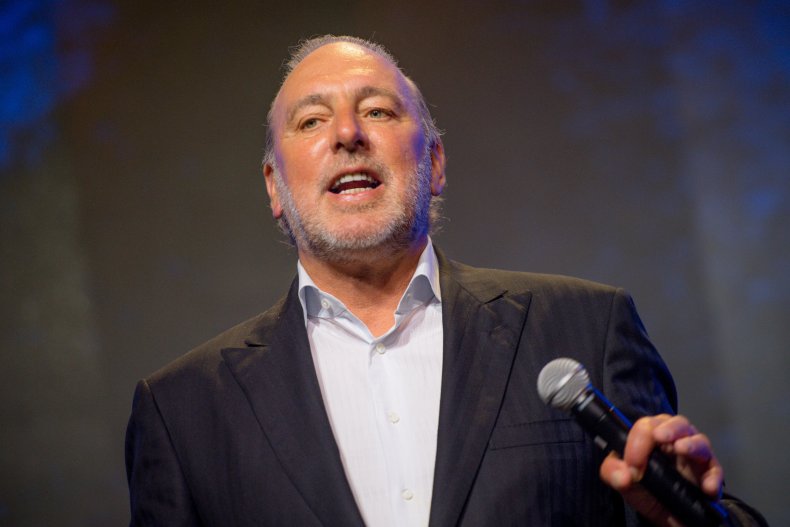 Houston had already stepped down from the board of Hillsong since being charged last year. But he said on Sunday that he had agreed with the church's board and external legal counsel that he should "step aside completely from church leadership during the court proceedings."
In his statement, he said his wife "intends to remain fully engaged in church life."
Houston was charged in August last year with concealing a serious indictable offense of another person.
Police allege he knew about his father Frank Houston's abuse of a young male in the 1970s and failed to report it to police.
An Australian government inquiry into institutional responses to allegations of child sex abuse said Brian Houston became aware of allegations against his father in 1999, but allowed him to retire rather than report him to police.
Frank Houston died in 2004 at the age of 82. He had been accused of abusing nine boys while he was a Pentecostal preacher, according to the Sydney Morning Herald newspaper.