HIMARS to Helmets—Here's Exactly What U.S. Has Sent Ukraine
The full extent of American military support for Ukraine has been set out in a new Department of Defense document.
Titled "Fact Sheet on U.S. Security Assistance to Ukraine," the paper was released on August 8. It reveals that the U.S. has sent $9.1 billion worth of military assistance since Russia invaded Ukraine on February 24, including helicopters, drones and heavy artillery.
Another $700 million was received between Joe Biden becoming president in January 2021 and the Russian attack.
Since the invasion, the U.S. has donated over 7,500 Javelin anti-armor missiles, which have proved devastating to Russian tanks, and 1,400 Stinger anti-aircraft missiles.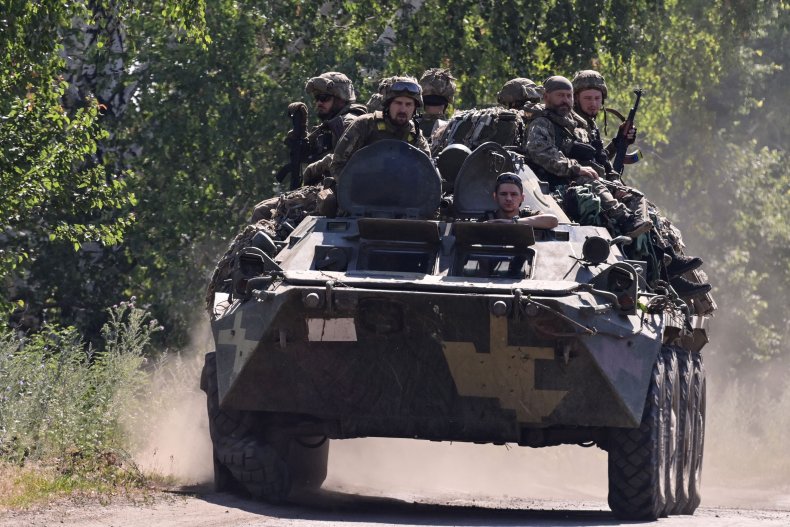 For drones, more than 600 Switchblades and 600 Phoenix Ghosts have been delivered, both loitering munitions that are flown into a target and then explode.
America has also provided Ukraine with the weapons to compete with Russia's infamous heavy artillery, which has reduced towns in eastern Ukraine to rubble.
In total 126 15-millimeter howitzers were provided, along with 561,000 rounds of ammunition.
More recently, Ukraine was given 16 High Mobility Artillery Rocket Systems (HIMARS), which have been used to strike Russian command posts, supply dumps and critical bridges well behind the front line.
To help transport troops, Ukraine was given 200 M113 armored personnel carriers along with 20 Mi-17 helicopters, originally ordered by Afghanistan before its government fell to the Taliban last year.
For the infantry the U.S. provided over 59 million rounds of small arms ammunition, along with 75,000 body armor and helmet sets, for personal protection.
To defend Ukraine from the water, two harpoon missile coastal defense systems were gifted, along with 18 coastal and river patrol boats.
The latest $1 billion in U.S. military aid for Ukraine, including ammunition for HIMARS and armored medical vehicles, was announced last week.
After the U.S., Britain has provided Ukraine with the most military support, gifting the country 2.3 billion pounds in assistance by mid-July.
The British Government has also pledged to train 10,000 Ukrainian troops in the U.K. every 120 days, with the program being run by 1,050 British military personnel.
A U.K. press release said the troops will be taught "weapons handling, battlefield first aid, fieldcraft, patrol tactics and the law of armed conflict."
Support Across Europe
A number of other European countries, including Poland, France and Germany, have also provided weaponry along with Canada and Australia.
Earlier this month, Colin Kahl, the U.S. undersecretary of defense for policy, estimated Russia has suffered 80,000 casualties since Putin's invasion began in February, though this wasn't broken down between killed and injured.
Kahl added that Russia has made "incremental" progress in eastern Ukraine over the past few weeks, but "that has come at extraordinary cost to the Russian military because of how well the Ukrainian military has performed and all the assistance that the Ukrainian military has gotten."
Ukrainian forces have been making gradual progress toward the city of Kherson, occupied by Russia in the opening weeks of the war.
Russia is also facing a partisan campaign in the area from Ukrainian resistance fighters, with both Russian soldiers and local collaborators killed in bombings and shootings.