From Lil Wayne to Cardi B, Every Hip Hop Artist To Endorse Donald Trump Or Joe Biden
With less than a week to go until the election, new endorsements for both candidates are continuing to come from high profile voices.
However, the hip hop world has been thrown into a state of political disarray as a number of prominent artists have controversially voiced their support for Donald Trump.
The latest rapper to cause a stir was Lil Wayne who posted a photo with the president Thursday in a move that was met with intense backlash and an endless wave of memes.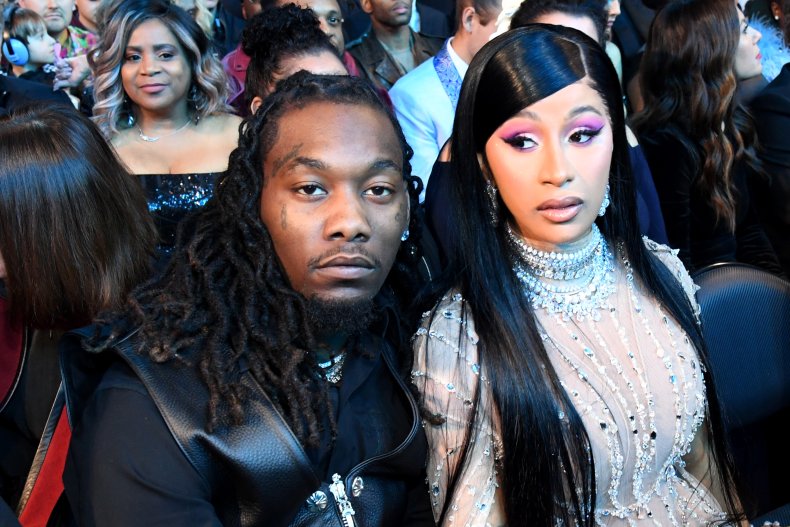 50 Cent, Ice Cube and Lil Pump have also backed the Republican candidate in what has been a tumultuous week of campaigning on both slides.
Democratic nominee Joe Biden large has most of Hollywood on his side—including a fair share of rappers.
Here are all the hip hop artists who have endorsed either Trump or Biden.
Biden endorsements
Cardi B
Cardi B has been a vocal Biden supporter since the former vice president announced his bid for the White House this year.
The "WAP" hitmaker took part in a virtual Elle interview with Biden in August where she stressed that getting "Trump out" is an election priority.
"I have a whole list of things that I want our next president to do for us. But first, I just want Trump out," the 28-year-old said.
Offset
Offset performed at a campaign event for Biden in Atlanta, GA this week.
The Migos rapper posted a photo with Biden to Instagram, captioned: "Go vote @joebiden .....@common & I performed his rally in Atlanta."
Common
Common performed at the same event this week.
"We got Offset here," Common said on stage (via Billboard). "He been speaking up about voting for as long as I've known the man. I've got to say, it's just been touching my heart to hear his story, and hear what he's done."
Bad Bunny
Latin superstar Bad Bunny supported Biden's presidential campaign in ads targeting Latino communities in the battleground states of Florida, Arizona and Pennsylvania.
The ad featured the Puerto Rican rapper's hit "Pero Ya No."
Diddy
This month, Sean 'Diddy' Combs endorse Biden during a conversation with Charlamagne Tha God on Revolt TV.
The music mogul also launched a political party called Our Black Party, with the goal of unifying African-Americans.
Snoop Dogg
Snoop Dogg endorsed Biden during an appearance on Real 93.3's Big Boy's Neighbourhood.
"I ain't never voted a day in my life, but this year I think I'm going to get out and vote because I can't stand to see this punk in office one more year," he said of Donald Trump.
Jermaine Dupri, Ludacris, Jeezy, Monica
The Biden campaign recruited Ludacris, Monica, Jermaine Dupri and Jeezy to record Get Out The Vote ads to encourage Black voters in battleground states.
"It is really really important to make sure people don't sit at home," Dupri told The Hollywood Reporter. "There are a lot of people I know that are still on the fence about voting, period."
"If you've been out marching in these streets, exercise your rights. You now need to exercise your right to vote," Ludacris said in one of the ads.
A$AP Ferg
A$AP Ferg performed at an 'I Will Vote' concert event last week in support of Biden.
A number of stars including Cher, Bon Jovi, the Black Eyed Peas, Dave Matthews, Ben Platt were also present.
Trump Endorsements
Lil Pump
The Florida rapper, whose real name is Gazzy Garcia, took to Instagram on Sunday to give Trump his official endorsement, first posting a photoshopped picture of himself with the president. "THE DAY I MET TRUMP #trump202022020," he captioned the image.
Lil Wayne
The "Lollipop" hitmaker shared a photo of himself alongside Trump Thursday with the caption: "Just had a great meeting with @realdonaldtrump @potus besides what he's done so far with criminal reform, the platinum plan is going to give the community real ownership. He listened to what we had to say today and assured he will and can get it done."
50 Cent
50 Cent actually rescinded his endorsement of Trump, but the rapper made headlines last week when he tweeted to say he was voting for the Republican candidate.
On October 19, he tweeted a screenshot of a Fox News segment which depicted just how heavily people in California, New York City, New York State and New Jersey would be taxed under Biden's plan and wrote: "WHAT THE F***! (VOTE ForTRUMP) IM OUT, F*** NEW YORK The KNICKS never win anyway. I don't care Trump doesn't like black people 62 percent are you out of ya fucking mind."
6ix9ine
In September, Tekashi 6ix9ine has said he would vote for Donald Trump in his first interview since being released from prison.
Speaking to the New York Times, he said: "I don't think Trump trolls," he said. "I think Trump is genuinely Trump. I get compared to Trump every day. But I love Mexican people. I don't think we're the same."
Asian Doll
Earlier this month, Asian Doll posted tweet claiming that she rather vote for President Trump than "that other dude."
Waka Flocka Flame
Waka Flocka Flame shocked fans when he said he thought Trump was a better president than Barack Obama.
He posted on Instagram: "There are two types of people in this world: Those who resist change in favor of nostalgia and those who move with the times and create a better future."
Kanye West
An honorable mention has to go to Kanye West, who has been highly vocal about his support of Trump in the past and famously visited the president in the oval office.
However, West did not officially endorse anyone for the 2020 election because he is running on the ticket himself in a number of states following a controversial campaign.