Hispanic Voters Largely Back Ron DeSantis Relocating Migrants
A newly released national poll shows a plurality of Hispanic voters support Florida Governor Ron DeSantis' move to relocate migrants from the U.S.-Mexico border to sanctuary cities in what political strategists called a sign that the once-reliably liberal demographic is gravitating toward the GOP.
According to polling from the Morning Consult and Politico released Tuesday, 41 percent of Hispanic voters said they considered Republican governors sending migrants to liberal U.S. states and cities an "appropriate" way to handle illegal immigration, while just 35 percent called it "inappropriate," with roughly one-quarter of Hispanic voters undecided.
However, 40 percent called the move an ineffective method to reform the country's immigration system, with a similar number describing the move as "immoral" on a topic that polling shows has divide the U.S. electorate. Overall, 40 percent of voters called the move to send migrants to liberal states "moral," while 39 percent called it "immoral."
The poll comes against the backdrop of a national rift between those who felt DeSantis manipulated the experiences of vulnerable migrants to score political points versus those who believe the provocative Florida governor was demonstrating the societal impact of the national border crisis to liberal communities conservatives feel aren't taking the issue seriously.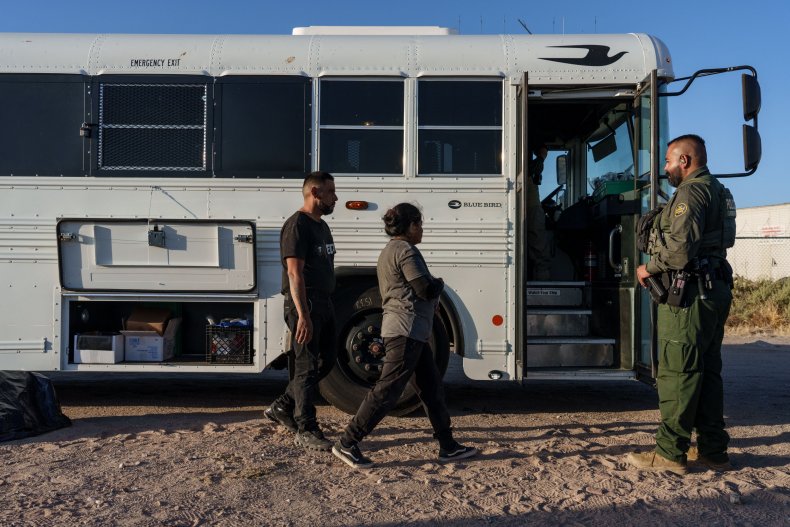 The Biden administration has found itself facing a record surge in undocumented border crossings across his administration, and red state governors, including DeSantis, have sought to take advantage. Through August, a record 2.1 million-plus undocumented immigrants were arrested at the border. It marks the first time the total has exceeded 2 million in a fiscal year, which ends on September 30.
DeSantis' administration is already facing a criminal investigation from a Texas sheriff as well as a lawsuit by some of the migrants transported to Martha's Vineyard while maintaining that all of the migrants were transported voluntarily, and only to places with political leadership that had previously demonstrated a willingness to take them in.
The response from the Hispanic community underscores the group's shifting allegiance toward the GOP. Where Hispanics gave Republican Mitt Romney just 27 percent of the vote a decade ago, the latest New York Times/Siena College poll shows roughly one-third of Hispanic voters now align themselves with the GOP, while an even greater number—38 percent—voted for President Donald Trump in 2020.
GOP strategists said that although Hispanic voters favor social programs championed by Democrats, the demographic skews socially conservative and tends to favor pro-growth economic policies championed by Republicans, said Visto Media founder Giancarlo Sopo, a Republican strategist who led Trump's 2020 national Hispanic advertising and is currently advising GOP campaigns in two battleground South Texas districts.
"For years, American newsrooms have had an oversimplified understanding of Hispanics' stances on immigration as being very liberal, and that's inaccurate," Sopo said. "Hispanics have nuanced views on immigration precisely because we understand the system better than anyone and those views include support for border security and orderly processes.
"It would be helpful to view Hispanics as groups of people whose politics vary by region, but on average, is socio-demographically similar to working-class whites."
Immigration has also proven a salient issue in recent years. Sopo told Newsweek that a growing proportion of the demographic sees the current system as broken, and believes the crisis is disproportionately borne by communities already stressed and overcrowded with newly arrived migrants—particularly in large urban centers where there's little appetite for mass migration due to skyrocketing rents, overcrowded public schools and worsening traffic.
Republicans are running several Hispanic candidates in border districts in South Texas, such as Cassy Garcia as well as Monica De La Cruz, whose 15th Congressional District, though currently represented by Democrat Vicente Gonzalez, is leaning Republican, according to Cook Political Report.
Garcia and De La Cruz have made immigration reform central to their campaigns in urban districts with high populations of Hispanic voters.
"We're all sympathetic to the plight of refugees and asylum seekers, but people in my community also want migrants to come here legally," De La Cruz told Newsweek. "Many families in South Texas had to wait a decade to bring their relatives over and they don't like the way the system is being abused. It's only fair that other communities do their part, especially if they promote weak border policies. We have big hearts and we want law and order."