Texas Democrat Mayor Defends Busing Migrants Out of State: 'We Help Them'
A Democratic mayor from Texas has spoken out in support of busing migrants out of the state, a tactic that has drawn widespread condemnation from the left in recent weeks.
Oscar Leeser, the mayor of El Paso, appeared on ABC's This Week on Sunday to discuss the recent migrant transporting trend that has dominated the national conversation in the last week. His appearance came as El Paso began to enact its own transportation program, chartering buses that have taken migrants to cities like New York.
The tactic gained a new spotlight last week when a program approved by Florida Governor Ron DeSantis and funded with taxpayer money flew 50 asylum-seeking migrants from Florida to Martha's Vineyard in Massachusetts. Officials in the island's local government were reportedly not told about the move in advance and the migrants themselves have said that they were coerced onto the flight with false information that jobs and housing were awaiting them. The tactic has been widely criticized as an attempt to use migrants as props to help the GOP win political points against Democrats in the upcoming midterms.
Leeser said Sunday how his city's plan to transport migrants to other cities differs from the program that is currently being enacted by Texas Governor Greg Abbott, saying that El Paso has been working to find out where each migrant is looking to go and arranging transportation there on buses with sufficient amenities, like food.
"That's been really important that we don't send anybody where they don't wanna go," Leeser said. "We make sure we help them... and we put them on buses with food and make sure they get to their destination, and make sure that we always continue to treat people like human beings."
The mayor added that an increasing number of migrants coming into his city are from Venezuela and do not have sponsors in other cities like many other migrants do. In these cases, he said that officials work to determine the best destination that will meet their needs.
The tactics employed in the programs sponsored by Abbott have been criticized by New York City officials, who say that they have not been informed about the incoming buses of migrants ahead of time.
New York City Mayor Eric Adams also recently expressed concerns about the influx of migrants coming into the city, but his press secretary, Fabien Levy, told Newsweek last month that the city will "continue to work with federal partners to receive additional financial resources immediately, but will never turn our backs on those in need who are arriving here."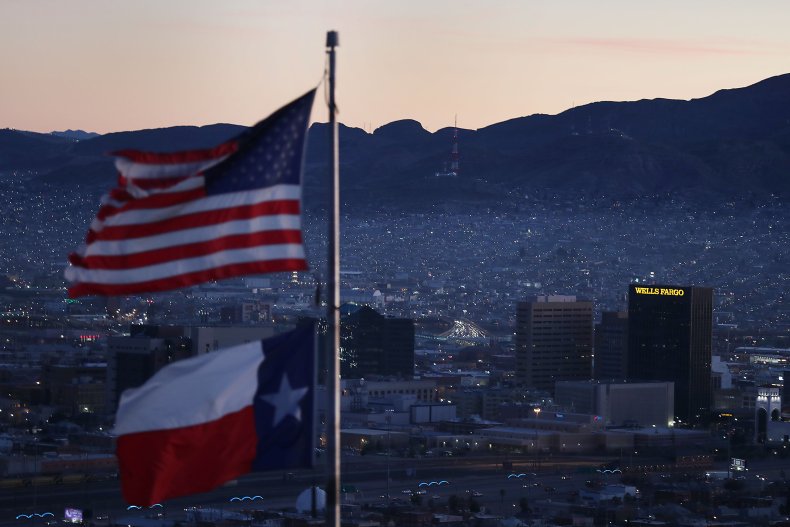 On Thursday, Abbott sent two buses of migrants to Vice President Kamala Harris' house at the Naval Observatory in Washington D.C. The buses included between 75 and 100 migrants who originally came from Uruguay, Venezuela, Colombia, and Mexico.
Texas has been sending dozens of buses with migrants across the country since April, spending over $12 million on transportation to Washington D.C. and New York City, according to a Texas Division of Emergency Management report obtained by CNN.
Part of Leeser's plan to transport migrants to different cities is to prevent them from being forced to live on the streets in El Paso. With as many as 2,000 individuals crossing into the city a day, El Paso's own services are having trouble keeping up.
"Our goal, and what will continue to be our goal, is never to drop anybody off in the streets of El Paso," Leeser added. "Make sure that no one's homeless, no one's hungry."
Newsweek reached out to the City of El Paso government for comment.