White House Alarmed Migrants to Martha's Vineyard Were Promised Jobs, Homes
White House Press Secretary Karine Jean-Pierre called Republican Governors Ron DeSantis of Florida and Greg Abbott of Texas "shameful, reckless and just plain wrong" following new migrant drop-offs in Washington, D.C., and Martha's Vineyard.
Her comments at Thursday's press briefing followed DeSantis sending two planes full of mostly Venezuelan undocumented immigrants to Martha's Vineyard in Massachusetts on Wednesday. Today, Abbott sent two buses of 75 to 100 migrants from Venezuela, Uruguay, Colombia and Mexico to Vice President Kamala Harris' residence at the Naval Observatory in D.C.
Jean-Pierre referenced an NPR report about a woman identified as "Perla" who said she was lured onto a plane by government officials in a shelter in San Antonio. She was reportedly told she would be flown to Boston, receive food and expedited working papers.
"The migrants, including children, who arrived in Martha's Vineyard, were misled about where they were being taken and what would be provided when they arrived is also deeply alarming," Jean-Pierre said.
Abbott has sent migrants to cities like Chicago and New York City for "several weeks," Jean-Pierre said. She clarified that there is a legal process in place to manage migration flows, including expelling migrants as required by court order under Title 42, then transferring them to ICE for custody.
Because Fox News was alerted before the Department of Homeland Security, or the cities or their local non-governmental organizations, showed that the governors' actions were "just a cruel, premeditated political stunt," she added.
When asked if the administration of President Joe Biden would take legal recourse against Abbott and DeSantis, Jean-Pierre said that would fall under the authority of the Department of Justice.
She added that she had not spoken to the president due to his focus on rail negotiations.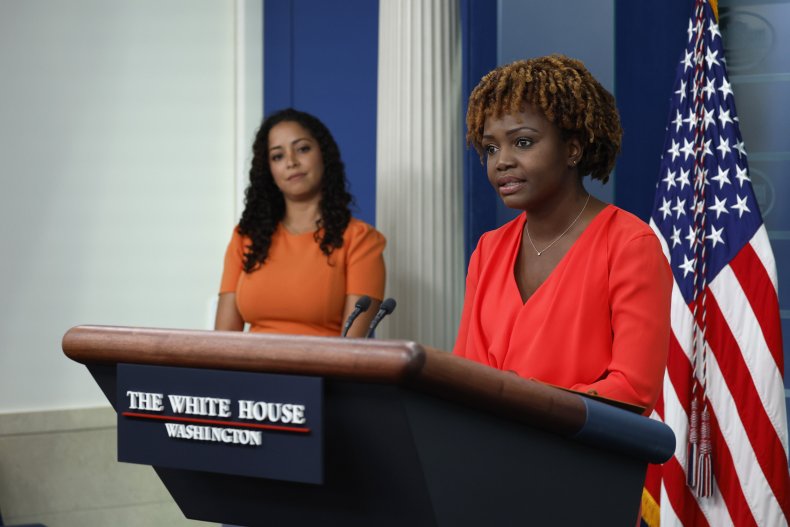 While Jean-Pierre touted the Biden administration and its 3,000-plus arrests in three months as part of an "aggressive campaign," illegal border crossings are at exponentially higher levels this year, including monthly totals in 2022 that have exceeded numbers from all but one month in 2021.
Even Democratic Mayor Muriel Bowser of Washington, D.C., has had to adjust her district's budget in response to what she called a "humanitarian crisis" resulting from not just the actions of governors like DeSantis and Abbott, but a federal response that "has been lacking in some respects."
New York City's Democratic Mayor Eric Adams previously shared Bowser's concerns in July.
Jean-Pierre maintained that current migrant issues are due in part to a "broken system" that will take time to reconfigure. The actions of Republicans are "inhumane," she added.
"It's really just disrespectful to humanity," she said. "It doesn't afford them any dignity ... when you are abandoning families and children in a place where they were told they were gonna get housing; in a place they were told they were gonna get jobs. It is just cruel and it's not about the process actually."