DeSantis Could Be Forced to Pay Migrants Sent to Martha's Vineyard
Migrants who were sent to Martha's Vineyard by Florida Governor Ron DeSantis filed a class action lawsuit on Tuesday demanding financial compensation for "economic, emotional and constitutional harms" caused by the scheme.
DeSantis last week sent two planes of mostly Venezuelan migrants to Martha's Vineyard, an island off of Massachusetts' Cape Cod known for being a popular tourist destination among the wealthy. Critics have blasted DeSantis for what they view as a stunt that uses migrants as political pawns to attack the Biden administration's handling of immigration, though he has received praise from some conservatives.
These migrants, alongside the organization Lawyers for Civil Rights, have now filed a federal civil rights class action lawsuit against DeSantis and other officials involved in the scheme. The lawsuit was filed on behalf of the migrants, as well as the organization Alianza Americas.
A complaint obtained by Newsweek alleged that DeSantis and his team, in an effort to "induce unwitting trust with Defendants' scheme, approached migrants experiencing food insecurity near a resource center in San Antonio, Texas, and offered them items including a $10 McDonald's gift certificate.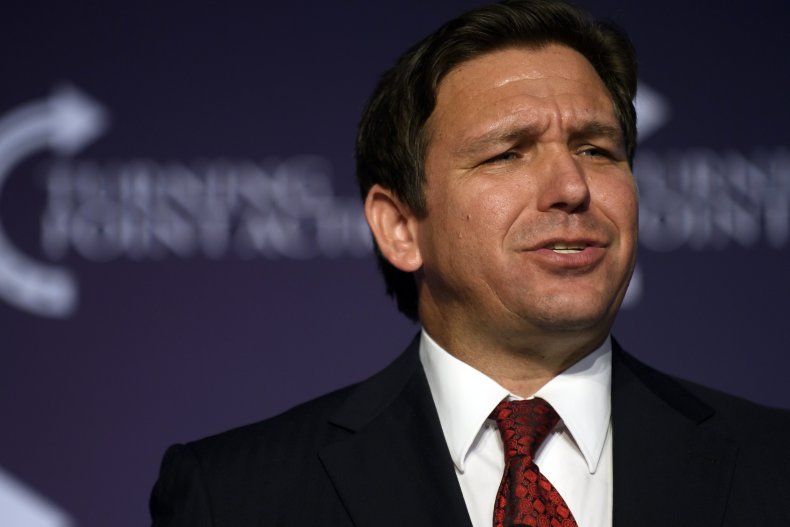 "After luring Plaintiffs by exploiting their most basic needs, the Doe Defendants then made false promises and false representations that if Plaintiffs and class members were willing to board airplanes to other states, they would receive employment, housing, educational opportunities and other like assistance upon their arrival," the complaint read.
However, DeSantis' team allegedly made no arrangements for any of this assistance upon their arrival to Martha's Vineyard—local authorities were not even notified of the migrants' arrival, the suit alleged. The complaint alleges that the migrants were left "even more vulnerable to precarious conditions" after they were left "stranded."
Ahead of the transfer, DeSantis' team allegedly checked their immigration paperwork to ensure "their immigration status met the ultimate ends of their scheme," according to the complaint. The migrants were also "sequestered" so they could not "discuss the arrangement and reveal Defendants' inhumane scheme to any true Good Samaritans."
The complaint said the migrants have suffered harms that "at a minimum exceeds $75,000."
DeSantis has defended flying the migrants to Martha's Vineyard by saying he believes they are better off being sent to Massachusetts.
"If you have folks that are inclined to think Florida is a good place, our message to them is, we are not a sanctuary state, and it's better to be able to go to a sanctuary jurisdiction," he said during a Thursday press conference. "And yes, we will help facilitate that transport for you to be able to go to greener pastures."
But he has faced criticism from both Democrats and Republicans in recent days. Jared Kushner, the son-in-law of former President Donald Trump, said on Fox News Tuesday that seeing migrants "being used as political pawns one way or the other is very troubling to me."
Some lawmakers have called on the Department of Justice to face criminal charges. On Monday, Bexar County Sheriff Javier Salazar, a Democrat, announced he would investigate reports that people in the county that includes San Antonio were "preyed upon."
Newsweek reached out to DeSantis' office for comment.
Updated 09/20/2022, at 6:18 p.m. ET: This story has been updated with additional information and background.