Historically Republican Texas Is Now a Toss-Up State, Says New Poll
With less than a week away from the 2020 Presidential Election, historically Republican Texas is now a toss-up state alongside Florida, Georgia, North Carolina, Iowa and Ohio, according to the Cook Political Report.
With the second largest population following California, Texas holds a total of 38 electoral votes. The southwestern state has historically been solidly Republican and hasn't backed a Democratic candidate in a presidential election since 1976.
A change in demographics and growing urban centers in Texas have led analysts to describe the state as "purple," predicting that the state could vote Democratic.
Cook Political Report editor Amy Walter stated there has been a surge in early voting in the state. As of October 26, almost half of Texas' registered voters had already cast a ballot, the report said.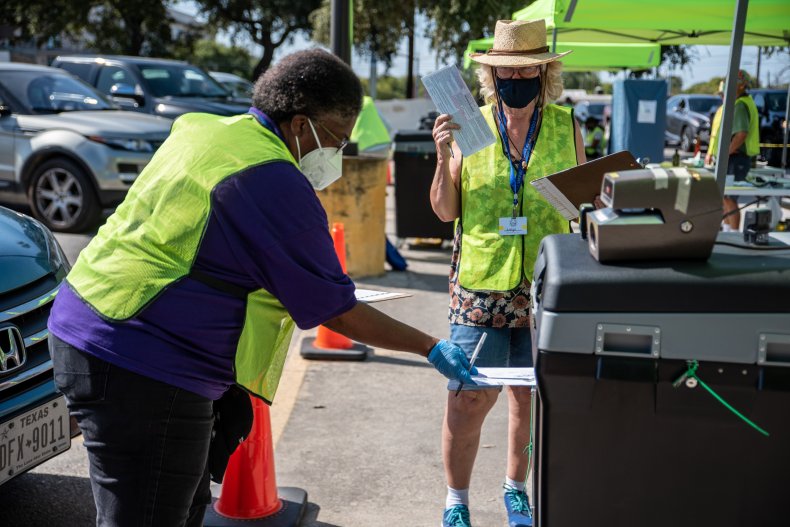 Texas has already surpassed 80 percent of 2016 voting totals with early voting as of Sunday, Cook Political Report editor Dave Wasserman reported in an earlier analysis. He noted that Hays County in Texas appears to be the first county in the U.S. to have surpassed its 2016 vote total. Overall, more than 7 million people have already voted in Texas.
This surge in early voting suggested of a possible record turnout in a state that has added many new residents since the previous 2016 election, which adds to the uncertainty around the southwestern state's outcome, the report said.
Walter's report then noted that "Texas' shift from lean republican to toss up shouldn't come as a surprise" since "recent polling in the state — both public and private— shows a 2 to 4 point race."
A survey published by The Dallas Morning News and the University of Texas at Tyler showed a 3 percent margin in favor of Democratic presidential candidate Joe Biden. The survey noted that Biden is backed by 48 percent of Texas' likely voters, while only 45 percent support Trump.
Although Biden's lead is still within the poll's margin of error, it's a significant improvement for him as compared to the same survey conducted in September, where he previously trailed the president by 2 percentage points.
Recent polls released by Data for Progress also show Biden narrowly leading Trump in Texas. The polls record 47 percent support for Biden and a 46 percent backing for Trump.
However, a poll carried out by Quinnipiac University, conducted from October 16 to 19, showed a tied race, with both candidates gaining support from 47 percent of likely voters.