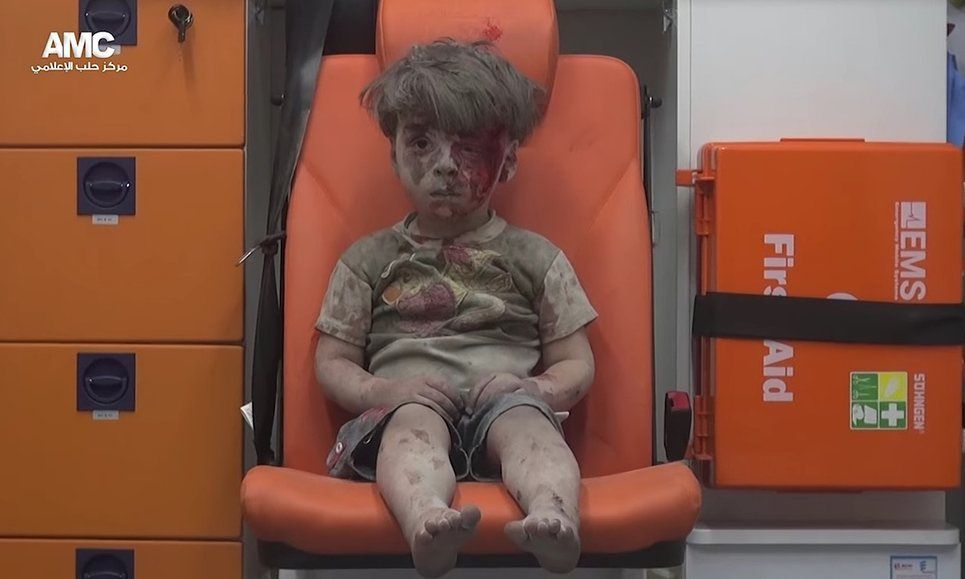 Once more, a striking image of a vulnerable Syrian child has dominated newspaper front pages and sent emotional shock waves around the world.
Omran Daqneesh, a five-year-old boy from Aleppo, was able to break through "audience fatigue" and move millions around the world with footage of him being brought out from under the rubble of his home, covered in dust and blood. His blank stare ahead, carrying the trauma of a war that is as old as he is, put to shame those who stand by as the conflict rages on.
This week will mark one year since Russia signed a "defense" agreement with the Syrian government, allowing it to start airstrikes that have destroyed homes and hospitals. While it remains unclear if it was a Russian or Syrian government bomb that destroyed Omran's home, it is undoubtable that responsibility lies with the Syrian government, sustained by Iranian and Russian backing. This is the only side using airpower in the devastating battles of Aleppo.
These are the bombs and horrors of war that Syrian refugees have been fleeing. Over 6 million are internally displaced, 4 million refugees endure dire conditions in neighboring countries, while tens of thousands are languishing on borders of countries overwhelmed by the millions who have fled the war. As the region swells with refugees from Syria, Iraq, Palestine, Libya and beyond, thousands of Syrians are giving up all that they have to smugglers promising them access to Europe.
It does not have to be this way. From the possibility of creating no fly zones, to committing to a political solution to the war, the Syrian people could be protected. However, in the absence of a Syrian government concerned for all its citizens' well-being, in the presense of extremists, proxy wars and an uninterested American administration, the least the world's leaders could do is to abide by international law. The 1951 United Nations Convention and the 1967 Protocol relating to the Status of Refugees binds countries to provide protection for those seeking refuge from war and persecution. And yet, politicians from the very countries who claim to adhere to international law, are tearing up these principles.
Xenophobia and political opportunism is accelerating in certain American and European circles, and Syrian refugees have become prime targets. From Nigel Farage using a photo of Syrian refugees crossing the Slovenian border to campaign for "Brexit," to Chris Christie saying that even an orphaned five-year-old Syrian shouldn't be admitted into the U.S., the tone has been set against refugees. Donald Trump's insistence last week that admitting refugees would only be a "problem" for the U.S., coupled with his vehement xenophobia, is adding to the woes of all those in need to support as they confront wars and make perilous journeys from their homes. In their minds, all refugees, especially from Muslim majority countries like Syria, are guilty of possible extremism, unless "proven innocent." The irony is that most of these refugees are fleeing the very extremism and violence that they have to prove themselves innocent of.
However, it would be misguided to lay the blame only on those extreme politicians playing divisive politics for their own self-interest. Hollow words of compassion is all that Syrians are now receiving from most American and European officials—to the exception of a few, including the murdered British MP Jo Cox and Germany's Angela Merkel.
In response to the outpouring of emotion for Omran, Britain's Foreign Secretary Boris Johnson issued a meek email statement saying, " The whole world is horrified by the suffering of the people of Aleppo—the bombing of innocent civilians, the murder of defenseless children." The difference between Johnson and the "whole world" is that he is in a position of power who can at the very least help to receive children like Omran trying to escape the violence. Instead, Johnson voted last April, along with 290 other MPs, against taking in 3,000 refugee children who had already arrived unaccompanied in Europe.
Unsurprisingly, U.S. President Barak Obama administration's response has been to focus on international meetings and lofty statements of "support," translated into aid funding that barely meets the most basic of needs of refugees. A spokesperson for the U.S. State Department said that Secretary of State John Kerry "urges Russia to work with him… in an enduring way so that we don't have to look at any more images like the one of that young boy today out of Aleppo," in reference to Omran.
In an effort to be seen as "acting," world leaders will meet in New York for a Summit for Refugees and Migrants on September 19, followed the next day by a high-level meeting convened by Obama on refugees only. The meetings cannot simply be another photo op with little implementable commitment. That is not what Syria's children, or their families, need. Rather, it could be a moment to recommit to the principles of protecting the world's most vulnerable and tangibly providing refuge for those in need of it.
The Canadian government's decision to resettle 25,000 Syrian refugees between November 2015 and February 2016 and the success at processing asylum requests within weeks, proves that once there is a political will, there is a way to make it happen. While it is not feasible, nor desirable, to resettle all Syrian civilians, the least that can be done is to help those who have left, rather than leave them living in dire conditions or at the mercy of traffickers.
The image of Omran, who thankfully has survived despite his trauma and losing his older brother Ali, comes almost a year after the haunting image of three-year-old Aylan Kurdi, who died at sea on September 2, 2015 as his family tried to flee the Syrian war. They represent thousands of children who have died, been injured or displaced in Syria's war—the vast majority who remain nameless and faceless but are every bit as deserving of our attention and action.
Mina Al-Oraibi is an Iraqi-British journalist, Yale World Fellow, and senior fellow at Institute of State Effectiveness. Follow her on Twitter @AlOraibi.