Man's 'Home From Work' Setup for Office Competition Includes Roof, Chimney
Some may decorate their office space with family photos and plants, but one employee took things a step further during an office decorating competition, as seen in two viral videos.
The videos were shared by Jeff Feigal to his TikTok account, @jefffeigal, and they showed the different homey elements he incorporated into his workspace. Commenters were blown away by the amount of work he put into the competition, and some offered additional suggestions.
"My work had a decorate your office competition so I took it to another level," read the text over the first video, which was viewed more than 4 million times.
That video showed the exterior of the office cubicle. A roof and chimney were built over the cubicle while steam from a diffuser acted as chimney smoke.
A second video, this one viewed more than 175,000 times, revealed the entrance into the cubicle. A small walkway lined with fake plants led viewers into the space, while a child's ride-on car was parked just outside. Mounted on the roof was a security camera. A screen that displayed a crackling fire completed the homey feel of the workspace.
While Feigal took the task of decorating his office space to a different level, he is not alone in bringing a personal touch to his office space.
According to Indeed, there are a number of factors to be considered when decorating an office.
"Each office has its own guiding themes for its decor, but the goal is often the same: lift morale to increase productivity," the piece stated.
It then outlined different tips that can be implemented throughout the office, including at one's personal workspace.
Employees were encouraged to bring their "favorite objects from home," like personal photos, stuffed animals and collectibles.
"Add a colorful blanket or a fluffy throw pillow to your desk chair," the piece suggested. "This makes your work environment feel more like home."
Throughout the office, other details, like pieces of art, furniture and the right lighting, can work together to pull off a comfortable environment.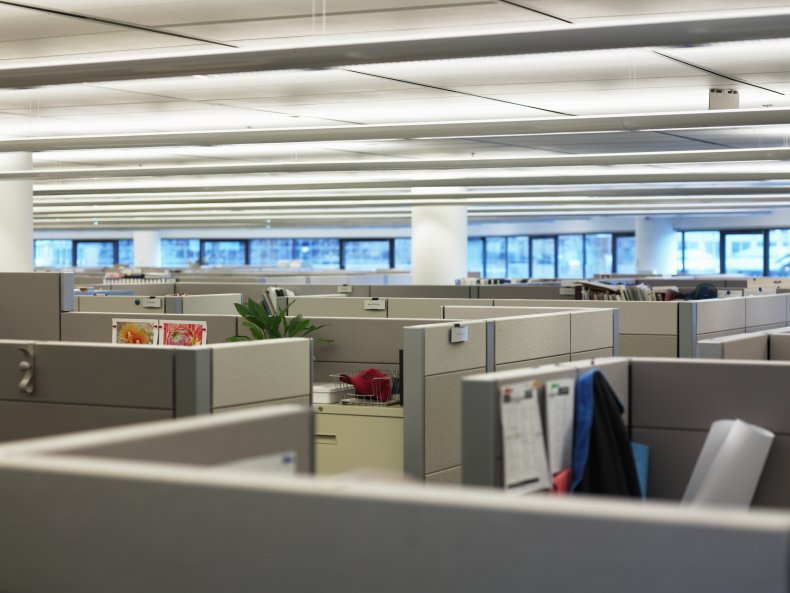 In addition to receiving praise from viewers, Feigal received additional ideas on what else he can add to the space.
"You really said, 'if I can't Work From Home, I'll Home From Work,'" a viewer wrote.
Another commented, "I feel like you've been thinking about this for a while. You win!"
Among the suggestions offered by commenters included a dish satellite, an Amazon package in front of the cubicle and an Easy-Bake Oven.
"Then you can make fresh cookies for your neighbors," a commenter wrote.
Some viewers wondered if the impressive decorations would violate the fire safety code, but he said his space is away from the fire sprinklers.
He said in the comments section the best-decorated cubicle will be determined by a vote on Thursday.
Newsweek reached out to Jeff Feigal for comment.