Homeless Residents Will Be Paid to Pick Up Trash in New City Pilot Program
Residents of homeless encampments in San Diego will be paid to pick up trash as part of a new pilot program.
First announced on Sunday, the Triangle Project, a program spearheaded by retired attorney Brian Trotier, will apply to homeless encampments located in the downtown part of the city.
Trotier had previously spent his time volunteering with local nonprofit groups to help distribute food to the homeless, according to the San Diego Union-Tribune. The idea of the program came to Trotier after he noticed that there were few trash cans in the area around San Diego's homeless encampments.
"I got to know some people and heard some conversations that made me scratch my head about why we weren't doing certain things," he explained.
One homeless man in the area reportedly told Trotier: "We'd love to clean up the area, but we don't have any place to throw the trash."
Trotier reached out to the EDCO Disposal Corporation, which agreed to provide extra cans.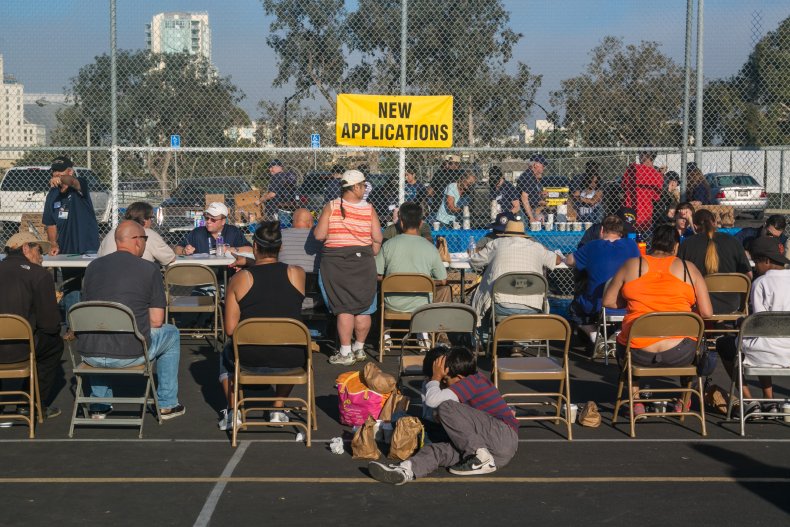 There are estimated to be over 8,000 homeless residents in San Diego, the fourth-largest amongst all U.S. cities, according to LaJolla.com.
As the program is underway, homeless residents will twice a week get $2 for every bag of trash they collect. The Lucky Duck Foundation, a homelessness-focused nonprofit group based in San Diego, has agreed to front $20,000 to run the program for four months.
"We like to keep our area clean," Art Kifer, a 62-year-old homeless Navy veteran, told the Union-Tribune.
The project kicked off on Thursday with Trotier present handing out cash to participants who brought in multiple bags of trash near the area of 16th Street and Commercial Street. All told, the first day saw 20 participants collect 81 bags of refuse.
"Our mission is to alleviate the suffering of homelessness throughout San Diego County," Drew Moser, the executive director for the Lucky Duck Foundation, told Newsweek. "We see the Triangle Project as a way to give folks suffering on the streets an opportunity to contribute to the cleanliness of their surroundings while earning some money.
"And while we are enthused by the early results with 2.5 tons of trash being picked up in the first three days, we will continue to advocate for and fund more immediate pathways off the streets – such as shelters and the conversion of underutilized government properties – to help people end their homelessness."
While the pay rate of the program might seem low to some, another homeless resident told the Union-Tribune that a little can go a long way in their situation.
"This will help us with bus fare so we can get to the Social Security office and get other resources," said 44-year-old Israel Garcia. "We're out trying to get ahead in our lives ourselves. Sometimes it takes something as little as a few dollars to help us each day."
Once the initial four months are up, Trotier said that the program's effectiveness will be evaluated and it could potentially continue with a new round of funding. He also hopes that it will raise awareness, in general, about the lack of trash receptacles in the downtown area.
California has taken various novel approaches to address its many homeless residents. In January, the State Senate unanimously passed a bill that would provide funding to homeless shelters so they can provide care for those living with their pets.
"For many unhoused individuals, the path to safe shelter starts with their pets," Bob Hertzberg, the State Senate Majority Leader Emeritus and leading sponsor of the bill, said at the time. "Most homeless shelters do not admit pet owners simply because they lack the services to care for our four-legged friends."
Last November, a California university moved to allow homeless students to sleep in their cars in a secure parking garage. As part of a pilot program, Long Beach Community College hired a security firm to monitor the garage overnight through June.
Update 3/15/2022, 3:55 p.m. ET: This story has been updated with a comment from the Lucky Duck Foundation.