Homeowner Finds 'Window' in Floor of 19th-Century Home After Lifting Carpet
A woman was shocked to uncover glass bricks beneath the carpet in her bathroom, after she ripped up the "gross" flooring in her new house.
Ashley Brandon and her husband, Mark, snapped up the house in Scotland at the beginning of 2021, and have been sharing their restoration journey to her TikTok page, @scottishvictorianhome.
Brandon, whose social media bio says "Ashley's 1880s Home Renovation," found something unexpected in the bathroom, and we're not talking about the horrible blue carpet.
She lifted up the flooring and found gorgeous, possibly original tiles, but also uncovered a bizarre "pavement [sidewalk] light."
A series of glass bricks were built into the floor, commonly seen on sidewalks to let light into basements, cellars or lower levels.
Which is why Brandon was bemused to find one in the second-floor bathroom—with just her hallway beneath it.
Speaking to Newsweek, Brandon explained more about the five-bedroom house, saying: "The house was commissioned in 1885 by the Earl Of Carrick for his clinician Dr. William McFarlane. He stayed in the main house with his wife and various servants until 1926 when he passed. The house is mentioned on his grave stone."
The house needed a lot of TLC, as it was "outdated" and "needed renovations," with Brandon saying that she and her husband are "not professionals."
Brandon recalled the moment she found the window, telling Newsweek: "One day about three months in my suspicion got the better of me and I lifted the carpet in the bathroom. It isn't a common thing to have carpet in a bathroom here but when I lifted it I understood why they had laid carpet. I found wonderful Victorian tiles then the masterpiece of the pavement light."
But the unusual location threw her, as she continued: "The bathroom is in-between the ground and first floor [second floor in the U.S.] so I knew there was no chance of a cellar. I roughly traced to where it would've been and realized it was situated in the back hallway.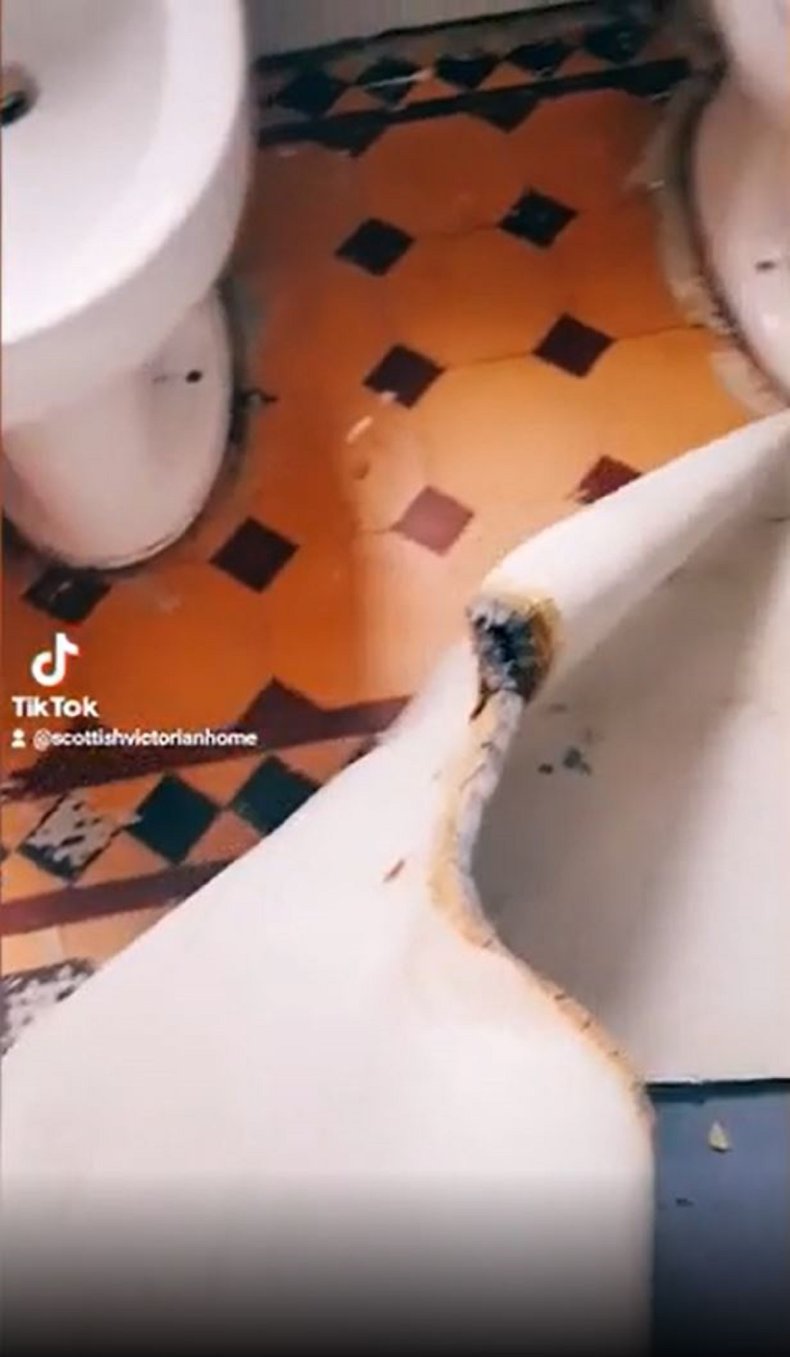 "After investigation my thoughts are that the bathroom used to be an outside balcony/back entrance before inside bathrooms were a thing. The pavement light would've been 'outdoors' and used to get light into the hallway as electricity wasn't available then.
"As time went on the area was then developed into a bathroom, the pavement light was covered with carpet upstairs and lath & plaster downstairs!"
She first shared a clip to social media in August 2021 after making the discovery, and has been working to uncover and restore the unique feature.
Various clips showing off the glass bricks have amassed more than 1 million views in total, with her most recent, posted earlier this week, finally revealing the glasswork from below after she had removed the plaster covering it.
"Look at what we discovered! After 6 months I was finally able to uncover this beauty!! I need suggestions on what to do with it next!" she captioned it.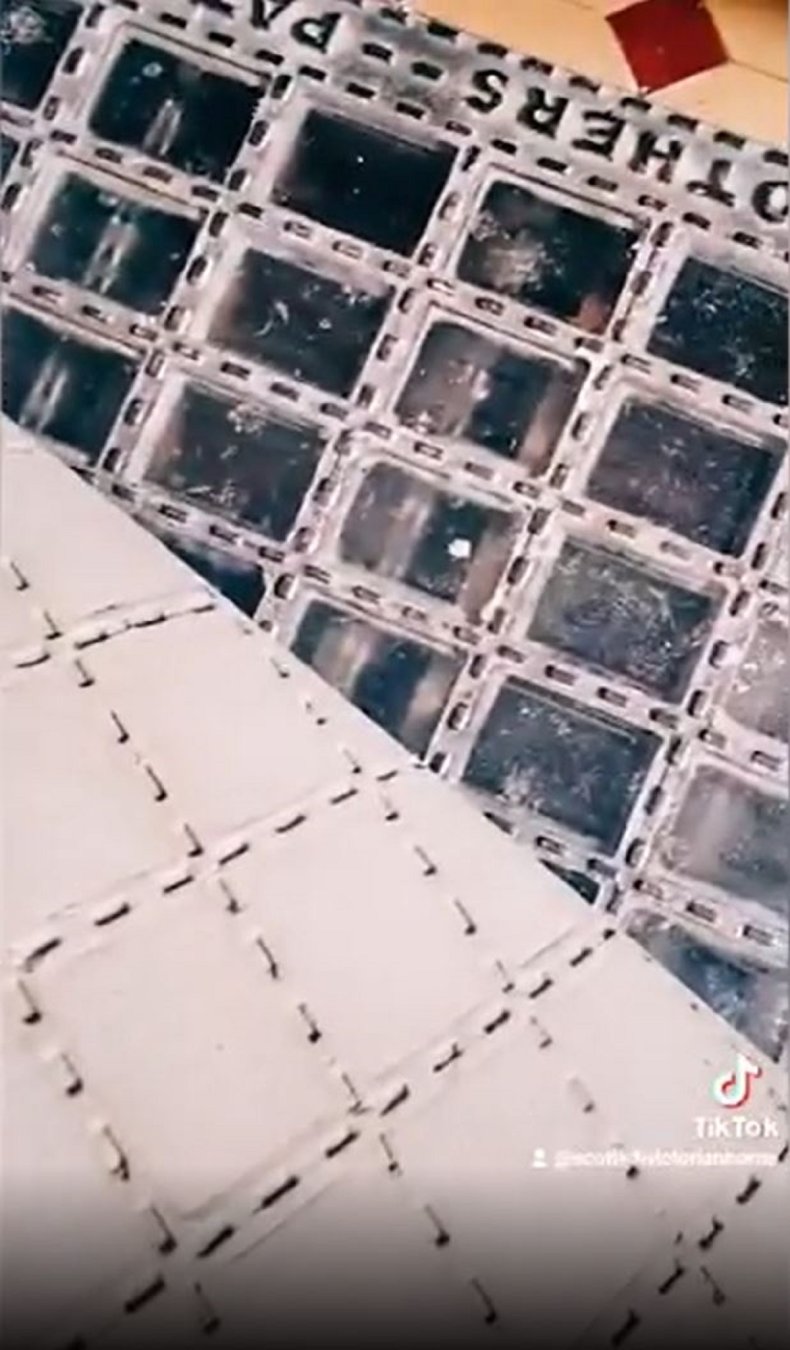 Speaking in the clip, she said: "So we moved into this Victorian house about a year ago, and 6 months in, I removed the carpet in the bathroom. I know, who has a carpet in the bathroom, it was disgusting.
"And I found these really nice Victorian tiles, and this, which is apparently a Hayward Brothers London pavement light, which is used to let natural light into rooms below cellars, etc.
"So I couldn't see it on the underneath, and I managed to make a wee hole, and find it in the downstairs hallway. I also found this newspaper that had been stuffed in there, from 1985, that was really cool."
Brandon had to move a light fixture that was in the way, but revealed: "There's only one block which has been damaged, it's in really good condition. I'm going to have to do a bit of restoration work, but this is it and the end of the day today. And I think it looks really cool."
Brandon shared her plans to repair the damaged piece of glasswork, telling Newsweek: "Our plans are to restore it and add LED light round the frame to illuminate downstairs.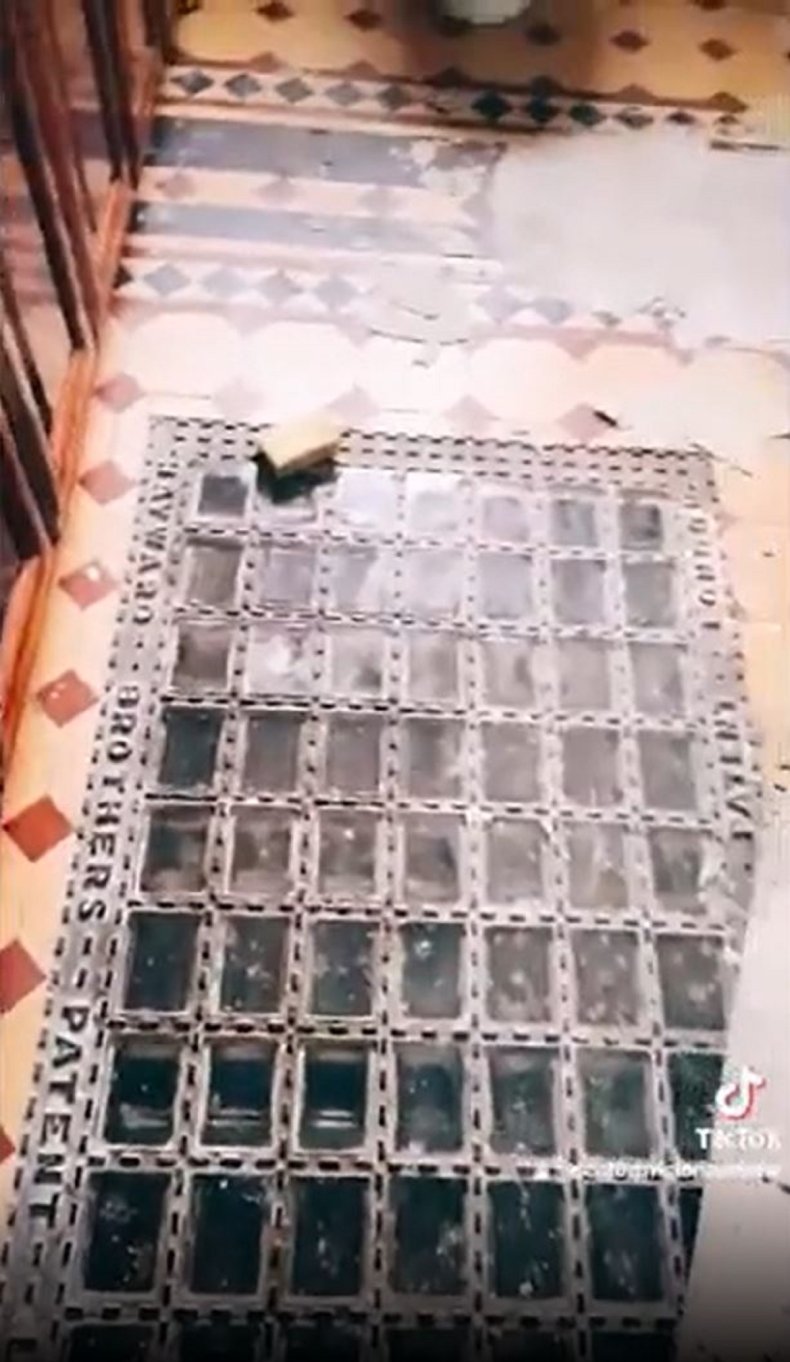 "Upstairs I will do an acrylic top coat as the metal is raised and wont be great for bare feet but will still let light flow through in-between the floors.
"It seems like everything in the house has been preserved and just covered over so I'm hoping for more discoveries!"
Despite the "huge" workload, Brandon said she's "enjoy restoring the house back to its former glory," and is adamant it will be "worth it in the end."
Commenting on her most viral video, which can be seen here, Twoelles32 wrote: "They used to have those glass bricks on the pavements to let light into the basements of shops. they are mostly gone now but so lovely."
Carrieannwolfe30 advised: "Look for vent windows or coal shoot by front door or under front door step."
Johnkalux noted: "It's odd to see that in a bathroom because those glass tiles were often used as skylights inset into pavement in commercial districts."
Jonathan Tripp asked: "Is [it] a window, what is it going [to] the basement."
KaraHaraLara commented: "I'm still shook that someone decided to cover it up?"
Chilson raved: "The glass sky light is beautiful. I have never seen one like that before."
Rexi.Co.US wrote: "Why would they ever cover that up!? Beautiful."
While Paul Janusz thought: "It is an old section of sidewalk. It was most likely illuminated from underneath when it was [a] sidewalk."
According to Mackintosh Architecture, Hayward Brothers & Eckstein were a London-based company, specializing in "patent pavement lights for basements under urban streets." They initially formed in 1848 under the name Hayward Brothers.
Revealing more about their Scottish links, the website noted: "About 1891, William McLean, a wholesale glass merchant in St Vincent Street, Glasgow, became the Scottish agent for Hayward Brothers & Eckstein.
"In 1899, they supplied the floor lights for the Port Dundas Electric Power Station for Glasgow Corporation Tramways."
Update 2/4/22, 11:05 a.m. ET: This article has been updated with comment, photos and video from Brandon.