Homosexuality Is Still Illegal in These 67 U.N. Countries
As Singapore's Prime Minister Lee Hsien Loong announced on Sunday that the country will repeal a colonial-era law criminalizing sex between men, LGBTQ+ rights activists in the country celebrated a long-sought victory.
The law, which did not apply to women, had not been enforced in over 15 years, but its long-standing presence contributed to stigmatizing and discriminating against gay men in Singapore, activists said.
"Sex between consenting men should not be criminalized. There is no justification to prosecute people for it, nor to make it a crime," the prime minister said.
A similar law criminalizing same-sex consensual relations dating back to the British colonial time was struck down in India in 2018 when the Supreme Court ruled the ban to be "irrational, indefensible and manifestly arbitrary."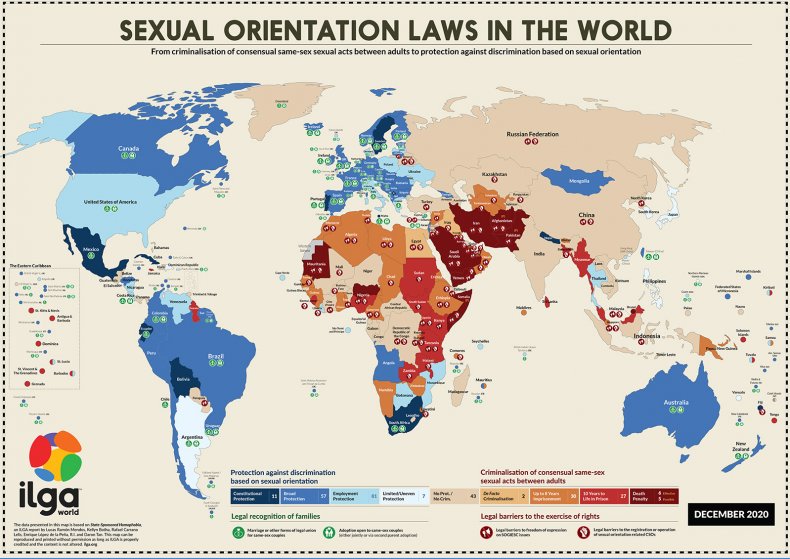 But in both India and Singapore, the abolition of these laws didn't translate into a complete backing of LGBTQ+ rights, as same-sex marriage remains illegal in both countries.
"Let me reassure everyone that in handling the issue, the government will continue to uphold families as the basic building blocks of society," Singapore's prime minister said on Sunday. "We will keep our policies on family and marriage unchanged and maintain the prevailing norms and social values of our society."
Despite increased acceptance in the past two decades of LGBTQ+ rights around the world, there have also been backlashes and setbacks in many countries—and in 67 nations part of the United Nations, homosexuality is still persecuted as a crime.
The Countries Where It's Illegal to Be Gay
A map produced by the International Lesbian, Gay, Bisexual, Trans and Intersexual Association (ILGA) in 2020, seen above, shows the countries where homosexuality is still criminalized.
Since the report was published, Bhutan and Antigua and Barbuda decriminalized consensual same-sex sexual relations between adults, respectively, in 2021 and 2022.
Nearly half of the countries where homosexuality is still criminalized are in Africa. These are the 67 U.N. countries with laws that prohibit same-sex relations (65 by explicit provisions of law, 2 de facto):
Afghanistan
Algeria
Bangladesh
Barbados
Brunei Darussalam
Burundi
Cameroon
Chad
Cook Islands
Comoros
Dominica
Egypt (de facto)
Eritrea
Eswatini
Ethiopia
Gambia
Ghana
Grenada
Guinea
Guyana
Iran
Iraq (de facto)
Jamaica
Kenya
Kiribati
Kuwait
Lebanon
Liberia
Libya
Malaysia
Malawi
Maldives
Mauritania
Mauritius
Morocco
Myanmar
Namibia
Nigeria
Oman
Pakistan
Papua New Guinea
Qatar
Saint Kitts & Nevis
Saint Lucia
Saint Vincent & the Grenadines
Samoa
Saudi Arabia
Senegal
Sierra Leone
Solomon Islands
Somalia
South Sudan
Sri Lanka
Sudan
Syria
Tanzania
Togo
Tonga
Tunisia
Tuvalu
Turkmenistan
United Arab Emirates
Uzbekistan
Yemen
Zambia
Zimbabwe
In these countries, the punishment for those having consensual same-sex relations ranges from a minimum of two years in prison to a life sentence (in countries including Sudan, Tanzania, Uganda, and Zambia in Africa and Barbados and Guyana in the Caribbean).
In six of the U.N. member states listed above —Brunei, Iran, Mauritania, Nigeria (12 northern states only), Saudi Arabia and Yemen—ILGA has full legal certainty that homosexuality carries the death penalty. In five more states—Afghanistan, Pakistan, Qatar, Somalia and the United Arab Emirates—sources suggest the death penalty might be imposed for same-sex relations.
Despite these discouraging numbers, the countries listed above are in the minority. Over 64 percent of U.N. state members do not criminalize same-sex sexual acts.
There have also been steps forward in recent years in improving LGBTQ+ rights across the world.
In Mozambique, same-sex sexual acts became legal in 2015, followed a year later by the Seychelles, which outlawed a rule that made sex between two men illegal and punishable with up to 14 years in prison. The country also banned employment discrimination on the basis of sexual orientation.
Trinidad and Tobago reversed laws criminalizing gay sex in 2018, while in 2019 Botswana's court of appeal voted to uphold a ruling that said that criminalizing homosexuality was unconstitutional.
In February 2021, Angola's President Joao Lourenco approved a revision of the penal code allowing same-sex relationships and banning discrimination on the basis of sexual orientation.
Gabon repealed a law criminalizing homosexuality which made gay sex punishable with six months in prison and a large fine in June of that same year.
In December 2021, Chile approved a bill making same-sex marriage legal as well as allowing same-sex couples to adopt, while Switzerland introduced marriage equality in July 2022.