As China Gloats Over U.S. Protests, Hong Kong Police Allow Thousands to Defy Tiananmen Vigil Ban
Tens of thousands of people in Hong Kong ignored a ban on large gatherings to commemorate the 31st anniversary of the Tiananmen Square crackdown in a candlelit vigil that came days after protests by those fearing Beijing is tightening its grip on the semi-autonomous region.
Hong Kong's authorities prohibited gatherings citing coronavirus restrictions, but police did little to stop crowds pouring into Victoria Park, which for three decades has been the epicenter of commemorations of Beijing's move against a pro-democracy movement.
On Thursday there was a minute's silence, followed by shouts of pro-democracy slogans including "Stand with Hong Kong" and "End one-party rule," referring to China's Communist Party.
Earlier, Hong Kong lawmakers had approved a bill making it a crime to insult China's national anthem and two legislators were taken away after they threw a liquid onto the chamber floor, the BBC reported.
Only days before, there were clashes between police and protesters opposing Beijing's plan to impose a national security law they fear will erode the high degree of autonomy the city has had since its handover by the British in 1997.
Director of the British-based non-governmental organization, Hong Kong Watch, Johnny Patterson, said that the lack of police enforcement during Thursday's protests was probably a "shrewd move" by the Hong Kong government and had been "out of step with some of the actions they have been taking in recent weeks.
"It probably reflects the fact that the optics would be really bad if they did crack down on that," he told Newsweek, although there was still the chance that people might be arrested down the line for the protest. "One of the big questions will be when the security law is passed, whether it will continue to be legal to commemorate the Tiananmen square massacre or not."
That security law banning "treason, sedition, succession and subversion" is in response to demonstrations that turned violent last year after legislation, which was later shelved, proposed criminal suspects be extradited to China.
Hong Kong is under the spotlight over how it was dealing with the latest demonstrations. It has prompted its chief executive Carrie Lam to draw a comparison with the unrest in the U.S. sparked by the killing of George Floyd, in which the National Guard has been activated in some states and President Donald Trump has threatened to send in troops.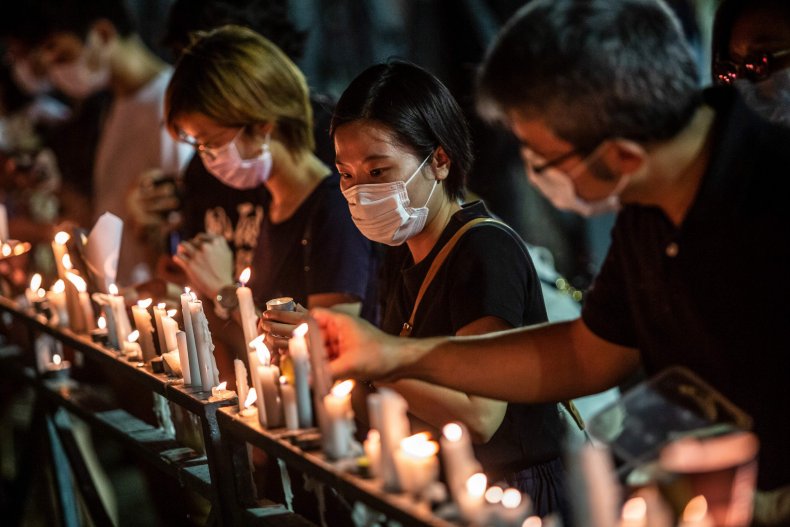 "We have seen most clearly in recent weeks the double standards that are around," Lam said in a swipe at the criticism she has faced.
Meanwhile Chinese media has exploited the chaos in the U.S. to push the idea that China enjoys greater social stability. China's state news agency Xinhua described the U.S. unrest as "Pelosi's beautiful landscape," the BBC reported.
This was a reference to U.S. House Speaker Nancy Pelosi's comment that Hong Kong protests last year were "a beautiful sight to behold". Global Times' chief editor Hu Xijin wrote this week that American politicians now can "enjoy this sight from their own windows."
Founding chairman of the United Democrats of Hong Kong and its successor The Democratic Party, Martin Lee Chu-Ming, said there were similarities in the tensions currently in the U.S. and Hong Kong between the people, the government and the law enforcement agencies.
"In the States, at least now policemen who are seen committing offenses are now being charged.
"In Hong Kong, not a single policeman was charged, even though TV cameras captured many times the brutalities on the demonstrators who were completely subdued," Lee said during a webinar held on Friday by the Henry Jackson Society think tank, in response to a question by Newsweek.
"So you see certain similarities but of course in the States, they are looking forward to an election in November which can change all that.
"In Hong Kong, we don't have any democratic election and we are not supposed to have, and I don't see how Beijing will ever allow us to have one even though it is promised in our basic law.
"Of course, China would like people to laugh at the Americans, and say 'look at their democracy, look at their freedoms'," he said, adding that in many parts of the world where police do commit offenses, at least "they have got a democracy, we don't."
Director of the China Institute at the London-based School of Oriental and African Studies, Steve Tsang said that a strong-arm approach by Hong Kong police on the June 4 commemoration would have looked bad.
"It would make things worse for the National People's Congress Standing Committee by-passing the Hong Kong legislature to enact the state security law for Hong Kong. It is hard to be sure if the SAR Government acted under instructions from Beijing or not on this occasion," he told Newsweek.
"If it were, the consideration of holding back from a heavy-handed police deployment against the background of disorder in the USA would almost certainly apply.
"But if the decision was made locally in Hong Kong, I doubt that Carrie Lam would have sufficient political astuteness to hold back and enable Beijing to embarrass Washington."