Hong Kong Leader Carrie Lam Accuses U.S. Of 'Double Standards' Over Policing of George Floyd Protests
Hong Kong's leader has invoked the police response to violent demonstrations across the U.S. as an example of "double standards" in international criticism her government faces for how it handles pro-democracy demonstrations.
The chief executive of the semi-autonomous territory, Carrie Lam, made the comparison in her first public appearance since President Donald Trump said his government would end special exemptions for the city in reaction to Beijing's plan to impose national security laws.
Demonstrations turned violent last year in Hong Kong against legislation that was eventually shelved, which proposed allowing criminal suspects to be extradited to China. Fearing further unrest, Beijing has proposed a security law banning "treason, sedition, secession and subversion."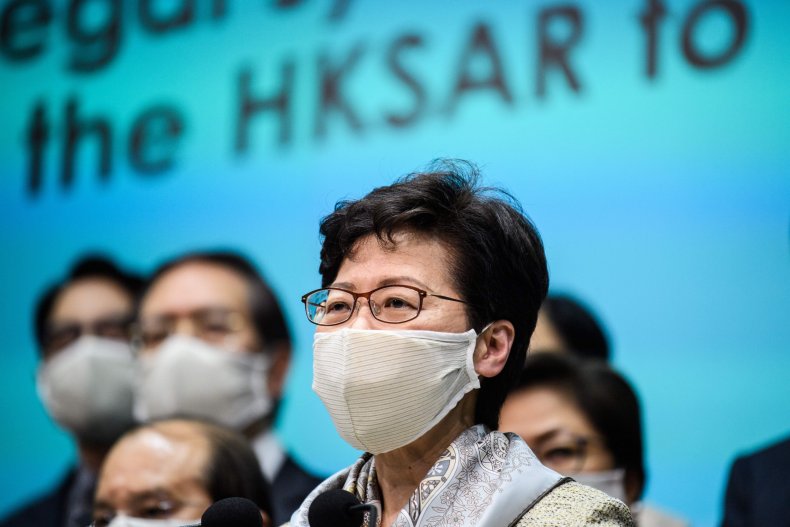 This has reignited discontent with opponents fearing it will lead to an end to the "one country, two systems" framework and the high degree of autonomy it has enjoyed being handed over by the British in 1997.
On Tuesday, Lam referred to protests that have raged across the U.S. after the death in custody of George Floyd at the hands of a white police officer. Demonstrations have prompted the activation of the National Guard in some states. Trump has threatened to send in the troops to quell any unrest.
Lam said: "We have seen most clearly in recent weeks the double standards that are around.
"You know there are riots in the United States and we see how local governments reacted. And then in Hong Kong, when we had similar riots, we saw what position they adopted then," she said.
"They are highly concerned about their national security, while holding different standards for our country, especially over Hong Kong's situation," she added.
Last week, U.S. Secretary of State, Mike Pompeo said that the city was no longer autonomous from the mainland, with Trump adding that it would revoke its preferential status as a separate customs and travel territory from China.
Pompeo has raised the possibility that Hong Kongers who feel they are facing pressure could be granted the right to come to the U.S.
When asked during an interview with the American Enterprise Institute whether the U.S. could take the U.K's lead in potentially allowing Hong Kongers to have a "right of abode," he said: "We are considering it. I don't know precisely how it'll play out.
"There's a long history between Hong Kong and the United Kingdom that's very different, but we're taking a look at it."
With calls growing for an international response to the situation in Hong Kong, Lam has said there was no justification to impose sanctions on the city, which is a vital economic hub.
"My stance is to point out to the American government, and any other governments if that arises, is that they will be hurting their own interests in Hong Kong," she added.
Johnny Patterson, director of the British-based non-governmental organization Hong Kong Watch, disputed Lam's comparison of the protests in the U.S and in Hong Kong.
"Both the George Floyd case and the Hong Kong protests expose the appalling division that police brutality can cause in society. At least the U.S. government has charged the guilty police officer for his crime," he told Newsweek.
"Hardly anyone from the Hong Kong police force has faced charges, despite months of brutal actions, including reportedly torture in detention. The independent inquiry was a whitewash.
"Little surprise public trust in the government is at an all-time low. Hong Kong already has national security legislation. The answer is not more draconian legislation but accountability for police brutality," he added.