Hong Kong Police Brutality Is Keeping Protests Alive, Activist Says as Amnesty Demands Independent Probe Into Abuse
Almost four months into the major social unrest in Hong Kong, the Beijing-backed government in the city appears unwilling to offer further concessions. Both sides are digging in while violence escalates.
Police and protesters clashed again this weekend, as activists pursue their demands—amnesty for the more than 1,300 people arrested, retraction of the term "rioters" to describe the activists, an independent inquiry into police violence, and universal suffrage for the territory.
With China's 70th anniversary celebrations approaching, tensions are likely to rise over the coming week.
The most recent round of action was the 16th consecutive weekend of mass anti-government demonstrations in Hong Kong. As the protests have worn on, the clashes between activists and police have become increasingly violent.
Officers, decked out in full riot gear and body armor, routinely use mass barrages of tear gas, baton charges and water cannons to disperse crowds. "Non-lethal" bean bag rounds, rubber bullets and pepper ball rounds have also become common on the front lines.
Police have also been accused of collaborating with violent pro-Beijing gangs, either facilitating or simply standing by and allowing them to launch mass attacks on protesters with sticks and clubs.
Protesters, meanwhile, have donned masks, goggles, helmets, makeshift shields and body armor in clashes with police. Faced with a surprisingly violent police response, small groups of activists have begun using clubs, projectiles and Molotov cocktails to fight police on the front lines. The majority of marchers have remained peaceful.
More than 1,300 people have so far been arrested. For those detained, violence does not necessarily stop upon arrest. Hong Kong police are facing allegations of widespread brutality, torture and general mistreatment of detainees.
Last week, Amnesty International released a report detailing police brutality and torture against at least 21 detainees.
The organization has now issued a fresh call for an independent probe into police action, a demand made by protesters, that the government has refused to consider. Amnesty said an independent investigation would be a "vital first step" towards listening to the millions who have taken to the streets.
In its new report—titled "Beijing's Red Line in Hong Kong"—Amnesty charted the encroaching influence of mainland authoritarianism in Hong Kong, which since being handed over to Chinese rule in 1997 has enjoyed greater freedoms than the rest of the country under the "one country, two systems" agreement.
The "red line" refers to a 2017 speech by President Xi Jinping, who warned that "any attempt to endanger China's sovereignty or security, challenge the power of the Chinese government, or use Hong Kong to carry out infiltration and sabotage activities against the mainland" would be considered a red line.
Amnesty argued that authorities have since "increasingly interpreted the ordinary exercise of rights as crossing this 'red line'."
The report said that this year's protests are "the latest manifestation of a steady erosion of human rights in Hong Kong." Joshua Rosenzweig, the head of Amnesty's East Asia regional office, said the "outrageous" response of police to the protests has "heightened fears that Hong Kong is sliding into the repressive style of rule seen in mainland China."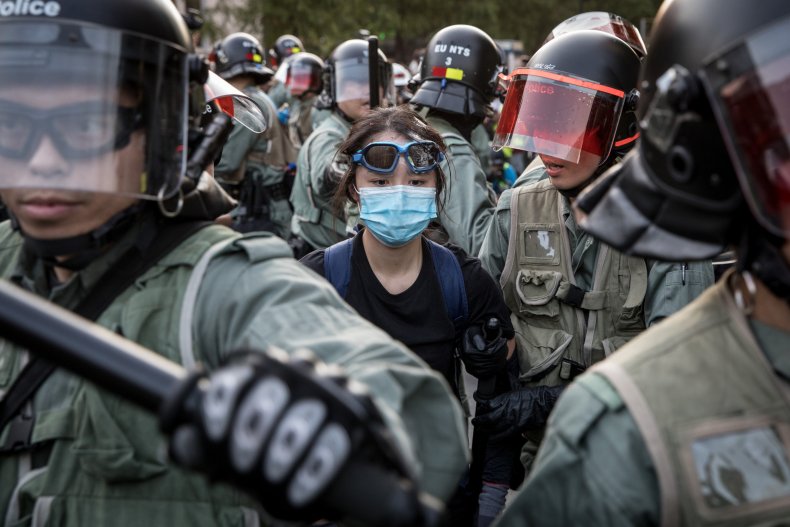 "The world is watching"
The Hong Kong government has said that any investigation into police brutality will be conducted internally by the force's Independent Police Complaints Council, a suggestion dismissed by activists given the clear conflict of interests.
Samuel Chu, the founding director of Washington, D.C.-based Hong Kong Democracy Council (HKDC), told Newsweek that he and fellow activists have no confidence in the IPCC, adding that trusting the body to investigate is akin "to asking the fox to guard the hen house."
Chu—who was among several Hong Kong pro-democracy activists meeting leading U.S. lawmakers on Capitol Hill last week—instead said that, at the very least, an independent inquiry should be headed by a figure such as a retired judge.
Rather than intimidating protesters, Chu suggested police violence has actually given the demonstrations fresh momentum. "The escalating violence perpetrated by police is shocking," he explained. "Even those who might not have been openly supportive of the protest early on to come to the aid of students and protesters now."
"It is clear that the government made the decision—and miscalculation—that open and blatant violence would silence the protesters," he continued. "What they have done is simply unmasked the truth that the Hong Kong government has no interests or really any autonomy to respond and be held accountable to the will of the Hong Kong people."
The government has used the "rioters" label to discredit activists and threaten them with long prison terms. Chu said police also see the phrase as justification for "illegal, unaccountable use of force against protesters."
"The government is either using unprovoked violence or turning a blind eye to organized violence against protesters as a pretext to further crackdown on the right to protest," Chu added.
"Hong Kongers have shown that they are not afraid," Chu said. "The continued crackdown, and the increased threats of [the People's Liberation Army] massing across the border only adds to the proof that China has no interest in recognizing Hong Kong's autonomy and basic freedoms. But now, the world is watching."