Hong Kong Pro-democracy Camp Eyes Local Elections Amid Reports China May Ditch Toxic Chief Executive Carrie Lam
A pro-democracy lawmaker in Hong Kong has warned that China may remove Hong Kong Chief Executive Carrie Lam from her post in an effort to assuage the unrest gripping the city and defuse tensions ahead of next month's local elections.
Legislative Council member Alvin Yeung, who leads the pro-democracy Civic Party and its other four council members, sounded the warning in an interview with Newsweek.
He made the prediction just hours before The Financial Times reported China is lining up a replacement for Lam, who has become a reviled symbol of Hong Kong's pro-Beijing administration and its subservience to the Communist Party.
But Yeung also said Lam's touted removal would not defuse the tension between protesters and authorities following months of increasingly violent mass anti-government street demonstrations.
What began as a protest against a proposed extradition bill has spiralled into a far larger confrontation between millions of Hong Kongers and their Beijing-backed government.
Activists have coalesced around five demands: The withdrawal of the extradition bill; an independent inquiry into police brutality against protesters; retraction of the terms "rioters" and "riot" to describe the activists and their demonstrations; amnesty for all those arrested; and universal suffrage for Hong Kong.
The extradition bill has now been officially withdrawn, but the Hong Kong government—led by Lam—has refused to budge on the other four. Meanwhile, violent police tactics have inflamed tensions and garnered retaliation from protesters.
In recent weeks, at least two protesters have been shot with live ammunition, a police officer has been attacked with box cutters and a suspected homemade bomb has been detonated in central Hong Kong. All are alarming escalations and symptomatic of a clash between a tenacious protest movement and an intransigent government.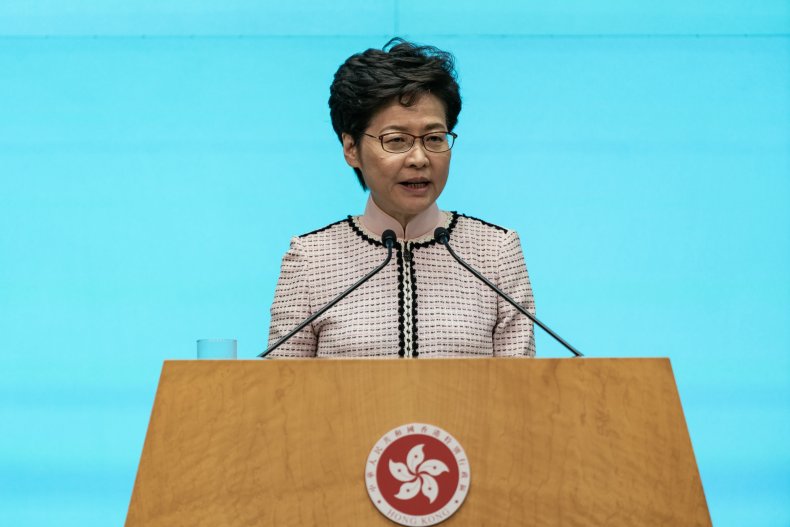 From the streets to the ballot box
Activists and pro-democracy parties are now turning to the local elections scheduled for the end of November. Voters will go to the polls across Hong Kong to choose district councillors to look after local affairs.
In the past, turnout for local elections has been low. But in this period of mass resistance to the central government, the poll has become a proxy vote on the encroachment of Chinese authoritarianism on Hong Kong. As Yeung described it, protesters plan to take their fight "from the streets to the ballot box."
The predominantly young protesters are energized, and voter registration data suggests they are preparing to bring an unprecedented challenge to the central government. There are 452 district council seats up for grabs out of the 479 total. Pro-democracy parties currently hold 118 seats to 327 for the pro-Beijing camp.
The vote carries practical as well as symbolic power. If pro-democracy parties can secure a majority of the seats, they stand to gain another 117 spots on the 1,200-member body that elects Hong Kong's chief executive. This would make it harder for Beijing to hand-pick the winner of the next chief executive election, currently scheduled for 2022.
The significance of the local elections has led to suggestions that the Hong Kong government may delay or even cancel the poll, whether across the region or in areas most affected by the unrest. Certain controversial candidates, for example famed pro-democracy activist Joshua Wong, may also be barred from standing.
Yeung told Newsweek that if Hong Kongers translate their anger into votes, it could create a "nightmare" for Beijing. This is why some pro-Beijing lawmakers are already warning that a fair election cannot be held amid unrest, he added. Such politicians are trying to "lay the foundation" for delay or cancellation, Yeung argued, to avoid "a political tsunami."
He argued that such a step would be "extremely foolish" and prove to the rest of the world that the government is too cowardly to even face a verdict of its own performance.
Joey Siu, a spokesperson for the Hong Kong Higher Institutions International Affairs Delegation—a coalition of Hong Kong college student unions—told Newsweek the elections will show to what level Hong Kong's political system has been infringed upon or allowed to "decay."
"The election is the only election in Hong Kong that is democratic," she explained. Undermining this would send a message to young activists that the institutional mechanisms of power are no longer open to them. "That will definitely lead to an escalation of protests," Siu predicted.
But if Lam is replaced with an interim chief executive—as The Financial Times reported is Beijing's plan—the authorities will hope to pin the blame for the unrest on her and avoid too vicious a public backlash.
This has happened before. In 2016, the deeply unpopular Chief Executive CY Leung announced he would not seek re-election in 2017 in an effort to kill the momentum of pro-democracy parties agitating for his ouster. Lam ended up replacing him with more than 68 percent of the vote.
Lam might have become a symbol of the Hong Kong government's perceived wrongdoing, but Yeung noted the problem is bigger than her. "The real cause of what is happening right now goes all the way to the fact that we do not have democracy," he explained.
"It's the system that matters. It requires constitutional reform, it requires universal suffrage to fix the problems," Yeung continued. "Should Carrie Lam step down tomorrow, people might be happy for a few hours, but then the outstanding issues remain outstanding."
"Don't take it for granted that Carrie Lam will stay forever," Yeung added. "I don't think she could even finish her term."
"We are not asking for the moon"
Any political games will be given short shrift by pro-democracy activists. Trust between the authorities and the population is already extremely low, especially among the young. "The government is basically saying goodbye to one or two generations of young men and women," Yeung said.
Any form of reconciliation is dependent on Lam—or her replacement—agreeing to the five demands, both Yeung and Siu suggested. "People out there are not playing tricks with the government. The demands out there are so clear and straightforward, legitimate and reasonable," Yeung said. "We are not asking for the moon."
Continued refusal to engage will likely only further inflame anti-government sentiment, still riding high despite months of action, clashes with police, mass arrests and new laws seeking to criminalize street protests.
Siu noted that thus far, the only real problem-solving government approach has been "using excessive force and escalating the level of police brutality."
"I believe the government's attitude is actually shaping the protesters' actions and movements," she added. Government interference in the November elections would likely direct the movement in a more aggressive direction, Siu suggested, out of the "hopelessness and helplessness" of protesters.
If the elections are delayed or canceled, Yeung concurred that a backlash on the streets "is the only sensible prediction."
Yeung added that if the government is "foolish enough to even attempt to stop this from happening," they will be effectively "inviting people to escalate their anger, because they are blocking all the civilized and legal ways to express themselves."
This would "be a disastrous decision," Yeung said.