Hong Kong Unrest Threatens Mental Health Epidemic Among Territory's Young People, Advocates Warn
Extreme has become the new normal in Hong Kong. Over five months of mass anti-government protests, the streets have more resembled battlefields than one of the world's most advanced—and most expensive—cities.
Hong Kong's police force—once known as "Asia's finest"—are now as likely to be seen in riot gear as in their blue uniforms. Officers have grown quick to use "crowd control" methods like tear gas barrages, "non-lethal" rounds and water cannons. Live rounds have even been fired at times, wounding at least three protesters.
Protesters have armed themselves with helmets, makeshift shields and body armor to head to the front lines. Clubs, slingshots, petrol bombs, BB guns—demonstrators have used a range of weapons to try and level the playing field.
Running battles have raged through the streets, shopping malls and subway stations. Allegations of police brutality and torture abound, with bystanders and journalists often dragged into the chaos and given little quarter by police.
And all the while, thousands are being arrested. Those charged with "rioting" can face up to 10 years in jail, a black mark that would permanently damage a protester's future prospects and flag them as a troublemaker to the Hong Kong and Chinese authorities.
Such a threat is especially potent for the city's young people, who make up the majority of those taking to the streets.
Nearly 60 percent of those involved are aged 29 or younger, with just 18 percent 45 of older, according to The South China Morning Post.
The extended unrest is taking its toll. Though no protesters have yet been killed directly by police, several suicides or accidental deaths have been attributed to the demonstrations.
Front line activists have even reportedly taken to penning wills before joining marches, such is the fear that each demonstration could be their last.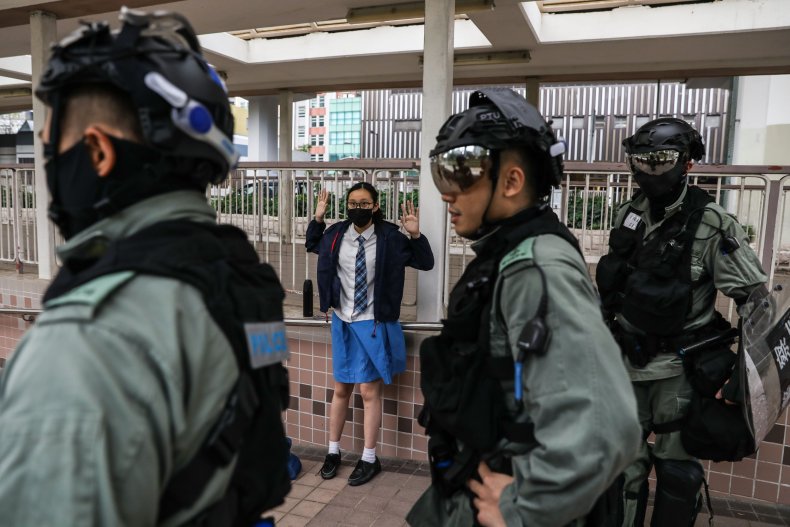 Mental health was already a pressing issue for Hong Kong's young people. A joint report from the Hong Kong Paediatric Society and the Hong Kong Paediatric Foundation said that stresses including academic pressure, parental expectations and social anxiety combine to put significant pressure on young people.
According to The Young Reporter magazine, Hong Kong had 240,900 people suffering from mental illness in 2018, of whom 32,000 were teenagers.
The recent unrest will only have exacerbated this. Hong Kong's Mental Health Month Organising Committee warned last month that the territory's mental health has dropped to its worst level in eight years due to the turmoil.
The average score for the 2019 mental health index is 46.41, which is below the passing score of 52. Of those surveyed, 41 percent said their mental health has been negatively affected by social disputes.
Mental health helplines are also seeing an uptick in activity. Samaritan Befrienders, a suicide prevention group, said in July it had received 42 calls for help since June 9, all of which were linked to the extradition bill protests. This was five times more than the organization received from March to May.
Sky Siu is the executive director of the KELY support group, set up to provide support to young Hong Kongers. She told Newsweek that the youth in Hong Kong are already facing a crisis, with one in three diagnosed with some kind of mental illness.
Introducing months of unrest, violence and trauma into this "pressure cooker" is a recipe for long-term disaster, she warned.
Though several recent suicides have been linked to the protests, Sky Siu warned it is hard to draw a direct link between them. Nonetheless, she said KELY is concerned by the "sharp" increase in usage of mental health hotlines and counseling services, signifying "a lot more people seeking help."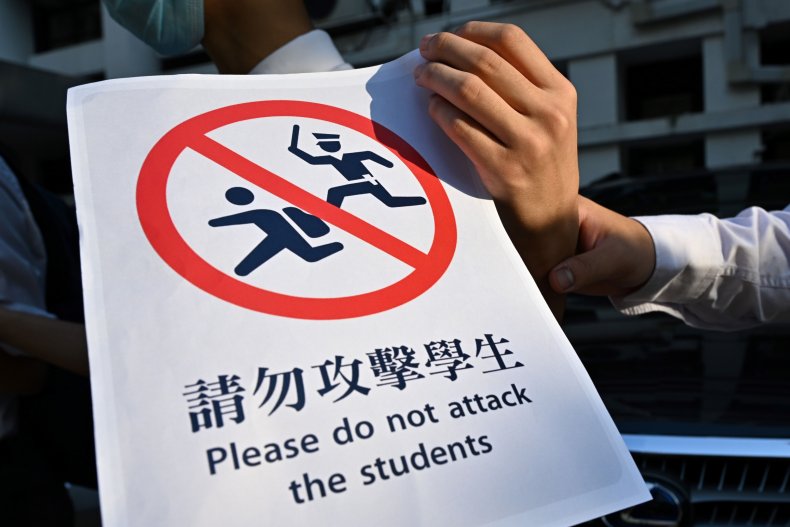 Joey Siu, a spokesperson for the Hong Kong Higher Institutions International Affairs Delegation—a coalition of Hong Kong college student unions—told Newsweek that those attending protests every weekend find it extremely difficult to return to—and focus on—their studies, which are already a source of great stress for many.
Add to this the routine violence and arrests of the front lines and you have "very worrying" mental health situation, Joey Siu said.
This threatens to overwhelm the territory's mental health infrastructure, which is already creaking. The World Health Organization recommends a ratio of 10 psychiatrists per 100,000 people to adequately treat those suffering from mental health issues. In Hong Kong, that number is just 4.9. By comparison, the figure in the U.S. is 10.5.
Sky Siu said young people waiting for treatment can be forced to wait as long as 166 weeks in some districts. While private care is available, many are already struggling with Hong Kong's high cost of living. "Most of us cannot afford it," Sky Siu noted.
Drawing on her own interactions with fellow students, Joey Siu said that some young people are even refusing to use the scant services available to them for fear of being identified.
"They do not trust any kind of psychological assistance that are supported either by the schools or the government," she explained. "Teenage protesters are very afraid that they will be arrested."
The Hong Kong and Chinese governments are facing a long term problem. The unrest has undoubtedly radicalized a new generation of activists, bolstering those who came of age during the 2014 Umbrella Movement.
Beijing seems unlikely to offer any real democratic concessions to the protesters. If and when the unrest dies away, the authorities will be left with a great mass of disaffected, largely well-educated young people with no love for the government, the police or the mainland.
Joey Siu said she has noticed a shift in protester ideology as the protesters have worn on and both sides dig in. "They no longer identify themselves as Chinese" but rather as Hong Kongers, she explained.
And, Sky Siu warned, many will still be carrying mental trauma. She said the polarization has left young people feeling that they cannot trust others, adding that those struggling are "finding it difficult to find hope in a time where there seems to be no end" to their problems.