Hope Hicks Told Lawmakers She Was 'Very Surprised' By Amount of Trump Campaign-Russia Contact
In her closed-door testimony before the House Judiciary Committee Wednesday, former White House Communications Director Hope Hicks told lawmakers that when she discovered there were more than 100 contacts between the Trump campaign and Russia, she was "very surprised," according to a 273-page transcript released Thursday by the committee.
The former official, who began working for Donald Trump during his 2016 election campaign, told lawmakers questioning her that she "wasn't aware of any contacts during my time on the campaign." Special Counsel Robert Mueller's report on Russian election meddling concluded that Trump and 18 of his campaign aides had more than 100 contacts with Russian nationals and WikiLeaks, with some of these occurring through intermediaries.
Hicks further said that a previous statement she made to the press on November 8, 2016, about there being "no contact" between the campaign and Russian nationals was made based on information she received from several top campaign aides. Some of these people still work closely with the president in the White House, including son-in-law and senior adviser Jared Kushner and counselor to the president Kellyanne Conway.
"I did not speak to [Trump] before," Hicks said. "I spoke to others
on the campaign, other senior officials... Jason Miller, Jared Kushner. I believe Jason Miller may have reached out to Kellyanne Conway and Steve Bannon."
At the time, Kushner was an aide, Conway was campaign manager, Miller was an aide who then became a transition official and Bannon was campaign CEO, later becoming a White House chief strategist for several months before leaving.
Breaking with her former boss, Hicks said she would not accept foreign opposition research from a foreign country and would report such an incident to the FBI.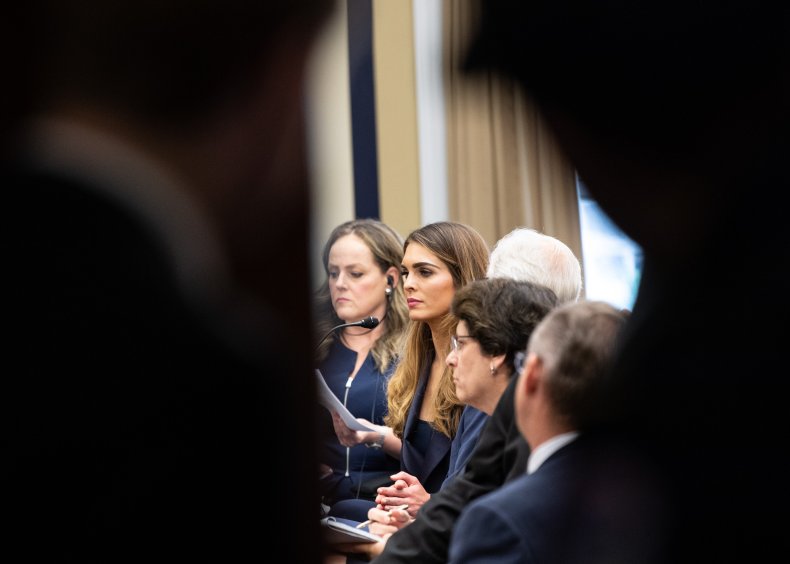 Trump said last week that, should the occasion once again arise where a foreign adversary, like China or Russia, offered dirt on his political opponents, he would listen to what they had to say and not necessarily contact federal authorities.
"It's not an interference, they have information—I think I'd take it," Trump told ABC News. "If I thought there was something wrong, I'd go maybe to the FBI—if I thought there was something wrong. But when somebody comes up with oppo research, right, they come up with oppo research, 'Oh let's call the FBI.' The FBI doesn't have enough agents to take care of it. When you go and talk, honestly, to congressmen, they all do it, they always have, and that's the way it is. It's called oppo research."
Throughout Hicks' daylong testimony, after which she declined to speak with reporters outside the committee room, Democratic lawmakers fumed at the lack of questions the longtime Trump confidante answered.
White House lawyers said that Hicks, as a former White House official, had "absolute immunity" and objected to her answering 155 questions related to her time working in the West Wing, according to the transcript. Democrats alleged that the White House was obstructing justice by preventing a now-private citizen from answering questions; they vowed to go to court over the matter as Hicks was not complying with a congressional subpoena.
"I'm watching obstruction of justice in action," Representative Ted Lieu, a Democrat from California, said.
Representative David Cicilline, a Rhode Island Democrat, warned that the "White House counsel's directive not to answer any of these questions will ultimately be decided by a court, and today establishes a record for refusal or willingness to comply with the approval of the president and the White House."
Their GOP counterparts on the Judiciary committee, however, accused Democrats of trying to conduct a Mueller investigation, version 2.0, calling it "a complete waste of time."
"They are just trying to continue to make some hay out of the whole Russian collusion and obstruction of justice," said Representative Steve Chabot, Republican of Ohio. "They seem to be bound and determined to keep this story alive about the president getting impeached."
The top Judiciary Committee Republican, Representative Doug Collins of Georgia, again ridiculed Democrats following the transcript's release, saying Hicks' testimony brought nothing new to light and suggested Judiciary Chairman Jerrold Nadler should subpoena Mueller to secure his testimony.
"Eight hours and 273 pages later, we've learned nothing new from a witness who has been cooperating with this committee for months," Collins said in a statement. "If Chairman Nadler were truly interested in gathering new facts, he would issue a subpoena to Robert Mueller, since no privileges or immunities would apply to his appearance or testimony, and Congress has yet to hear from him."
And although Hicks was permitted by the White House lawyers who accompanied her to answer questions related to the 2016 campaign, Democrats admitted they learned little-to-nothing.
"Nope. Nothing new," Representative Steve Cohen, a Tennessee Democrat on the committee, told Newsweek.
But Democrats suggested that while they may not have learned information that hadn't already been revealed in the Mueller report, it "reinforced" their obstruction of justice investigation into the president.
"I think we'll have to move towards the court proceedings to delve into those questions more deeply," Texas Democrat Sheila Jackson Lee said, referring to the hush-money payments issued by Trump to women in the run-up to the 2016 election over alleged extramarital affairs. "This is a building block, and there are a lot of unanswered questions."