Horrific Video of Live Dogs Being Fed to Crocodiles Stayed Live on YouTube for 5 Months
A horrific video showing live dogs being fed to crocodiles remained live on YouTube for five months, despite breaching the company's graphic content policies
The compilation video showed dogs being forced into water where crocodiles were lurking, while the person filming appeared to stand by and watch.
The video, titled Crocodile Attacks 2021 Latest crocodiles live feeding only, #animals, was uploaded by YouTube channel PETS & ANIMALS #TRAILERS last September. Since then, it received over 250,000 views, and 1,200 likes.
Newsweek contacted Google, which owns YouTube, for a comment on February 14. The video was taken down shortly afterwards.
In a statement sent to Newsweek on February 15, Google said the video had been removed for violating its violent and graphic content policy.
YouTube's violent and graphic content policy says that "violent or gory content intended to shock or disgust viewers, or content encouraging others to commit violent acts" are not allowed on the platform.
With regards to animal abuse content, it said: "Videos that show humans maliciously causing an animal to experience suffering when not for traditional or standard purposes such as hunting or food preparation."
The video began with a clip of two dogs being pushed towards the edge of a river with a stick. As the dogs attempted to scramble back up the sloping bank, the person filming appeared to force them back, preventing them from getting to safety. The dogs eventually fell into the river where a crocodile was lurking. The crocodile then attacked one of the dogs, and after one failed attempt to get away, it was eaten.
In the second clip, a dog was filmed swimming in a river, seemingly unaware that a crocodile is approaching. The camera appeared to follow the crocodile in the water as it moved towards the dog. Once the dog noticed the crocodile, it attempted to swim away, however it was quickly snapped up by the predator.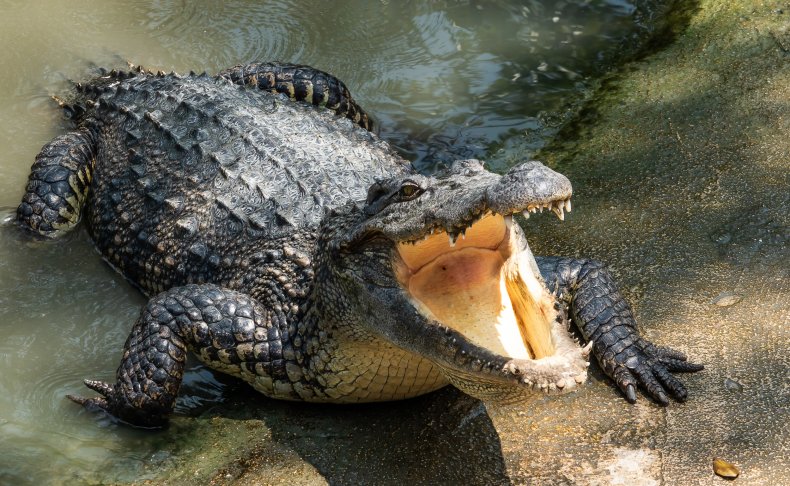 It was not clear from the video where the clips were filmed. There was also no sound, making it difficult to identify the person, or people, behind the camera.
From the video, there is no way of determining whether the person filming was aware of the crocodile in the water, however they appear to make little effort in rescuing the dogs.
The YouTube channel where the video was posted is primarily made up of animal compilation videos. Several other crocodile attack videos have been uploaded; however, no others involve humans pushing the animals towards them. This includes one posted seven days ago of a crocodile attacking a zebra.
Newsweek has contacted the owner of the YouTube channel PETS & ANIMALS #TRAILERS for a comment.
In 2021, YouTube was sued for failing to remove animal abuse videos. According to the New York Times, animal rights group Lady Freethinker filed the lawsuit against the company after they failed to keep videos featuring animal abuse off the site. The lawsuit is active with a California court hearing slated for March.
Nina Jackel, Lady Freethinker's founder and president, told Newsweek: "With this lawsuit Lady Freethinker hopes to achieve accountability and transparency from Google/YouTube, as well as clear, effective steps to remove all content that perpetuates or promotes animal abuse on their platform."
Lady Freethinker is represented by Bruce Wagman, an attorney dedicated to animal law.
Wagman told Newsweek: "These videos show some of the most disturbing and cruel content I have had to deal with in my career."
Wagman said that many other animal cruelty videos have been live on YouTube for years. Many videos show acts of torture and violence against animals for pleasure, he said.
Correction 15/02/22 8.10 a.m. ET: This article has been corrected to say YouTube was sued in 2021 and that the court hearing date is expected in March.
Update 02/18/22 7.02 a.m. ET: This article has been updated to include quotes from Nina Jackel and Bruce Wagman.