Horror as Man Explores Crumbling Mausoleum Filled With the 'Abandoned Dead'
Horror has reverberated online after a man filmed himself inside a crumbling mausoleum, which he says is filled with the "abandoned dead."
The Roger Williams Mausoleum, in Rhode Island, closed around 20 years ago, after its last owner died.
Footage from inside the decaying structure shows smashed tombs, open caskets with bones inside, litter, debris, graffiti and crumbling walls.
"Walking into an Abandoned Mausoleum where the dead have been forgotten," TikToker Lamont at Large captioned a video, uploaded last month.
The on-screen caption simply said "the abandoned dead" and has amassed more than 5 million views, as Lamont toured the eerie crypt.
He said: "There's literally, I believe, almost 400 people still buried in this mausoleum, got a load of WWII veterans."
He pans plaques, with birth dates going as far back as 1848, in the clip, which can be seen here.
"Can you believe this, this place has been neglected for almost 40 years, and as you can see, has extensive water damage, on the ceiling.
"And somebody looks like they just pulled that coffin out, just to take a photo. If you can see right here, you can see, closely, they've stolen practically all of the bones in this coffin.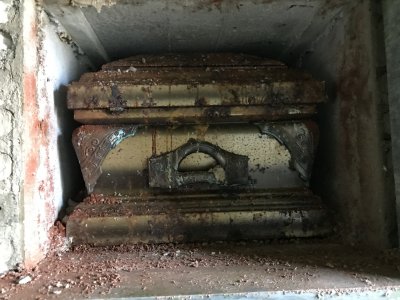 "But you can see there's bones right there, looks like there's a pelvic bone right there," he added.
Commenting on the video, Yennefer Voorhees wrote: "This is heart breaking."
Claudiakottke802 said: "That's crazy, who would let this happen. Specially if there are war veterans."
"Wow this is truly shocking," Rick Towner thought.
Tarn commented: "This should never be allowed to occur, the disrespect is abominable, heart breaking."
Originally built in 1926, the mausoleum eventually went into receivership, and after no one was willing to take ownership of the structure, and those left inside, R.I. Superior Court Judge Michael Silverstein declared the building abandoned in 2012.
Find a Grave described its poor condition, saying: "This mausoleum is in extreme disrepair and is on the verge of collapsing. The mausoleum was built in 1926 and operated by Thomas Cullinan, and after he passed away, by his daughters Helen and Katherine.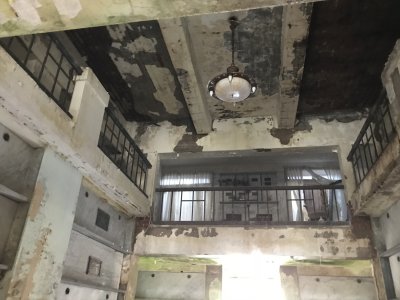 "After the death of the Cullinan sisters in 2000 and 2002, the building was placed in receivership and in January 2005 it was condemned as structurally unsound by the city of Cranston.
"There is now a locked fence around the building and the mausoleum itself is also locked. The future of the building is uncertain at this time."
With various reports suggesting as many as 400 people laid to rest inside remain in the rotting structure, the bill for re-internment is estimated to be as high as $500,000.
Funeral director Andrew Correia, of J.H. Williams & Co. Funeral Home, told Newsweek: "There were leaks from the roof, they were never addressed, and when water enters a structure nothing good happens.
"The heat had not been kept going and the building continued to fall into more and more disrepair, with lots of structural damage as a result of the water damage.
"It's absolutely a health hazard, but not only is it a health hazard, it's disrespectful and it's disgraceful that we can't do something to provide a modicum of dignity to those who are entombed there."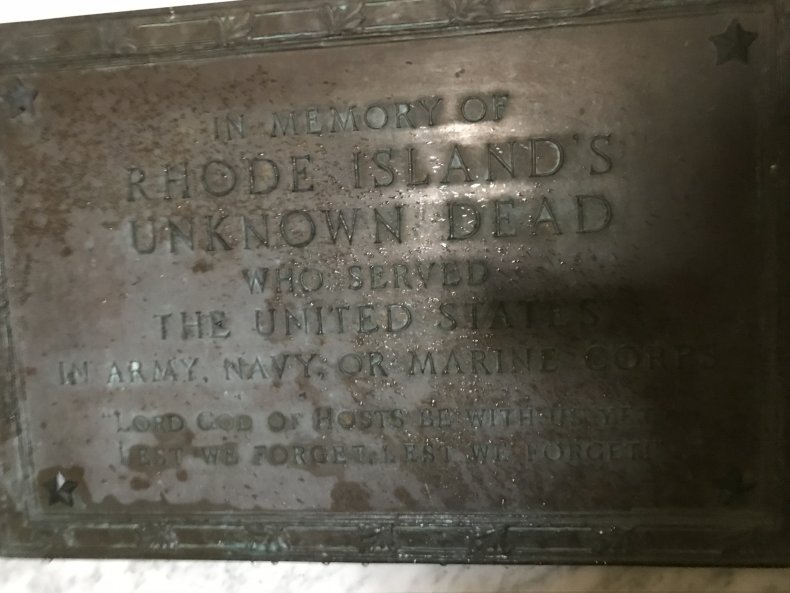 Over the years Correia has moved eight people out of the mausoleum and reinterred them, at no charge to the families, aside from third-party administration costs.
But he explained the age of the mausoleum is hampering relief efforts, adding: "The problem is that there aren't many family members left, we're talking generations later.
"These are someone's great-great-grandparents now, and unless you are a genealogy buff, many of these descendants probably don't even know their family members are there.
"So you just don't have the pressure, you don't have anyone around to advocate, family members to advocate for their loved ones who are in there."
A few weeks ago there was finally some activity at the site, as public works crews boarded up doors and windows, and trimmed trees.
A spokesperson for the City of Cranston confirmed to Newsweek works took place at the site last month.
But Correia claimed it was "a very small Band-Aid on a very, very big, big wound."
He continued: "It's in very very poor shape and there are broken windows, the City of Cranston has recently put up a lot of barricades around the building to prevent people from getting in.
"And that has done nothing to address the structural damage of the water, but at the very least it is preventing people from entering.
"The building is not safe, no one should be in that building without an abatement contractor, it's loaded with mold and asbestos."
He added something needs to be done at "a state level," saying: "The state needs to get involved and they don't want to get involved."
A spokesperson for the Office of Governor Daniel J. McKee, State of Rhode Island, confirmed to Newsweek they have no update regarding the situation.
An unofficial group of volunteers have set up a Facebook page, called Roger Williams Mausoleum, and website dedicated to remedying the situation.
As part of their efforts, they've painstakingly collated names, which they refer to as "The List," they believe are still in the mausoleum, putting the figure close to 500.
A spokesperson told Newsweek: "The citizens of Cranston are outraged at the state of affairs at the mausoleum, indeed many in the state of Rhode Island and elsewhere are incensed at the lack of action and the length of time that has passed without any measurable progress on rectifying a deplorable situation.
"The can simply gets kicked down the road for the next mayor, a string of barbed wire is put up or a few boards nailed over a door. The situation calls for an immediate plan of action to address the removal and relocation of all who are entombed within the crumbling walls.
"This is beyond a health hazard. There is a moral obligation to return the dignity and respect to all those inside, a dozen of whom are veterans."
Newsweek reached out to Lamont at Large for comment.