Los Angeles Fires Update: Horses Burn To Death As Rapid California Blaze Spreads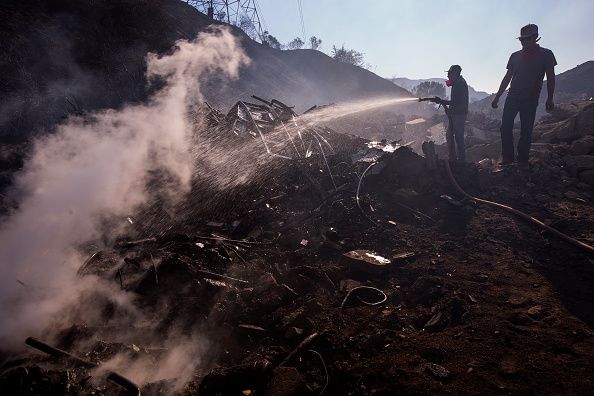 Twenty-nine horses have burned to death in one of the fires raging in Southern California this week.
The horses succumbed to flames and smoke at Rancho Padilla in Sylmar, which was burned Tuesday in the fast-moving Creek fire, the Los Angeles Times reported.
"All I could think about was the horses, the horses, the horses. And they were like, 'Get out, get out, get out,'" ranch owner Patricia Padilla said, referring to warnings by firefighters.
More than 60 horses were at the ranch when the brush fire broke out on Tuesday afternoon, and nearly half were killed. Two remain in the hospital, one in critical condition.
"We've always had fires, and it's always been one of those things, like, 'We'll be OK,'" said Virginia Padilla, Patricia's sister. "I guess it was just…we weren't."
Millions of Californians are bracing themselves for evacuation as the wildfires spread throughout the region. The fires are moving toward Los Angeles, with the closest fire just outside of the city. The 475-acre wildfire broke out Wednesday morning and destroyed several multimillion-dollar mansions in Bel-Air and forced Interstate 405 to shut down.
The Thomas Fire started the disastrous chain of fires on Monday evening. Then four others began to blaze into Tuesday afternoon, and several more broke out Wednesday. The Creek Fire has destroyed 11,377 acres, and the Thomas Fire has burned 50,000 acres, the Ventura County Fire Department reported.
But these are not the biggest fires the state has seen this year. In October, fires consumed more than 128,000 acres in Napa Valley, killing 31 people and severely damaging the region's wine and marijuana crops.