Hospital Responds to Nurse Seen at Crowded Wisconsin Bar After State's Stay-At-Home Order Was Lifted
Amid the ongoing novel coronavirus outbreak, a nurse was seen at a crowded bar Thursday in Wisconsin, where lockdown measures were lifted after the state's Supreme Court overturned Wisconsin Gov. Tony Evers' extension of the stay-at-home order on Wednesday.
Katie Koutsky was identified to be an employee of Advocate Aurora Health, a Illinois-based health care system with offices in Wisconsin, after she was interviewed by a news crew from Chicago's WTMJ-TV station covering a story at the bar, Chicago's WGN reports.
Koutsky was seen among the many patrons at the packed Limanski's Pub in West Allis, a suburb of Milwaukee, who were seen without a face mask.
"I have a toddler at home and I'm a full-time nurse. It's been very stressful and hard to go out and be with my friends and family at the bars," she told the news crew.
When asked whether she was concerned about the crowds, she told the news crew: "I don't think the risk presents any higher than going to a grocery store."
On Friday, Koutsky issued a statement in which she expressed regret for her actions.
"The intense media scrutiny I have received over these last two days regarding my decision Wednesday evening to go to my sister's bar to help her with the opening," she said.
"First, while my priority was to support my sister and her attempt to restart her business which has been devastated by this pandemic, I'd like to express my regret for not wearing a mask or practicing social distancing while there. It was a lapse in judgment on my part to not ensure I had my mask prior to leaving my house and to not maintain social distancing—even during the interview requested by the reporter," Koutsky continued.
The incident was raised during a virtual town hall held by Advocate Aurora Health Thursday on Facebook.
Advocate Aurora Health issued a statement following the incident, which said: "Given the ongoing education and safety measures we are fully committed to, we're disappointed. The health and safety of our patients, team members and our community are our highest priorities.
"As businesses begin to reopen, it's important we all continue to practice safety measures that have been effective in stemming the spread including social distancing, thorough handwashing, staying at home when sick and wearing masks in public in accordance with local government guidance," the statement adds.
Advocate Aurora Chief Nursing Officer Mary Beth Kingston expressed she was also "disappointed" by the incident, noting that the system works with all of its employees to reinforce social distancing guidelines inside and outside of the hospital, Crain's Chicago Business reports.
"We have a very robust employee health service and we'll be following up with that individual person and saying 'where were your contacts, do you have any symptoms,'" Kingston said.
The director of infectious disease at Advocate Lutheran General Hospital, Dr. Robert Citronberg, said that immediate testing of this employee for COVID-19 infection "is probably too early," as the test may not detect the presence of the disease for several days, he noted at the virtual town hall.
All employees of the health care system are screened before every work shift, with temperature checks and questions about their symptoms, Kingston explained.
"We've also been working with education with our team members for what they can do to be safe once they leave our hospital walls and certainly we'll be following up with individual nurses as needed," she added.
Koutsky explained further in her Friday statement. "As a nurse, I understand the fear and uncertainty everyone is facing and how important it is to practice safety measures not only at sites of care, but while away from work. I let my guard down and apologize for making anyone feel uncomfortable or at risk," she said.
"While I do not have any COVID-19 symptoms and there are no indications of exposure, out of an abundance of caution, I am voluntarily self-quarantining for the next seven days. As standard practice at my hospital, I will undergo screening before returning to work," she added.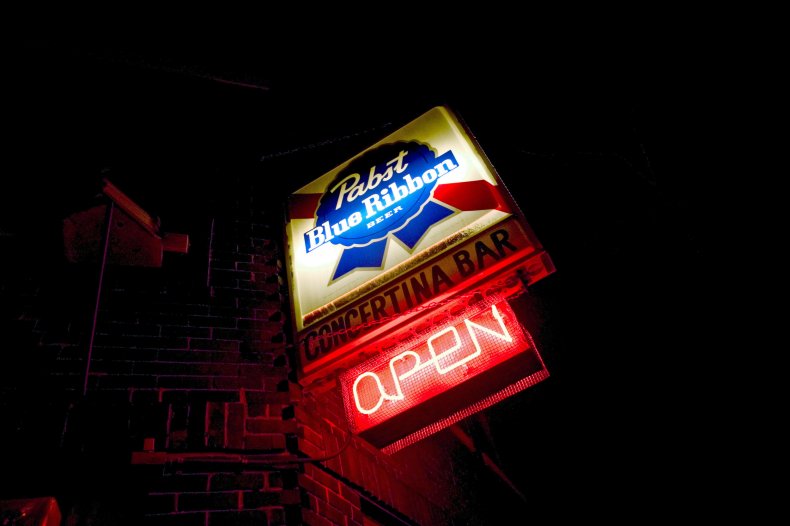 Limanski's Pub was among several bars across the state that reopened just hours after the Wisconsin Supreme Court blocked an extension of the governor's stay-at-home order, which was ruled as "unlawful, invalid and unenforceable."
President Donald Trump was among those who welcomed the ruling, calling it a "win."
The decision was described to have turned the state into the "Wild West" with the absence of restrictions, as Evers continued to urge residents to remain at home, despite the latest ruling.
"We cannot let today's ruling undo all the work we have done and all the sacrifices Wisconsinites have made over these past few months," he said on Wednesday.
The stay-at-home order was expected to be in place until May 26 before the court ruled the governor's administration had overstepped its authority in its lockdown measures after Republican lawmakers filed a complaint.
Last month, residents staged a protest outside the state's Capitol Building after Evers extended the statewide lockdown for another month.
Wisconsin has reported 11,685 confirmed cases and 445 deaths, as of Friday, according to the latest figures from Johns Hopkins University.
The novel coronavirus, which was first detected in Wuhan, China, has infected more than 4.5 million people across the globe, including more than 1.4 million in the U.S., the epicenter of the outbreak. Over 307,000 have died while more than 1.6 million have reportedly recovered from infection, as of Friday, according to the latest figures from Johns Hopkins University.
The graphic below, provided by Statista, illustrates U.S. states with the most confirmed COVID-19 cases.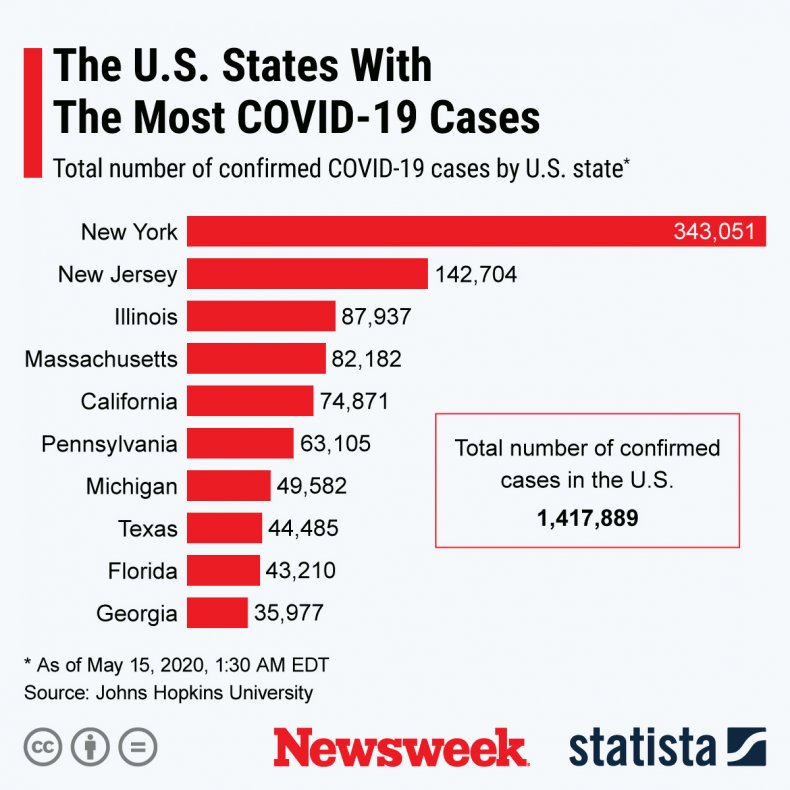 The graphic below, provided by Statista, illustrates the spread of the COVID-19 virus across the U.S.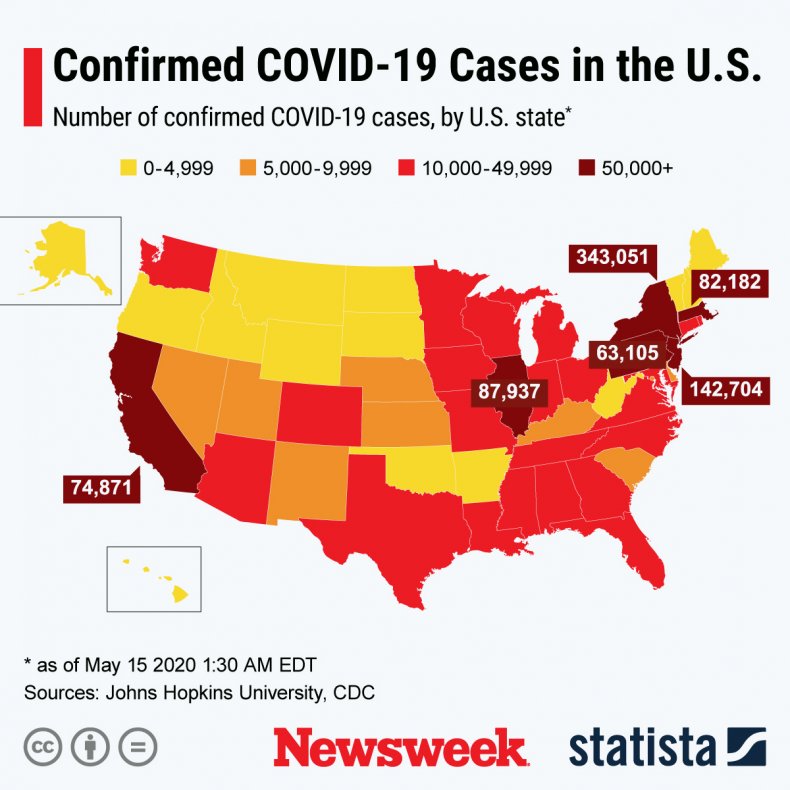 Update (5/15/2020, 10:30 p.m.): This article was updated with a statement from Koutsky.