Hotel Employee Gunned Down After Man's Entry to Nightclub Denied: Police
Police in Miami Beach, Florida, say that a man shot and killed a hotel employee early Friday morning after he was denied entry into a nightclub.
The shooting took place at the Clevelander Hotel where police found the 50-year-old victim, Dion David Moore, a front desk employee, lying in a pool of blood, NBC 6 reported, citing an arrest report from the Miami Beach Police Department.
According to the report, the suspected shooter, 29-year-old Brandon Kortez Burris, had been allegedly attempting to sneak into a nightclub at the hotel. After he tried a few times, Moore asked Burris to leave the premises. After getting into an argument, Burris allegedly attempted to punch Moore, and later pulled out a gun and opened fire, NBC 6 reported.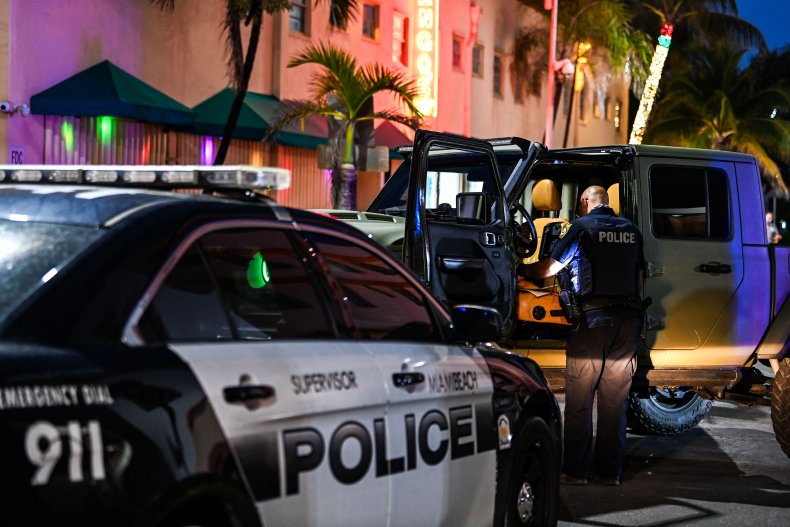 Police later found Burris who allegedly had a gun in his waistband after he fled the scene. He faces a charge of second-degree murder with a weapon, according to the news station.
A friend of Moore's, Eric Jackson, spoke with NBC 6 following the deadly encounter.
"It hurts when it hits home," Jackson said. "It happens, you hear about it all the time, but it hit home tonight."
Jackson and Moore went to high school together, and Jackson described Moore and his twin brother as "super smart."
"What really caught my attention, them boys were always trying to invent stuff. Dion was always a pioneer," he said, and added that his friend was "not the one to bring that kind of anger to nobody, to get himself involved in that kind of confrontation to that level."
Newsweek has reached out to the Miami Beach Police Department for more information.
In a separate incident last month in Atlanta, a Subway employee was fatally shot after an argument they had with a customer about mayonnaise.
"Believe it or not, it was about too much mayonnaise on his sandwich," the owner of the restaurant, Willie Glenn, told local reporters, speaking about the alleged shooter. "He decided to escalate the situation and from there, that's when all hell broke loose." Glenn said that the female employee was killed in front of her son, who was in the store at the time.
Also last month, a worker at a McDonald's allegedly shot their supervisor after an argument. After shooting the manager several times, the worker allegedly fled the scene.
Meanwhile, at a McDonald's in Maryland in May, police said an employee was shot and killed in a targeted shooting. "The detectives feel that based on the information that they've gathered at the scene that it was targeted, it's not random," a police official told Newsweek at the time.