Hotel Fight Over Masks Marks Third Incident Involving Southwest Employees in a Month
A recent fight over COVID-19 masks is the latest incident in a series of disputes that have involved Southwest Airlines employees in October. This time, an off-duty Southwest Airlines pilot has been accused of assaulting a flight attendant in a San Jose, California, hotel bar during the mask confrontation.
On October 18, the San Jose Police Department responded to the scene at the DoubleTree by Hilton hotel, USA Today reported this week. The dispute occurred between Southwest Airlines crew members at the hotel, where they were spending the night after a flight. The airline was informed about the incident.
Southwest told Newsweek on Thursday that the pilot has been placed on leave while an internal investigation is continuing, pending the result of charges filed with local authorities.
Police said that the pilot was cited for alleged assault and battery and that the case has been transferred to the Santa Clara County district attorney's office, according to USA Today.
The district attorney's office told Newsweek on Thursday that the "incident is under review" but did not provide further details.
A few days after the incident, Southwest sent an internal memo to employees reminding them to comply with company guidelines concerning conduct.
"Crossing the line in a heated conversation can be a violation of our guidelines for employees and can even end in loss of job," read the memo, obtained by USA Today. "Being off-duty is never an excuse to ignore the Golden Rule."
The memo added, "We realize there has been a steady drumbeat over the last 19 months about civility and respectful discourse — and that is for good reason. Many of our people have been faced with an uncomfortable situation where their beliefs are not shared by someone else, resulting in a confrontation of some kind."
Southwest Airlines has been criticized for its employees' conduct over the past months. On Monday, a passenger sued the company over a face mask dispute that happened on board a May 19 flight.
Karina Isabel Velasquez, the passenger, alleged that battery, assault, and intentional infliction of emotional distress were caused in a situation where she was willing to cooperate, according to the suit.
Velasquez said that she and her husband were ordered to leave the plane and alleged that the flight attendant injured her when they snatched her cellphone from her.
According to the plaintiff, the flight attendant insisted that the couple were not compliant with the airlines' guidelines concerning COVID and therefore urged them to leave. But Velasquez and her husband said that they offered to change masks, wear multiple masks and show their proof of COVID vaccination and negative tests for the coronavirus.
The lawsuit also alleged that as the couple were leaving the plane, the flight attendant "suddenly and violently grabbed and removed plaintiff's phone out of her hand."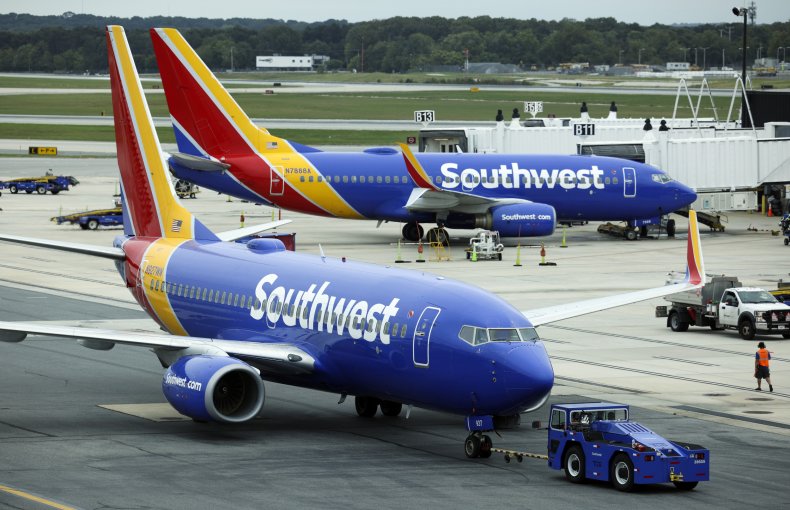 Southwest also came under public scrutiny when a pilot last Friday reportedly said "Let's go Brandon'' over the public address system on a plane from Houston to Albuquerque, New Mexico. The phrase has become a coded chant that means "F*** Joe Biden."
The incident prompted boycott threats, with some commentators on social media saying that they "will never fly Southwest again because they allow their employees to disrespect the Office of the President with no consequences. If Southwest wants to openly support a party, then everyone should boycott the airline."
In a statement to Forbes, Southwest said that it is investigating the matter. It added that the behavior "was not reflective of the Southwest hospitality for which we are known and strive to provide each day on every flight. Behavior from any individual that is divisive or offensive is not condoned."
When Newsweek asked Southwest about its response to boycott threats, an airline spokesperson said, "We certainly pride ourselves in creating a welcoming environment for more than 100 million customers who fly with us each year. It's the heart of our people and the mission of Southwest."