Why Adam Sandler and Kevin James Aren't In 'Hotel Transylvania 4'
The fourth Hotel Transylvania movie Transformania is out now on Amazon Prime Video, and eagle-eared fans may notice a difference in the voice cast. That is because both Dracula and Frankenstein have been recast.
In the first three films, the two classic horror monsters were voiced by friends Adam Sandler and Kevin James. Both are missing for the fourth instalment, and have been replaced by voice actors Brian Hull and Brad Abrell, respectively.
While Sandler and James are out of the franchise, actors like Selena Gomez, Andy Samberg and Steve Buscemi are all back.
As to why these actors have returned and Sandler and James have not, right now the only official statement comes courtesy of one of the film's two directors.
Why did Adam Sandler and Kevin James leave the Hotel Transylvania franchise?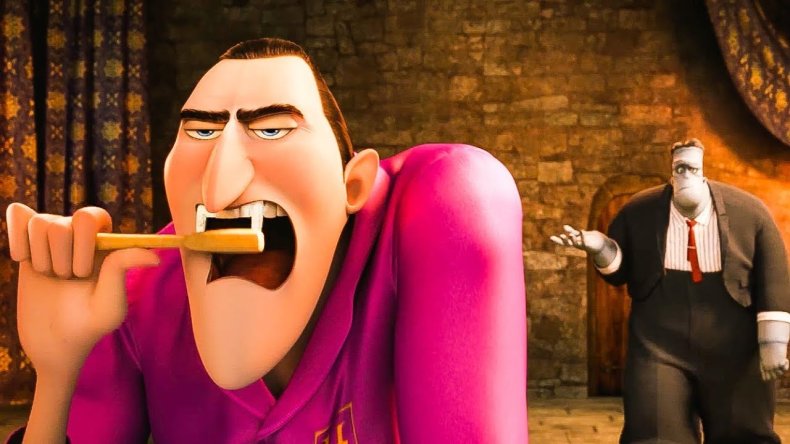 In an interview with the U.K.'s Radio Times, Transformania co-director Derek Drymon said: "The fact that [Sandler] turns into a human [in the new film] was a good opportunity to do things a little differently. He could be a little different than he was in the movies, and it would be natural.
"So, it kind of was the perfect movie to have a person come in and fill those shoes."
This answer has not been accepted by everyone. The entertainment news site Hidden Remote, for example, wrote: "That doesn't really make any sense." Why, they ask, did they feel the need to recast Adam Sandler and Kevin James, but not any of the other characters who become humans? And why, if they wanted a different feel, did they cast someone known as an impressionist to fill the role?
It should be noted that Sandler and James' absence from this film comes after they both signed new development deals with Netflix. In January 2020, Sandler re-upped his Netflix contract for four more films, with the deal reported to be worth $250 million. In July, meanwhile, it was reported that James had a development deal with the streamer.
It should also be noted that Sandler was credited as executive producer on the first two films in the franchise, but neither of the two movies made after he first signed his Netflix deal in 2014.
Even more importantly, Sandler may be out of the franchise because he is working on a rival. Per IndieWire, the Uncut Gems actor is working on his own animated feature for Netflix which he will write and produce. And as the pair has worked on 15 projects together so far, it is possible we may soon get a Sandler and James animated reunion.
The pair are the only ones to be leaving the franchise. Also out is original director Genndy Tartakovsky, though he is still credited as a writer.
Hotel Transylvania: Transformania is available to stream on Amazon Prime Video now.