House Democrats Have Been Joining Impeachment Ranks After Becoming Targets of Grassroots Coalition
The steady stream of House Democrats who have announced their support for an impeachment inquiry into President Donald Trump during August recess has come as a coalition of large progressive grassroots organizations have targeted certain members.
Among the roughly 30 Democrats who've revealed in recent weeks their newfound support for an investigation into whether articles of impeachment should be filed against the president, four of the country's largest liberal activist groups — Indivisible, MoveOn, Need to Impeach and Stand Up America — have pushed constituents in several of those members' districts to back an inquiry, according to information provided to Newsweek by Stand Up America.
The growing number of House Democrats backing an inquiry during the 6-week hiatus — a time when all is quiet on Capitol Hill and congressional probes into the White House have remained largely dormant, aside from court proceedings — shows that members have likely responded to increased pressure from voters back home at public events and town halls.
The latest House Democrats to support an inquiry came Wednesday from Maryland Representatives Dutch Ruppersberger and David Trone, in addition to Rhode Island's Jim Langevin, bringing the total number impeachment inquiry calls to more than half of the caucus at 131 members, according to a running tally by Politico.
"Many [constituents] have come to me with their concerns about the president's conduct and whether he has committed impeachable offenses," Langevin said in a video posted to social media. He pointed to the numerous cases of potential obstruction of justice outlined in the Mueller report, as nearly all pro-inquiry Democrats have. "The vast majority of feedback that I have received from my constituents has been in support of an impeachment inquiry."
Langevin was one of several Democrats who've put themselves into the inquiry column after the grassroots coalition began targeting him in recent weeks as part of its "Impeachment August" campaign to ramp up pressure via constituent phone calls and town hall appearances. A spokesperson for Langevin told Newsweek they've received a "steady stream of constituents reaching out to our office during August, and the vast majority have urged the Congressman to support an impeachment inquiry."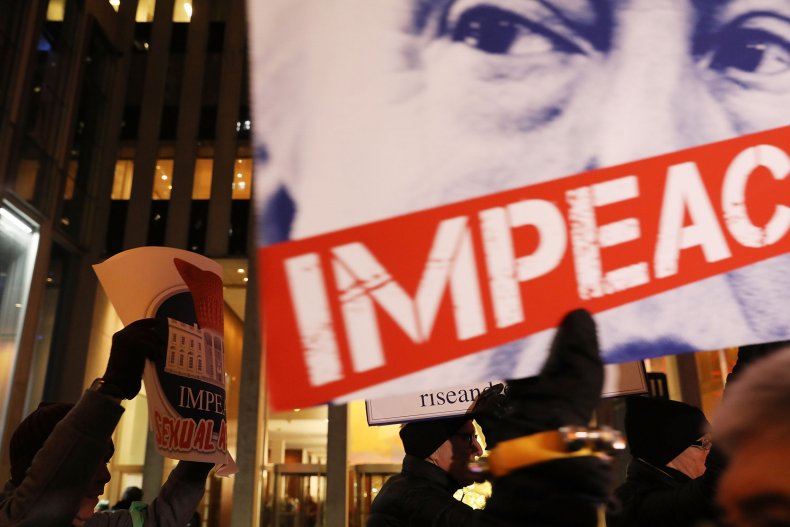 Representatives Ben Ray Lujan and Debra Haaland of New Mexico, David Price of North Carolina and Lauren Underwood of Illinois were also coalition targets who've recently came out to push for an inquiry.
Announcements by Lujan and Underwood were significant based on either their status in the chamber or their chances at re-election. Lujan is the number four House Democrat as assistant speaker and a close ally to Speaker Nancy Pelosi while Underwood is a vulnerable 2020 Democrat who flipped her district last election from red to blue. Trump won Underwood's traditionally Republican district in 2016 by 4 percentage points.
Underwood marked the second Democrat representing a Trump district to back an inquiry, the first of whom was Representative Chris Pappas of New Hampshire.
"If Speaker Pelosi is paying attention to her caucus, then she knows that dozens of lawmakers have announced their support for an inquiry since 'Impeachment August' began," said Stand Up America spokesperson Ryan Thomas. "With a majority of House Democrats now supporting an inquiry, Speaker Pelosi can no longer ignore the will of her caucus."
Prior to teaming up and launching new efforts this month, the organization focused efforts on shifting the stances of Representative Bonnie Watson Coleman of New Jersey, Joe Kennedy III of Massachusetts and Ruben Gallego Arizona, all of whom now call for an inquiry.
Pelosi has been steadfast in her opposition to an inquiry, arguing for House Democrats stay the course and hold Trump accountable by moving forward with their various congressional probes and pending lawsuits. An inquiry could also place swing district Democrats, such as Underwood, and the party in a precarious position as it heads into 2020 trying to retain its sizeable House majority.
The coalition's Impeachment August efforts have also targeted Josh Gottheimer and Andy Kim of New Jersey, Conor Lamb of Pennsylvania, Colin Allred of Texas and Mikie Sherrill of Virginia, all of whom flipped their Republican districts last year and are looking to have repeat results in their next election. None of them have changed their stances to support an impeachment inquiry, but they have faced increased pressure from the liberal activist groups, in addition to some facing growing frustration from constituents at town halls.
Stand Up America said they'll continue to focus on members whose change in opinion could help drive further impeachment inquiry momentum, such as members of committees who are investigating Trump, the Progressive Caucus and Washington newcomers.
Judiciary Committee Chairman Jerrold Nadler said last month they've already, in effect, begun an impeachment inquiry because the panel is considering whether to vote on articles of impeachment. Nadler's argument is the same one the committee has made in separate lawsuits to obtain the unredacted Mueller report and its underlying evidence and to secure subpoenaed testimony from former White House counsel Don McGahn. However, there has been no vote to initiate a formal inquiry.
"We're grateful that Chairman Nadler has escalated the fight and used his oversight authority to investigate Donald Trump's criminal activity," Thomas said, referring to the potential obstruction of justice detailed in Mueller's report.
"But," he continued, "we're pushing for every member of the House to support a formal impeachment inquiry so that, when lawmakers return in September, Congress is in the strongest possible position to get answers on behalf of the American people and hold Donald Trump accountable for his criminal conduct."
Update: This story was updated to include that Maryland Representatives Dutch Ruppersberger and David Trone also came out in support of an inquiry on Wednesday.