They're tired of waiting. So, they're banding together.
Some of the country's largest liberal grassroots organizations are combining their efforts and resources to pressure House Democrats to launch a formal impeachment inquiry into the president of the United States, a move that roughly half of the caucus now supports.
Indivisible, MoveOn, Need to Impeach and Stand Up America will launch on Thursday what they've dubbed "Impeach August," a joint campaign targeting House Democrats on their August recess to push them toward beginning impeachment by attending town halls, organizing in-person events and visiting members' district offices, according to information provided to Newsweek by Stand Up America. Impeach August efforts will also include a "large-scale education campaign" to inform constituents across the country on whether their Democratic representative supports the impeachment process.
All four progressive organizations have conducted individual campaigns to pressure House Democrats to support impeachment, but this new collaboration marks the first time they'll consolidate their large member bases and resources towards a singular goal. Combined, the groups have a massive outreach to millions of supporters and people across the country, in addition to the resources of the well-funded Need to Impeach founded by billionaire philanthropist and presidential candidate Tom Steyer.
"No more excuses. No more delays," Sean Eldridge, the founder of Stand Up America, said in a statement. "It's time for Speaker Pelosi and every representative in Congress to do the right thing by supporting a formal impeachment inquiry."
Support for launching a formal impeachment inquiry is at an all-time high among rank-and-file House Democrats, with more than 110 members—or about half of the caucus—wanting to move forward. But with Democratic leadership, like House Speaker Nancy Pelosi, still opposed, Judiciary Committee Democrats last week revealed that they are, essentially, already in the midst of an "impeachment investigation."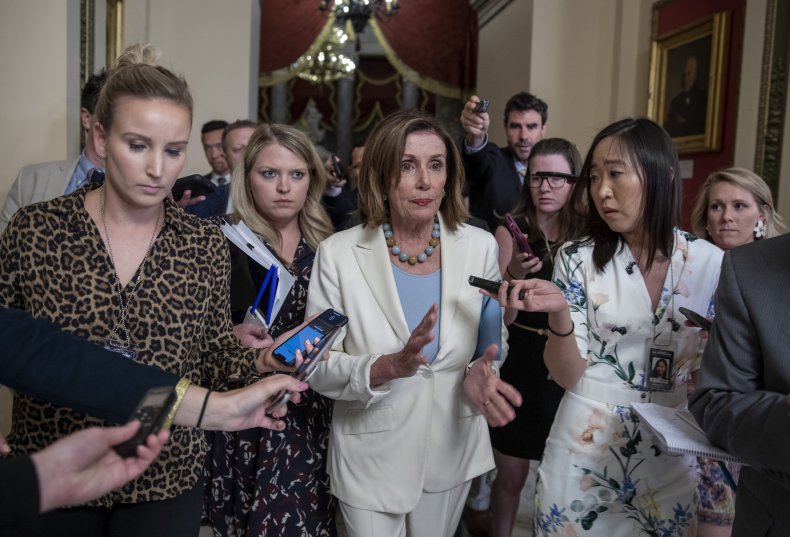 Judiciary Chairman Jerrold Nadler, a New York Democrat, told reporters at the time that they were "in effect" conducting an impeachment inquiry. He and his Democratic colleagues on the panel announced they were going to court with the Justice Department for the redacted grand jury material in the Mueller report, information that the lawsuit states is necessary for the committee in order to "consider whether to exercise its full Article 1 powers, including a constitutional duty power of the utmost gravity: recommendation of articles of impeachment."
"Whether you call that an inquiry, or whatever you want to call that, that's what we've been doing, and are doing, and will continue to do," Nadler said.
Pelosi has reiterated time and again that she wishes to proceed in a "timely fashion" and to allow outstanding court proceedings, such as obtaining documents, witness testimony and Trump's taxes, to first play out.
"No, I'm not trying to run out the clock. Let's get sophisticated about this, okay?" the California Democrat told reporters last week, just minutes before Nadler spoke. "We will proceed when we have what we need to proceed. Not one day sooner."
With the House gone for its six-week August hiatus, impeachment fervor may temporarily subside and hamper the momentum for the movement. In a letter to her Democratic colleagues last week, Pelosi said the party would focus on three messaging topics over recess, divided up over three weeks in August.
• August 5th: lowering health care and prescription drug costs.
• August 12th: increasing paychecks by rebuilding America.
• August 19th: cleaning up corruption in Washington.
But Representative David Cicilline, a Judiciary Committee member and chairman of the Democratic Policy and Communications Committee, has told Newsweek that, as members meet with constituents and conduct town halls back home, impeachment support will only continue to "intensify."
In the wake of former special counsel Robert Mueller's testimony to Congress last month, some Democrats have joined the impeachment ranks. However, it was not the wave of support they were likely expecting.
Need to Impeach has launched a 30-second TV ad highlighting portions of his testimony that the group hopes will educate and convince to support impeachment and phone their representative. Democrats have pointed to 10 instances of potential obstruction of justice committed by Trump that are laid out in Mueller's report as the main reasons for ousting the commander-in-chief.
"Last week, Robert Mueller confirmed what we already knew when we launched Need to Impeach in October 2017," Need to Impeach Executive Director Nathaly Arriola said in a statement Thursday. "Donald Trump long ago crossed the threshold for impeachment."