House GOP Ready to Rebut 'Illegitimate' Jan. 6 Committee Ahead of Hearings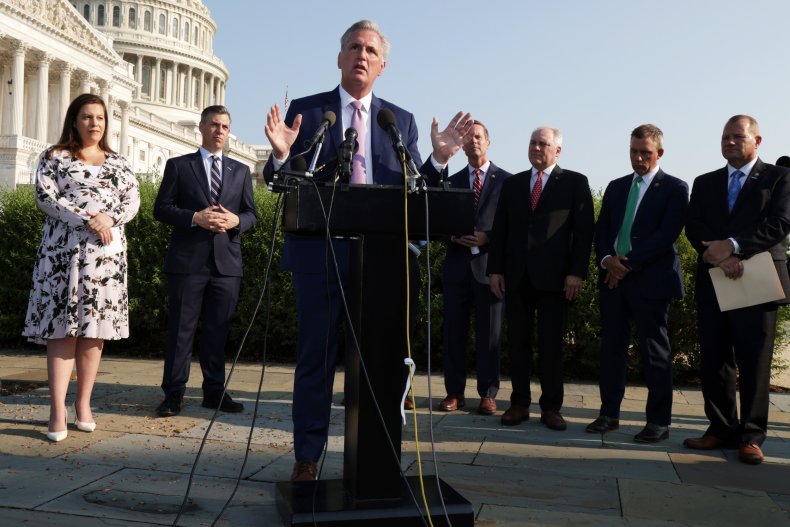 House Republicans will hold a press conference on the "illegitimate" January 6 House committee investigating last's year siege on the U.S. Capitol just before the panel delivers its findings in a primetime hearing.
The committee is set to hold its first public hearing at 8 p.m. ET Thursday. On Wednesday, House GOP leadership announced it would hold a media event on Thursday morning to discuss the "partisan" panel. The press conference will be attended by Republicans that House Minority Leader Kevin McCarthy of California chose to serve on the committee before he withdrew his selections after Speaker of the House Nancy Pelosi, a California Democrat, rejected two of his picks.
"The House GOP leadership will hold a press conference tomorrow Thursday, June 9, at 11:30 a.m. E.T. in the Capitol Visitor Center to discuss Speaker Pelosi's illegitimate and partisan committee," the Republicans announced in a press release. "Additional attendees will include House Republicans Leader McCarthy selected to serve on the Select Committee who Speaker Pelosi rejected, violating centuries of precedent."
In addition to McCarthy, Republican Whip Steve Scalise of Louisiana and GOP Conference Chair Elise Stefanik of New York, the press conference will be attended by all five Republican House members that McCarthy recommended to serve on the committee—Jim Banks of Indiana, Jim Jordan of Ohio, Kelly Armstrong of North Dakota, Rodney Davis of Illinois and Troy Nehls of Texas.
Pelosi rejected the inclusion of Banks and Jordan over concerns that the congressmen, both of whom voted to reject Electoral College votes for President Joe Biden on January 6, could harm "the integrity of the investigation." McCarthy withdrew all of his recommendations in response.
The only Republicans serving on the committee are Representatives Liz Cheney of Wyoming and Adam Kinzinger of Illinois—both noted critics of former President Donald Trump, whose supporters stormed the Capitol on January 6 in an ill-fated attempt to overturn the 2020 election results.
During an interview with Fox News, a network that will not be airing the committee's primetime hearing, Stefanik touted Republican counter-programming as "pushing back against lame-duck Speaker Pelosi's sham political witch-hunt."
"House Democrats have shamelessly prepared a primetime courtroom-style drama for the American people that fails to address any of the issues that matter," Stefanik wrote in an opinion article published by the conservative outlet The Daily Caller on Tuesday. "Emotion-filled partisan talking points will drown out legitimate questions."
Meanwhile, the January 6 committee has promised to "present previously unseen material" and "provide the American people an initial summary of its findings about the coordinated, multi-step effort to overturn the results of the 2020 presidential election and prevent the transfer of power" during Thursday's hearing.
The hearing will include testimony from U.S. Capitol Police Officer Caroline Edwards, who suffered a traumatic brain injury after being attacked by pro-Trump rioters storming the Capitol, and filmmaker Nick Quested, who captured footage of the riot. The committee is also expected to preview coming hearings that have not yet been formally scheduled.
Newsweek reached out to a spokesperson for the January 6 committee for comment.