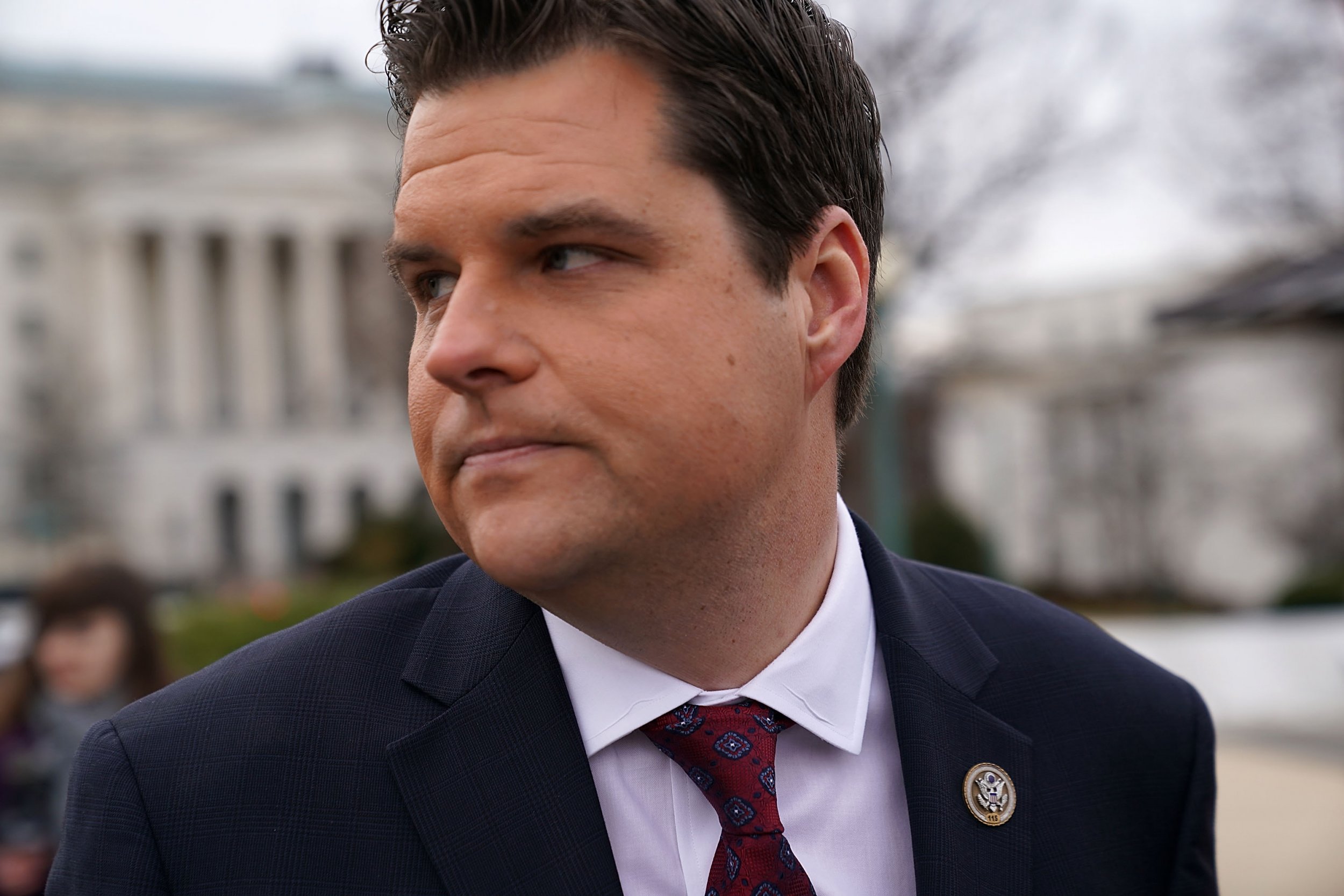 Hillary Clinton is not president of the United States and James Comey is no longer FBI director, but House Republicans on Wednesday resumed their call for answers about Comey's handling of the FBI's completed investigation into Clinton's use of a personal email server.
Representatives Matt Gaetz, Jim Jordan, Mark Meadows, Scott Perry, Jody Hice and Andy Biggs spoke to reporters in front of the Capitol about what they claimed was favorable treatment of Clinton by the FBI. The lawmakers called on Comey's successor, FBI Director Christopher Wray, to address their concerns on Thursday in testimony before the House Judiciary Committee.
Related: Mueller's Trump investigation cost slammed by lawmaker
"Is this now a Justice Department that prosecutes individuals?" Perry, of Pennsylvania, said at the press conference. "Folks, this is how police states are started. This is how it begins. And it has to stop."
Hice, who represents parts of Georgia, said, "It is clear that Hillary Clinton's received break after break after break from the FBI…. Everyone ought to be treated equally under the law, regardless of who they are." He called for "an investigation into the FBI's process and procedures."
In July 2016, Comey announced that the FBI would not be recommending charges against Clinton, though he said she had been "extremely careless" in her email practices while secretary of state. Then, in October 2016, days before the election, he said investigators had found new evidence related to the completed case. That evidence ended up not changing the bureau's earlier decision about the case, but polling suggests that Comey's announcement helped cost Clinton the election. In her 2017 book What Happened, Clinton blames Comey for her loss. Trump fired Comey in May.
The president and other Republicans have continued talking about the Clinton investigation, especially given new revelations about the probe. In October, the FBI released documents showing that Comey and senior officials at the bureau began drafting his July 2016 statement months in advance, even before interviewing Clinton. On December 2, the office of special counsel Robert Mueller acknowledged that it had removed an investigator amid allegations that he had exchanged text messages that could be considered critical of Trump. That investigator, Peter Strzok, had led the Clinton case. Mueller is investigating Russian meddling in the 2016 presidential election and possible coordination with the Trump campaign.
On Tuesday, citing emails that the conservative watchdog group Judicial Watch obtained, BuzzFeed reported that Andrew Weissmann, a top member of Mueller's team, emailed Sally Yates the day Trump fired her as acting attorney general in January for refusing to defend his executive order halting entry to the U.S. by travelers from certain countries, writing, "I am so proud…. And in awe. Thank you so much. All my deepest respects."
Republicans have also targeted FBI Deputy Director Andrew McCabe, whose wife ran for state senate and received campaign contributions from entities associated with Virginia Governor Terry McAuliffe, a Clinton ally. Documents show that McCabe emailed about his wife's campaign from his bureau address, which Senator Chuck Grassley, chairman of the Senate Judiciary Committee, claimed in a December 1 letter to the Justice Department could violate the Hatch Act. (The FBI has said McCabe did not help his wife with campaign fundraising and did not take part in overseeing the Clinton investigation until after his wife's campaign ended.)
On Tuesday and Wednesday, Grassley sent additional letters, to Director Wray and the Justice Department inspector general, seeking information about Strzok.
Representative Gaetz, one of the lawmakers who organized the press conference on Wednesday, told Newsweek it doesn't matter that Clinton is not president. "We don't want to live in a country where losing an election is a de facto immunity deal," he said. "People have to be accountable for their actions whether they win or lose." He also took issue with the special counsel probe, saying, "How can any evidence developed and presented by the Mueller probe be viewed as anything but the fruit of a poisonous tree?"
Investigations into the FBI's handling of the Clinton case are already underway. In January, the Justice Department inspector general announced the office would review Comey and McCabe's conduct. Inspector General Michael Horowitz said in November that the probe was ongoing and that he expects to release the final report in March or April. Separately, the Senate Judiciary Committee since June has been investigating Comey's conduct.
And in late October, after reports resurfaced about the Russian purchase of a Canadian uranium mining company that Clinton's State Department helped approve, the House Judiciary Committee and House Oversight and Government Reform Committee launched a joint investigation into Comey's handling of the Clinton case. The same day, the House Intelligence Committee and House Oversight Committee said they would jointly investigate the uranium deal.
House Republicans have also called for a special counsel to investigate Comey and Clinton. In November, Assistant Attorney General Stephen Boyd wrote in response to those requests that Attorney General Jeff Sessions had "directed senior federal prosecutors to evaluate certain issues raised in your letters."
Representative Eric Swalwell, a Democrat on the House Judiciary Committee, told Newsweek in October that the Republicans on his panel are too interested in the Clinton issue and not interested enough about whether Russia meddled in the election and colluded with the Trump campaign. "To say they are misguided, I think, would be charitable," he said. "What they're really doing is just parroting the president's narrative."
Over the past week, since Mueller's team announced a charge against former national security adviser Michael Flynn, to which he has pleaded guilty, Trump has tweeted about the FBI and Clinton. "So General Flynn lies to the FBI and his life is destroyed, while Crooked Hillary Clinton, on that now famous FBI holiday 'interrogation' with no swearing in and no recording, lies many times...and nothing happens to her? Rigged system, or just a double standard?" he tweeted on December 2. In another tweet that day, he added, "Many people in our Country are asking what the 'Justice' Department is going to do about the fact that totally Crooked Hillary, AFTER receiving a subpoena from the United States Congress, deleted and 'acid washed' 33,000 Emails? No justice!"
The following day, he tweeted: "After years of Comey, with the phony and dishonest Clinton investigation (and more), running the FBI, its reputation is in Tatters - worst in History! But fear not, we will bring it back to greatness."
All but one of the lawmakers who spoke on Wednesday belong to the House Freedom Caucus, whose members the Pew Research Center has described as being "among the most conservative of House Republicans."