'Housing Crisis': Progressives Frustrated as Biden Lets Federal Eviction Moratorium Expire
President Joe Biden gave no indication of reversing plans to allow a federal eviction ban to expire midnight Saturday as progressive House lawmakers urged the administration to extend the moratorium, with two even sleeping outside the U.S. Capitol in protest.
Millions of Americans could be forced out of their homes after the Biden administration declined to extend the federal eviction ban put in place last September to protect tenants during the pandemic. The White House said Thursday that it would not extend the moratorium, citing a Supreme Court decision last month against an extension past July.
Rep. Cori Bush of Missouri and Rep. Ayanna Pressley of Massachusetts slept outside the Capitol Friday to send a message to the federal government. Bush has set up for a second night camping on the steps of the building. "I don't plan to leave before some type of change happens," she told reporters.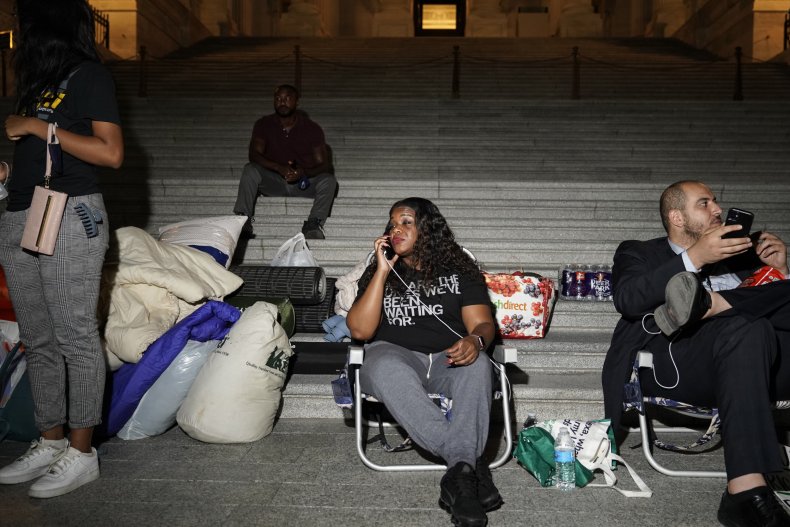 It remains unclear why this issue was left until the last minute. The House left for a 6-week recess Friday with some Democrats blaming the White House. House Speaker Nancy Pelosi said Friday that she believes it should be up to the Centers for Disease Control and Prevention (CDC) to extend the moratorium.
Biden urged Congress, and even state and local governments, to address the expiration of the ban, frustrating progressives who have asked the president for a solution after Democrats were unable to gather the votes for a renewal.
Bush and Pressley spearheaded a letter to Biden Saturday—signed by six others including Reps. Alexandria Ocasio-Cortez of New York, Rashida Tlaib of Michigan and Ilhan Omar of Minnesota—calling for "an urgent government response," according to Politico. "Extending the eviction moratorium is a matter of life and death for the communities we represent," they wrote.
Rep. Maxine Waters of California called on Biden to issue an executive order to "expand and extend" the moratorium on CNN Saturday, criticizing the president for following the Supreme Court's ruling. "We thought that the White House was in charge," she said. "We have families, probably 11 million families, out there who stand to be evicted."
Senator Elizabeth Warren of Massachusetts reminded the chamber "we are only hours away from a fully preventable housing crisis" during a floor speech in a rare Saturday session on the infrastructure bill.
"We have a duty to extend the eviction moratorium right now to keep America's families safe and to give states time to distribute emergency rental assistance," Warren added in a tweet.
With about 11.4 million Americans behind on rent, the eviction issue has been further exacerbated by state and local officials who have slowed the distribution of $46.5 billion in rental assistance passed by Congress.
Newsweek reached out to the White House for comment.