Housing Prices Plunge Furthest in These 10 Metro Areas Across U.S.
Housing prices have fallen in almost 50 metropolitan areas this August, as average home prices across the country dropped 1.6 percent from July.
From January to May 2022, the average cost to buy a home had risen by 9.5 percent across the U.S. before cooling to a more modest 0.35 percent rise from June to July, according to data from the American Enterprise Institute Housing Center.
The housing market has been in flux due to persistent inflation and economic uncertainty, and with mortgage interest rates soaring to highs not seen in 20 years, it's a worrying time for Americans looking to buy and sell their homes.
In July, 20 U.S. metropolitan areas reported a dip in their home prices, but this figure more than doubled to 45 metropolitan areas in August, with significant drops in the Sun Belt, despite the surge following the COVID pandemic.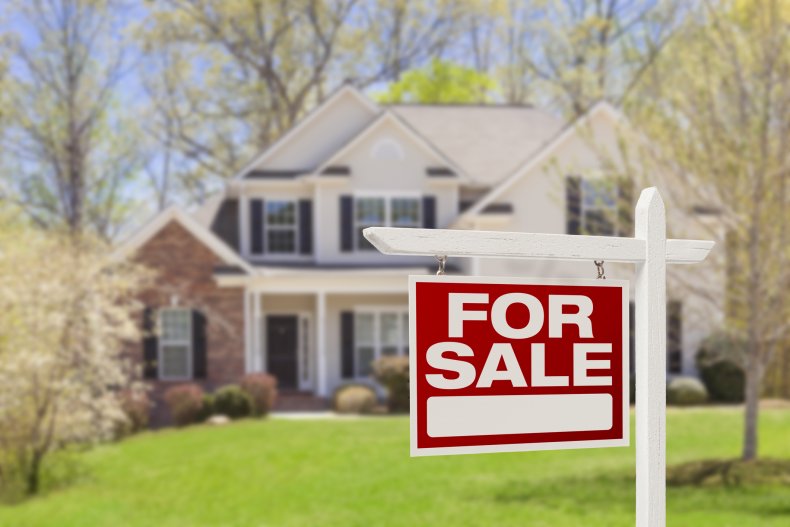 Around one in six homes that went under contract in Sun Belt cities during August fell through, which amounts to roughly 64,000 homes nationwide, real-estate brokerage Redfin reported.
Buyers were most likely to back out of housing deals in such areas as Phoenix, Arizona; Tampa, Florida; and Las Vegas, Nevada. These cities typically saw prices surge during the pandemic.
Conversely, buyers in pricy coastal metropolitan areas such as San Francisco and New York City were reported as the least likely to back out of deals. Redfin's analysts said this could be due to office work making a comeback.
Home prices in Midwestern metropolitan areas showed significant dips in August, as prices in Omaha, Nebraska, fell 3.5 percent from July, while those in Cincinnati, Ohio and St. Louis, Missouri, decreased by 1.5 percent.
Home prices in Kansas City, Missouri, also fell 1.3 percent. In Philadelphia, Pennsylvania, they dropped 1.2 percent.
Properties in Salt Lake City, Utah, saw the largest bounces in price this year. Despite drops in home prices in February and May, they made big gains throughout the first half of the year, jumping 15 percent overall, before tumbling 3.5 percent in August.
West Coast Sees the Biggest Housing Price Decline
Many metropolitan areas reported a third or fourth consecutive decline in August, with a vast majority in California, due to the increasingly unaffordable cost of shelter in the Golden State.
San Jose has experienced the sharpest reverse in home prices. After spiking 9.3 percent from January to April, they have fallen by 11.7 percent over the last four months.
Metros With Biggest Home Price Declines in August
Seattle, WA
Las Vegas, NV
San Jose, CA
San Diego, CA
Sacramento, CA and Denver, CO (tie)
--
Phoenix, AZ
Oakland, CA
North Port, FL
Tacoma, WA
San Diego and Los Angeles have not been far behind, with prices falling 2.5 percent in the past three months. San Francisco has broken the trend and made slight gains in August, but the metro has lost 4.8 percent overall since May.
Other West Coast metros have suffered declines in recent months. Prices in Portland, Oregon, were down 2.7 percent in the past three months, with Denver, Colorado, and Seattle, Washington, amongst the biggest losses, dropping 3.0 percent and 6.4 percent respectively since April.
In Las Vegas, Nevada, and Phoenix, Arizona, year-on-year prices rose 25 percent in May but have ceded 2.5 percent and 2.1 percent respectively over the past three months.
Florida was leading market appreciation throughout most of the year, reporting increases each month until August. But the Sunshine State has started to see a decline, as prices in Jacksonville fell 1.7 percent. They dropped 1.4 percent in Orlando and Miami as well as 1.3 percent in Cape Coral and 0.7 percent in Tampa.
The drop in pricing may seem extreme compared with the two-year pandemic frenzy which saw a shortage of listings and increased demand for property, leading sellers to receiving multiple offers and driving buyers to bid high.
Home listing are now reportedly lingering for longer as demand slows, and with rising interest rates on mortgages, homeowners who don't have to move are staying put. A recent report from real-estate marketplace company Zillow Group Inc. showing that new listings slid almost 23 percent in August from a year earlier.
According to a recent Redfin report, Seattle's housing market, one of the metro areas cooling off faster than any other, saw demand for property decreasing, with around a third fewer homes sold within two weeks in August than a year prior.
Seattle Redfin agent, David Palmer, said in the report: "A lot of sellers aren't able to get the price they want because buyers don't want to compete with other offers when mortgage rates are double what they were a year ago.
"That means there are fewer sellers listing their homes and fewer buyers making offers on the ones that do hit the market."
Redfin's chief economist, Daryl Fairweather, added in the report that many are simply being priced out of the metro areas.
She said: "These are all places where homebuyers are feeling the sting of rising home prices, higher mortgage rates, and inflation very sharply.
"They're slowing down partly because so many people have been priced out and partly because last year's record-low rates made them unsustainably hot.
"The good news is that the slowdown is dampening competition and giving those who can still afford to buy more negotiating power."