How To Apply For The BLM Survival Fund—$1,000 COVID Relief Grants On Offer
The Black Lives Matter Global Network Foundation has launched a $3 million Survival Fund to help Black people struggling financially during the coronavirus pandemic.
The foundation said the relief fund will provide $1,000 microgrants to Black people who need it most.
The financial relief fund is open to anyone who identifies as Black, but special consideration will be given to applicants who are transgender, single parents and guardians and those who were formerly incarcerated.
Once an application is submitted, it will be reviewed by a selection committee who will determine if the application meets the eligibility criteria.
Those who are approved will have the funds deposited directly into bank accounts or on prepaid debit cards and can spend it as they wish, the foundation said.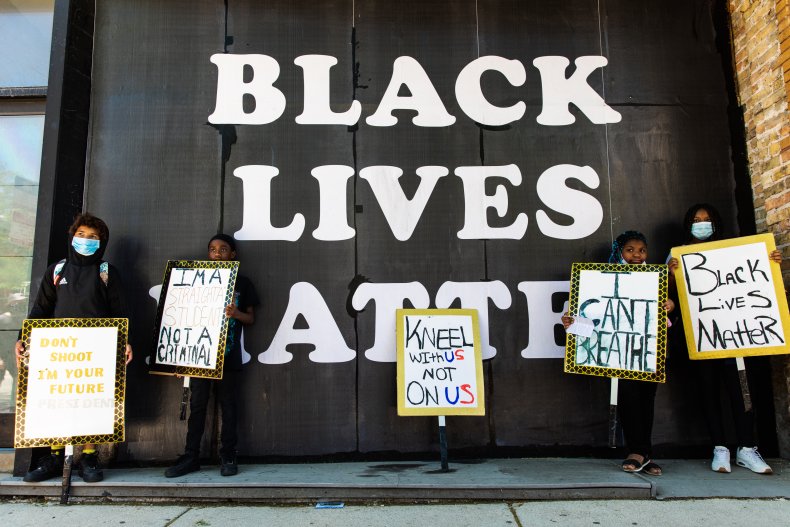 Patrisse Cullors, a co-founder of the Black Lives Matter movement and the foundation's executive director, said: "Millions of people in Black communities have lost their jobs, been evicted, gone hungry or fallen ill during the pandemic, and the BLM Survival Fund is a bold initiative to provide some relief during this unprecedented time.
"Congress absolutely needs to step up and provide monthly survival checks for our communities. Because they have refused to do so, we are challenged to provide as much mutual aid as possible to help cover the rent, groceries, utilities, gas and general costs of survival."
The Survival Fund moves the foundation beyond its origins of protesting police violence and white supremacy, the foundation said, towards its goal of building thriving Black communities through autonomous practices, public policy, liberatory education, art, creativity, spirituality, and deep investment in Black people.
"There is so much more to our organization—and movement—than just telling the global community that our lives matter," said Cullors.
"We will never abandon our fight for racial justice and our struggle for liberation, and our vision must include the pursuit of opportunities that heal, nourish, and rejuvenate our lives."
The Associated Press reported on Thursday that at least 300 people have been approved for grants so far.
The foundation took in just over $90 million last year, the AP reported this week, much of it after the killing of George Floyd, a Black man, in Minneapolis police custody sparked a reckoning on race in the U.S. and beyond.
The foundation's website said the fund aimed to help those "failed by our current systems of power."
"The inadequacy of the recent stimulus package and federal inaction on COVID-19 relief has heightened the urgency and led us to launch this fund now," it added.
It comes as Americans await action on a $1.9 trillion coronavirus relief bill that includes $1,400 direct stimulus checks.
Learn more about the Survival Fund here. Apply for the fund here.
Update 2/26/21, 3:30 a.m. ET: This article has been updated with additional information.