How 'The Bachelor' Can Address Its Diversity Issues, According to a Data Analyst
Monday night's Bachelor finale was unlike any episode that viewers have seen before, with its frank discussion of race and the series' shortcomings when it comes to that subject. But, according to Bachelor data analyst Suzana Somers, if the Bachelor franchise wants to make real change, then there has to be some re-evaluation of who gets cast in front of the camera, and who gets hired to work behind it.
Somers runs an Instagram account called @bachelordata, where she breaks down the screen time of the contestants on each Bachelor episode. Throughout Matt James' season, it was apparent that, even though Season 25 was promoted by ABC as the "most diverse cast ever," a troubling pattern emerged. White contestants led air-time until the contestants of color were finally offered a bit more of an introduction during hometown dates. At that point in the season, three of the remaining women were women of color.
"I really think there's potential for them to avoid this happening in the future with their contestants, especially if they cast more people of color as leads," Somers told Newsweek in a video interview on Tuesday.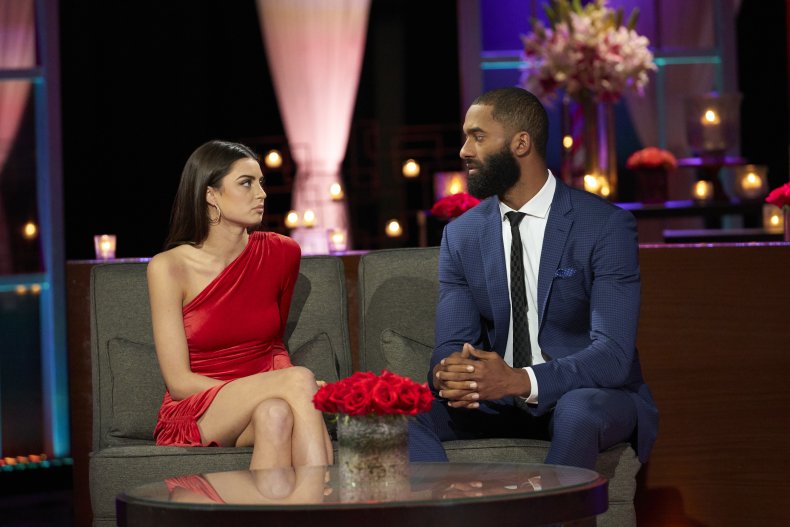 Ex-NFL player and media personality Emmanuel Acho—who is also the author of the book Uncomfortable Conversations with a Black Man—was brought in to host Monday night's "After the Final Rose" segment and preside over the conversation about how The Bachelor handles race. While Somers described his involvement as a step in the right direction, she said that there's still major room for The Bachelor to improve upon its lack of diversity—starting by taking more guidance from people of color.
For instance, Somers mentioned that the Bachelor producers—creator Mike Fleiss and executive producers Martin Hilton, Nicole Woods, Bennett Graebner, Peter Gust, Tim Warner, Louis Caric and Peter Geist—are all white, and that only one of them is a woman.
"Those are the people who are making the decisions behind the scenes and they've brought in a diversity team, but are they listening to them?" Somers said. "And how are they handling these events?"
During the Monday night finale, Acho talked with runner-up and future Bachelorette Michelle Young, James and Rachael Kirkconnell. Kirkconnell, who actually won the season, had the most screen-time in the three-hour finale, according to Somers' data. (That is, if you ignore the 53 minutes of commercial that took up nearly a third of the finale's run time.) As fans are well aware by now, Kirkconnell was at the center of a major controversy this season, after photos of her attending an "Antebellum-themed" party a few years ago resurfaced online, along with images of her in other offensive costumes.
"I see someone who was living in this ignorance without even thinking of who it would be hurting," Kirkconnell said on Monday, referring to the photo of her at the "Old South" party. "I never once asked myself at any point, 'What's the tradition behind this? What does it represent? Why did we wear those dresses?'"
Host Chris Harrison made matters even messier when he spoke up for Kirkconnell in the immediate wake of the photos getting media attention. Both Harrison and Kirkconnell were widely criticized online, and Harrison announced that he is temporarily stepping aside from his role as longtime series host. Meanwhile, amid all of the tumult, James and Kirkconnell actually broke up.
Somers said that Harrison's decision to take time off was good, but it might not be a long-term solution. "Do I think that he will return? I do," she said. "I want to believe that there's change there, but I also think that The Bachelor struggles to change."
She also argued that if Harrison officially returns, that could give fans a sense as to how ABC is addressing concerns around diversity. "I think that what I'm most interested in seeing is if he will be back this year," Somers said. "If he isn't, I think that would be very telling about possibly some internal creative changes that are being made ... The pessimist in me says he probably will be back, but I want to be optimistic and say maybe they are rethinking their show and the structure of how they bring people in."
For now, we know that Harrison won't be back for the next season of The Bachelorette, starring Katie Thurston. Her season will begin filming this month with two former Bachelorettes, Kaitlyn Bristowe and Tayshia Adams, standing in to host. A second Bachelorette, Young, was also named for a bonus, fall season of The Bachelorette. Whether Harrison will return as host for Young's season is still unknown to viewers, and maybe even to ABC.
Monday's "After the Final Rose" segment, which Acho was generally applauded for, could potentially be a turning point for the franchise. Fans will have to wait and see, though, and they'll get their first look at where the franchise is headed when Thurston's season of The Bachelorette airs later this year.
For more of Newsweek's interview with Somers, watch the video at the top of this post.