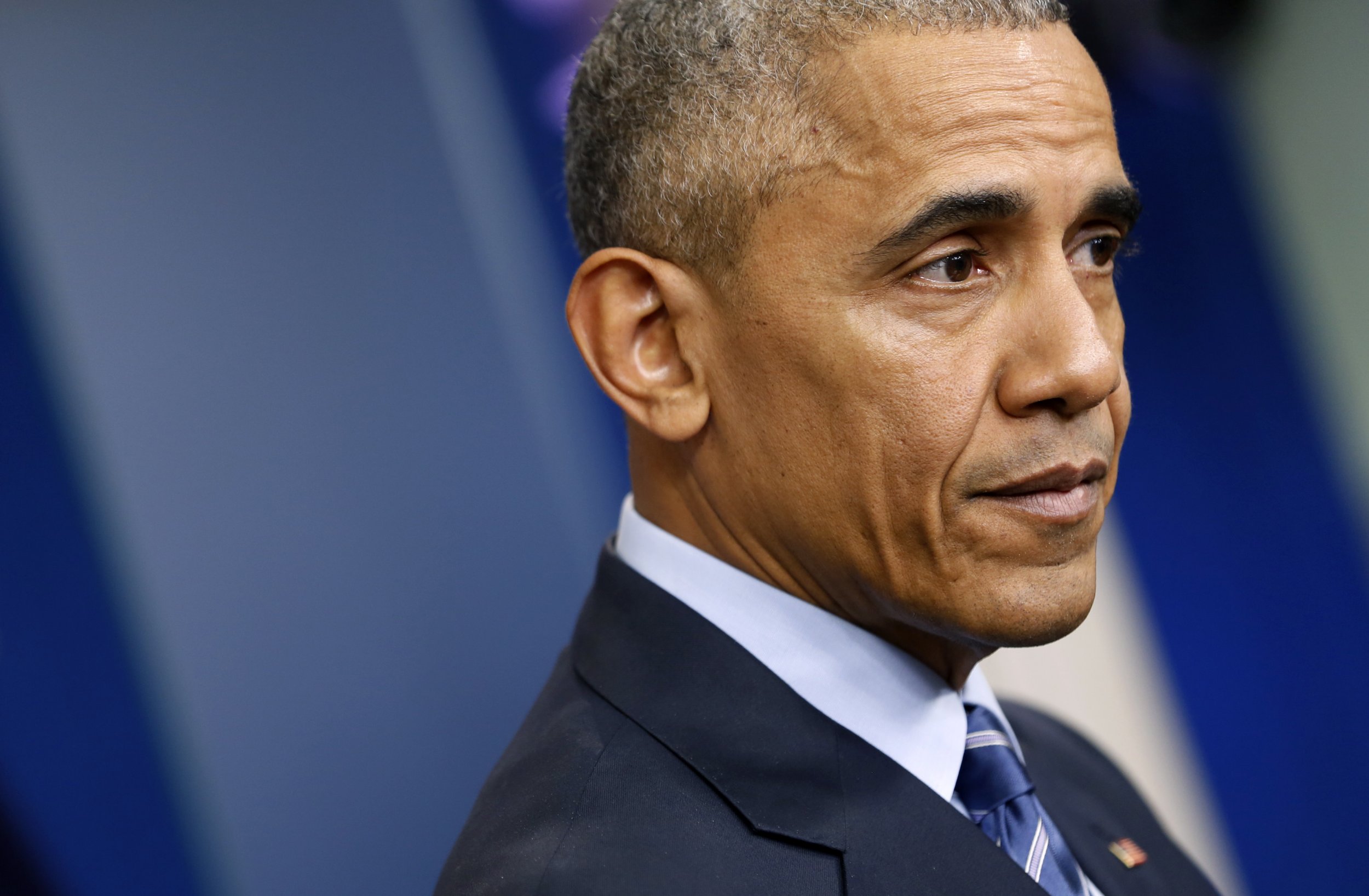 There's less than a month left of Barack Obama's presidency, but the 55-year-old remains enigmatic. His remarkable ascent—as the son of a mixed-race marriage, the child of a single mother in Hawaii—to the Oval Office is as great a Log Cabin tale as that of any of his 43 predecessors. Maybe it's because of his swift rise or his outlier/insider duality that he remains, even in his last days in office, the object of so much dispute.
Review: In new biopic 'Barry,' the real Obama remains hidden
The president has already penned two deservedly acclaimed memoirs and more are planned. And he's been the subject of two biopics, this summer's charming Southside with You, about his first date with Michelle (nee Robinson), and now Barry, a Netflix production that charts his college years in New York, when "Barry," as he was known, wrestled with his racial identity.
Vikram Gandhi 's small portrait of the president as a young man begins elegantly with an opening tracking shot on an airplane. The pilot notes the landing at New York's JFK Airport and the camera glides past the anodyne passengers to a young, afroed man who is smoking (a sure sign this is in the past, like the aha moment in NBC's gargantuan hit This is Us), two beer bottles on his tray table and a Manhattan tableau featuring the World Trade Center glimmering from below. He reads a letter from his estranged father.
On the ground, Young Obama is taken aback but seduced by the wild New York of Ed Koch and Ronald Reagan, the graffitied subway cars (sans air conditioning), the boom boxes, the B-52s blaring at clubs, the sense of menace and possibility that marked the crime-ridden, pre-gentrified Manhattan of 35 years ago and that now has such allure in novels like City on Fire.
I know a bit about it since I was at Columbia a year behind Obama, who transferred from Occidental College in California in 1981. I never knew Obama, which isn't surprising. Columbia is the smallest of the Ivy League schools but Obama lived off campus, as half of students did back then, and by his own account largely kept to himself. Over the years I've asked other politics-minded contemporaries like George Stephanopoulos, himself a year ahead of Obama, if they knew him, and they didn't.
Barry (played adroitly by Devon Terrell ) arrives in New York smart and quick, a standout in his classes, ridiculously handsome, exotic and athletic to boot. Terrell offers a lovely hint of Obama's famed staccato, linear manner of speech without overdoing it. Despite his intellect and gifts, Barry doesn't fit in. He's singled out for questioning by a campus cop (played by playwright Danny Hoch), and ridiculed by the locals in his Harlem neighborhood as "college." Even in the arms of his liberal white girlfriend Charlotte (Anya Taylor-Joy), he feels estranged despite, or perhaps because of, her pleas that color doesn't matter. The closest thing he finds to solace is shooting hoops in what looks like Morningside Park, near Columbia's campus. (Obama had played for Punahou, Hawaii's finest prep school.) The funniest kid on the court, PJ (an excellent Jason Mitchell), turns out to be a business school student, but even though they're both black and academically successful, the ghetto-raised PJ is astounded by Barry's Jakarta-Honolulu exoticism, shaking his head at one point and saying: "You a whole different type of motherfucker, B."
That's one of many very funny lines well delivered by Mitchell; others include when he tries to convince his friends Barry wouldn't fit in at a house party, adding he'd be better off at a luau.
More often than not, though, the film is as subtle as an afterschool special. Obama says out loud, repeatedly, that he doesn't fit in anywhere, a point more wisely portrayed by a glance than a monologue. When Charlotte takes Barry to Sylvia's, the famed Harlem eatery, he's convinced he's being given the evil eye by its black patrons for having a white girl with him. "You don't know what it's like to be visible," he says in one of many unnecessary moments where Gandhi has Barry explain his feelings. At least a luminescent Charlotte replies: "Wait I thought you were invisible," a reference to Obama's passion for Ralph Ellison's Invisible Man. Obama's identity issues are better portrayed at that party in the projects, where his wooing of a girl from the building is interrupted by a blow to the face from her boyfriend. "This isn't my scene," Barry moans, his cheek swollen as he stumbles back to his apartment. That worked as well as it does when his amiable white roommate (Ellar Coltrane from Boyhood) blows him off to live with other white students.
It's not giving much away to say that Obama finds peace with himself. A visit from his earth mother (a warm Ashley Judd, no longer playing ingenues) and a few words of advice from an elderly mixed-race couple help the future president to understand that, hey, we're all Americans with confused pedigrees. This is an important lesson, yes, but you don't get the sense that you've seen a pivotal moment in the making of a president like FDR's polio or JFK's PT-109, a moment of testing that explains their transformation from youth to adult, man to president. You want to see Barry's self-realization, yes, but really how he finds the alchemy to make others comfortable with his exoticism is the moment at which he transforms from self-aware young man to presidential timber.
So while the film hews closely to real Obama moments—his friendship with Pakistani expats, his relationships—it misses some larger points.
By the time Barry got to Columbia, he was well on his way to being Barack. He'd left behind his partying at Occidental and was showing some of the leadership skills and academic prowess that would propel him to community organizing and Harvard Law School. The Lost Boy of "Barry" was further along his journey than Netflix allows. The comedy team Key & Peele offers a much more ribald, and perhaps accurate, account of Obama's leadership skills as he leads his brothers through a night of weed and women.
Weirdly, while the film was shot in New York, Columbia's campus wasn't used and no mention is made of Columbia itself (only opaque lines like "I'm a student here").
I think more of Columbia might have helped. The school was an important crucible for Obama not just because of its proximity to Harlem but because of its then odd status among elite schools. In the early '80s, Columbia was beaten up. The 1968 riots, when students took over the administration's main building (named after Alexander Hamilton), ended in a bloodbath of police batons and student skulls. That the proximate cause of the riot was student opposition to the proposed construction of a gym on Morningside Park is a historical oddity. Students saw the gym as a form of American colonialism, Saigon on the Upper West Side. In fact, its construction would have helped both the school and the neighborhood.
The collapse of New York in the late '70s and early '80s left Columbia beaten down. Unlike today, when it's among the hardest colleges to get into, it wasn't as competitive then, a fact for which I am thankful each day. In Barry, though, Columbia is a stand-in for School of Privilege, which it surely was, but it was also a more grim place than Occidental—and not just because the Columbia Lions were winless on the gridiron for much of that period. A before shot of Barry in sunny California would have put this in context.
With this in mind, Obama's choice to go there is more revealing. Consider too that as Columbia struggled in the '80s, it was also one of the few schools that had maintained a devotion to a core curriculum of great books while most of the other Ivies gave students baffling menus of electives. And because Columbia was all-male when Obama and I were there, it added to the weirdness of the place. Barnard, the women's college, was across the street, but since so much of the curriculum was Columbia only, it's a good bet that Obama, unlike his Netflix counterpart Barry, spent most of his classes just with guys. That Obama, who presumably had other options, chose a place that was not only on the border of Harlem but was so demanding academically—and, frankly, so depressing in the condition of its dorms, facilities and neighborhood—says that he was aching for a transformative experience rather than stumbling into one, as the film implies.
Maybe Barry would have become president-in-utero in the whiter, preppier, more cheerful world of Dartmouth or Stanford or Amherst, but Columbia at this particular time and place attracted more oddballs and outliers than those places. (During my senior year I lived in a dormitory that had previously been a SRO, a Single Room Occupancy hotel. The room was so small that the door could not open all the way. The roaches were the size of Oldsmobiles.) I'm not saying it was suffering. It was a superlative and expensive school. But the place, like the University of Chicago at the time, constituted a kind of academic foxhole, surrounded by chaos. I'm not surprised that Eric Holder, Columbia '77, the child of Caribbean immigrants, is Obama's best friend in Washington. Going to college at Columbia will do that to you.
Read more from Newsweek.com:
- 'Patriots Day' feeds on America's terror
- The shows and films coming to Netflix in January
- 'Rushmore' and 'The Lion King' among films added to Library of Congress Film Registry