U.S. President Joe Biden announced Wednesday a reversal to a 2021 decision that waived sanctions on the Russian company behind the Nord Stream 2 gas pipeline and its chief executive. The decision comes a day after German Chancellor Olaf Scholz suspended certification of the pipeline, which runs to his country, due to Russia's invasion of Ukraine.
The Kremlin-backed pipeline would have increased Russia's energy-exporting capabilities throughout Europe, and critics argued Russian President Vladimir Putin could use this power as a major diplomatic weapon. Ukraine would also have suffered financially from the Nord Stream 2 since the country would no longer receive billions of dollars it currently collects in gas-transit fees.
The action against the Nord Strom 2 comes a day after Biden announced sanctions against Russian elites and their families, sovereign debt and two financial institutions. The president also authorized more U.S. troops to join NATO forces in Estonia, Latvia and Lithuania as part of his response to Russia's aggression.
"Today, I have directed my administration to impose sanctions on Nord Stream 2 AG and its corporate officers," Biden said in a Wednesday statement. "These steps are another piece of our initial tranche of sanctions in response to Russia's actions in Ukraine. As I have made clear, we will not hesitate to take further steps if Russia continues to escalate."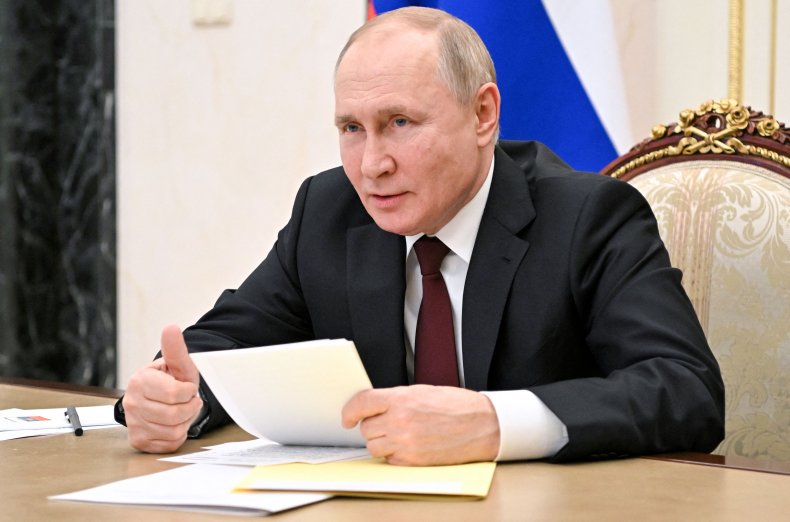 The Nord Stream 2 is a 764-mile-long natural gas pipeline that runs from Russia to Germany under the Baltic Sea. The line sits parallel to an older Nord Stream pipeline and is said to be capable of producing twice the capacity. Working together, the two Nord Streams could reportedly deliver over a quarter of all the gas the European Union uses annually, according to BBC.
Gazprom announced in September 2021 that the construction of the $11 billion pipeline had been completed after five years of work. The company was still awaiting certification from German regulators, but now that process is officially on hold after Scholz's decision.
The operator of the pipeline, Nord Stream 2 AG, is a firm located in Switzerland and owned by Russia's state-owned energy company Gazprom, which is already Europe's largest supplier of natural gas. Currently, Europe imports most of its gas with approximately 40 percent of it coming from Russia. Arguments against the Nord Stream 2 from various governments, including the U.S. and European NATO allies, hinges on claims it would give Putin the power to disrupt gas supplies, as he did during price disputes with Ukraine in 2006 and 2009, according to ABC News. Both of those incidents caused gas shortages in mid-winter elsewhere in Eastern Europe, the BBC reported.
Scholz's predecessor, Angela Merkel, supported the Nord Stream 2 pipeline, and he also favored the project when he served as Merkel's finance minister. Though the U.S. had opposed, Biden agreed to waive sanctions against the pipeline operator in return for an agreement from Germany to take action against Russia if it used gas as a weapon or attacked Ukraine, according to ABC News.