Kamala Harris, U.S. Troops Head to Europe to Face Down Putin on Russia-Ukraine
U.S. Vice President Kamala Harris is traveling to Munich, Germany, on Thursday to attend an annual gathering of security leaders and present a show of NATO unity amid the threat of an imminent Russian invasion of Ukraine.
Harris is leading the U.S. delegation to the Munich Security Conference "as a resounding signal that engagement with our Allies and partners is an absolutely critical part of our overall diplomacy in our approach to this situation," a senior administration official told reporters on a preview call on Wednesday.
The vice president will be discussing a "full range of issues" throughout the trip, the official said.
They include unity between allies, the economic measures that have been prepared and will be imposed if Russia invades Ukraine, the U.S. and NATO's position, showing support for Ukraine and the "diplomatic path to de-escalation" that the U.S. has offered Russian President Vladimir Putin.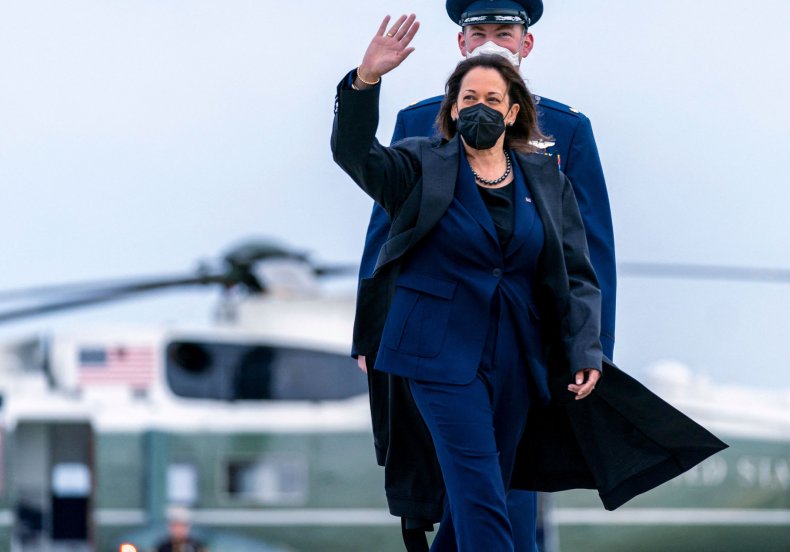 Harris' schedule during the trip will be "very intense," the official said, and will involve a series of "high-stakes, high-level" diplomatic talks.
She will meet with NATO Secretary General Stoltenberg, and also attend a multilateral meeting with the leaders of the three so-called Baltic states—Estonia, Latvia and Lithuania.
"In both of these meetings, she will discuss the latest developments related to Russia's build-up on Ukraine's border, our work together on deterrence and diplomacy, our force posture and our readiness to further reinforce NATO Allies on the eastern flank," the official said. "And, of course, she will, as she always does, reaffirm our sacred commitment to NATO's Article 5 commitment."
She will meet with Ukrainian President Volodymyr Zelenskyy on the margins of the conference on Saturday after delivering a speech at the conference.
"That'll be a real opportunity to underscore our commitment to Ukraine's sovereignty and territorial integrity, and to further coordinate the diplomatic efforts that have been underway to provide economic and defensive security assistance to Ukraine," an official said.
She is also expected to meet with Germany's Chancellor Olaf Scholz and other world leaders on Saturday.
The officials on the call didn't detail the contingency plans that are in place should Russia invade Ukraine while Harris is in Munich.
"We are in a fluid situation," a senior administration official said.
"Her reason for going to Munich is to meet with what we think is over three dozen heads of state who will be there. She will hold these highest-level meetings to consult with them on the latest developments and to ensure that the transatlantic community, the NATO Alliance, that we speak with one voice that is strong and resolute."
Harris' departure for Germany comes as U.S officials said Moscow has added as many as 7,000 troops near its border with Ukraine, and that they did not believe earlier assertions that some forces are returning to their bases. More than 150,000 Russian troops are massed near Ukraine.
Meanwhile, the last of about 5,000 troops from the 82nd Airborne Division arrived in Poland on Thursday, The New York Times reported, citing Pentagon officials.
U.S. Troops Moving East
Another 1,000 U.S. troops are moving from Germany to Romania and are expected to be in place by Saturday, according to the newspaper.
President Joe Biden has vowed to "rally the world" should Russia invade its neighbor. But he insisted that U.S. troops will not fight in Ukraine. He has urged Americans in Ukraine to leave the country.
"While I will not send American servicemen to fight Russia in Ukraine, we have supplied the Ukrainian military with equipment to help them defend themselves," the president said on Tuesday.
"We have provided training and advice and intelligence for the same purpose. And make no mistake: The United States will defend every inch of NATO territory with the full force of American power."
The U.S. troops added to the 80,000 based in Europe "are going to reassure our allies and our partners to deter aggression against the alliance to conduct some joint training," Pentagon spokesman John Kirby told reporters this week.